Following last year's success of launching an impressive giant moon art installation named "Museum of the Moon" at Lee Tung Avenue, the fairy-tale romance will continue this year with a new exhibition -"Moon Rabbit Lumiere"presented by Lee Tung Avenue and China Hong Kong City, alongside a series of festive events.
In collaboration with world-renowned Australian artist Amanda Parer, the two venues are going to showcase 10 giant inflatable "Moon Rabbits" which have appeared in over 80 cities across Canada, Finland, France, Germany, Portugal, South Korea, Turkey, the UK and the US, and in over 40 international arts event spaces and festivals, such as the National Gallery Singapore, the Winter Lights Festival in London and the San Francisco Arts Commission Galleries.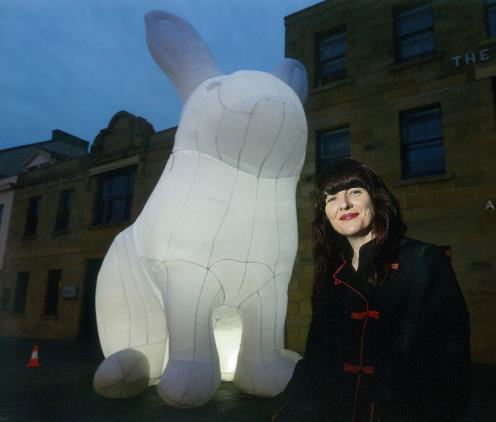 This art installation has been viewed by six million people worldwide already. The 10 giant illuminated rabbits (five big and five small respectively) to be exhibited in Hong Kong for the first time come in different forms, with the tallest being seven metres tall.
The exhibitions at Lee Tung Avenue and China Hong Kong City will be held from 19 September to 17 October this year. The two venues will transform into moon palaces for the public to celebrate the Mid-Autumn Festival with the Moon Rabbits.
The luxuriant lanterns along Lee Tung Avenue are icons for the Mid-Autumn Festival celebrations. This year, Lee Tung Avenue is introducing for the first time a smart lighting technology equipped with iBeacon transmission which will turn the shopping street into the "Avenue of Lights" with over 800 colourful lanterns. Visitors can control the lighting for a personalised and interactive experience through the Lee Tung Avenue mobile app.
To recreate the vibrant festival celebrations in the old days, Lee Tung Avenue is organising the "Mid-Autumn Celebratory Fair" from 23 to 25 September. The fair features various traditional crafts, including lantern-making, puppetry and sugar-candy blowing, as well as traditional snacks market.
Lee Tung Avenue will also present the  "LED Fire Dragon Fiesta" where the dragon parade team will invite spectators to join the procession to parade around the giant Moon Rabbits holding traditional lanterns.
This year, the LED fire dragon will make its way to China Hong Kong City on the day of the Mid-Autumn Festival. Visitors are welcome to bring their lanterns and join the party on the podium.
During the one-month "Moon Rabbit Lumiere" exhibition, the podium of the China Hong Kong City mall will be filled with happenings every weekend, from the "Golden Sunset Music Festival", which features bands from Japan, Singapore and local young musicians, to the "Moon Rabbit Sunset Yoga", in which yoga lovers can practice mindfulness against the backdrop of a view, and also the "Moonrise Picnic Party" in October.