With the final World Cup match between Germany and Argentina fast approaching, everyone is dying to know which one will take home the coveted trophy this Sunday.
This year, data analysis is pushing soccer analysts, or Paul the Octopus aside as leading tech companies have been scrambling to showcase their World Cup prediction engines.
So far, Microsoft and Goldman Sachs have accurately called all the winners in quarter final and group of 16 games; while Google's Cloud Platform is lagging behind the big data predictive tournament with one failed forecast on the France vs. Germany quarter-final, which later on comes with an official explanation on its website saying:
"…France took more shots than Germany, had more shots on target, and their shots were from a more 'dangerous location' (that is, closer to the goal). This information complements actual goals to form an 'expected goals' statistic in our model."
Also claiming to have a spotless record of picking the winning teams, Baidu has launched a chart to claim they have the highest accuracy on World Cup prediction: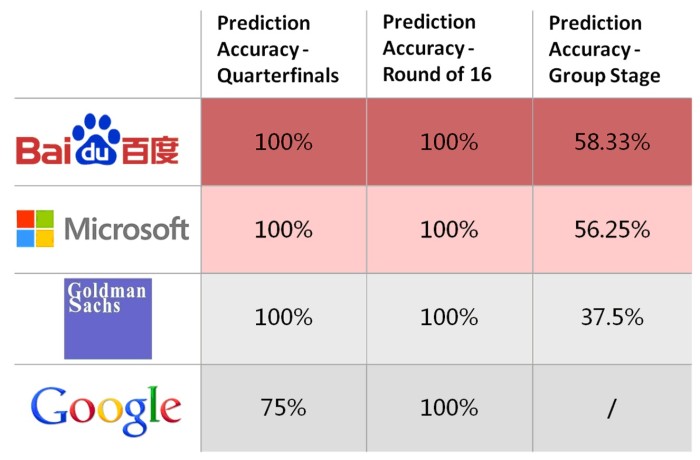 Baidu created a dedicated World Cup forecast page supported with English and Chinese: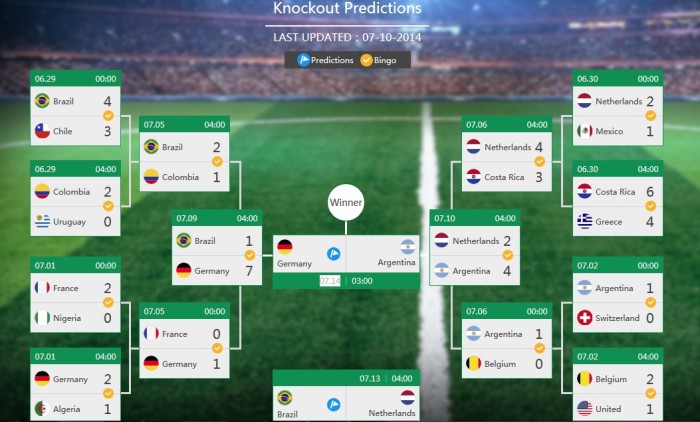 "Prediction accuracy depends mainly on the data and the model. In this case we analyzed five factors: team strength, home court advantage, recent game performance, overall World Cup performance, and bookmaker odds," said Zhang Tong, head of Baidu's Beijing Big Data Lab, who led the team that developed the technology for making the predictions.
"We aggregate data along these five dimensions from a wide variety of heterogeneous data sources on the Internet. We then use a machine learning model specially designed by our research scientists to aggregate the data and make predictions."
For the championship, Baidu is predicting Germany to take the World Cup, while Microsoft favourites Argentina will be the winner, and Google has not yet announced its prediction.
"World Cup Prediction is only one of Baidu's prediction products using big data, and we apply it to numerous other domains," says Li Gangjiang, director of Baidu Big Data Group.
"For example, using Big Data we are now cooperating with Ping An Insurance to develop new insurance products. Baidu is interested in using data to help traditional industries upgrade their systems and serve users better."
Photo courtesy to FIFA World Cup Facebook page