With the rapid spread of mobile payment platforms, it has push China towards becoming a cashless society.
Ipsos and Ogilvy & Mather have conducted a survey to sort out the ongoing trends of no-cash payment in China over the past year.
The survey interviewed 8,180 internet users, aiming to present the current situation and ongoing trend of the mobile payment development, and provide insights and suggestions for brands in mobile marketing.
In 2015, the transaction scale of China's third-party mobile payment reached RMB10 trillion. Grasping a first-mover advantage, Alipay was far ahead in payment amount, accounting for 51.8% of the total; WeChat Pay was the most frequently used mobile payment tool, with its average uses per user per month exceeding 50.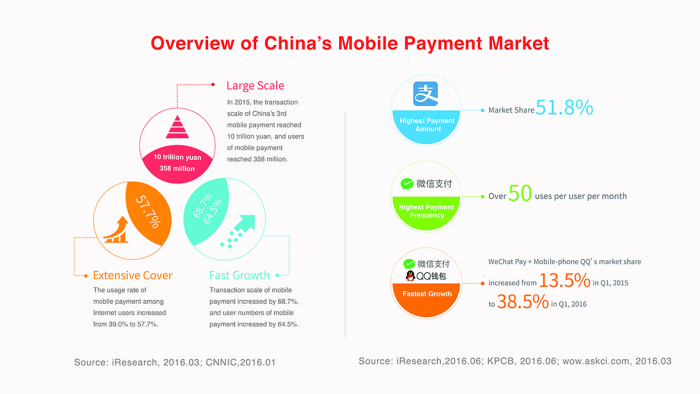 Post-90s students and new employees aged 23-29 are vigorous forces among the mobile payment users, and they are more accustomed to the non-cash life style – more than 12% of college-student respondents said they would go out "without cash," and nearly 35% of young white-collars said they would go out with cash less than 100 yuan.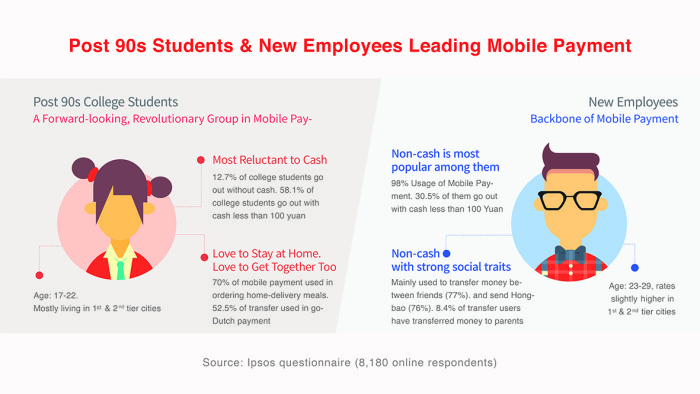 This report probes into five sectors of clothing, food, home, transportation, and entertainment, analyses payment habits of consumers.
Clothing
Research shows that consumers shopping online for clothing are moving from traditional webpage purchase to mobile device purchase. 78% of respondents said they had bought clothing online using mobile payment. When shopping offline for clothing, the number of consumers preferring the use of credit or debit cards are decreasing, while the number of those who pay by scanning QR codes are growing – 40% of respondents said they had used mobile payment tools to buy clothing offline.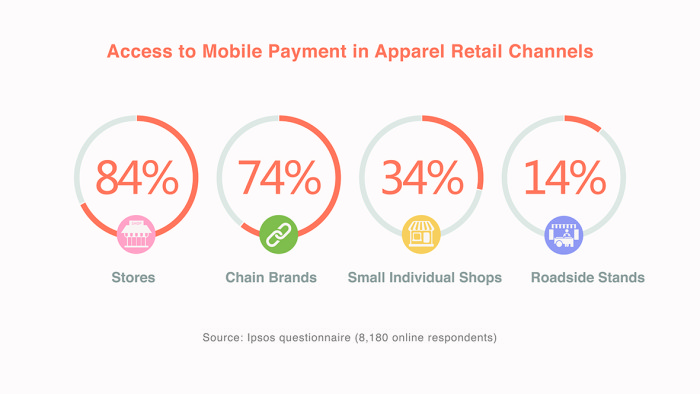 Food
A whopping 71% of respondents said they would use mobile payment facilities to order home delivery meals, order food in advance, or pay at restaurants.
Customers can also scan QR codes on restaurant tables with WeChat to serve themselves, order and pay in restaurants' WeChat public accounts.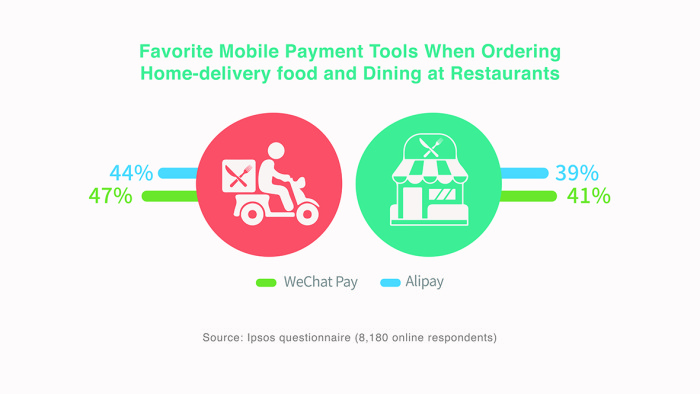 Home
Near 8 out of 10 respondents said that they paid utility bills via mobile payment. Moreover, some leading convenient stores and supermarkets have supported mobile payment, with most shops supporting more than three kinds of mobile payments. This makes acquiring staples like rice, salt and oil through mobile payment a new normal.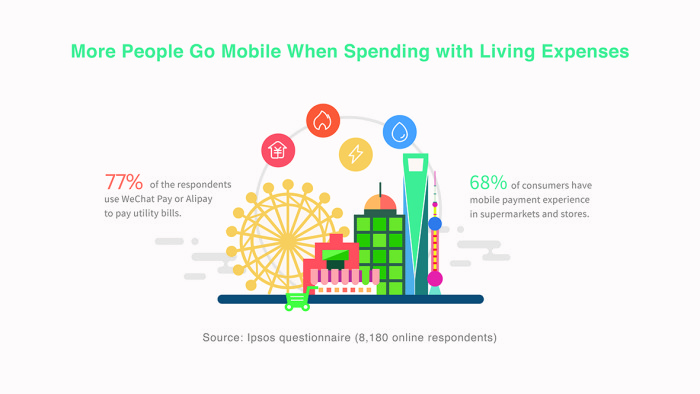 Transportation
It has become a new normal to book transportation services using mobile-phone app. Last year, DiDi Chuxing's average orders per day exceeded 11 million, and 45% of its users paid via smartphone mobile payment. As for travel, 50% of people directly use mobile phones to plan their itineraries and pay for them, while the index in 2014 is only 17%.
With the explosive increase of Chinese international travel and shopping, China's mobile payment providers have set their eyes on the globe. Take WeChat and Alipay as examples. It is already providing a service called "Pay with RMB, settle in foreign currency." That means, when shopping abroad, users of WeChat needn't first exchange foreign money anymore.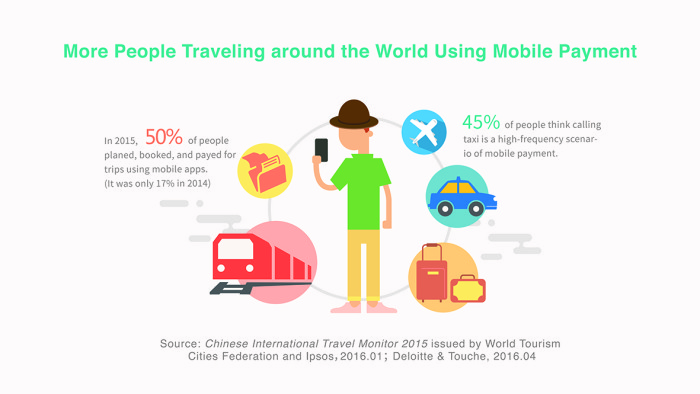 Entertainment
In this May, online ticket sale accounted for 76.2% of the overall box office across the country. In addition, the use of mobile tools to book and pay for KTV, ball sports games, and artistic performance is rapidly increasing. The need to use social network accounts to log in to game and video platforms to enjoy entertainment that charges is rapidly expanding, urging entertainment businesses to build closer links with mobile payments.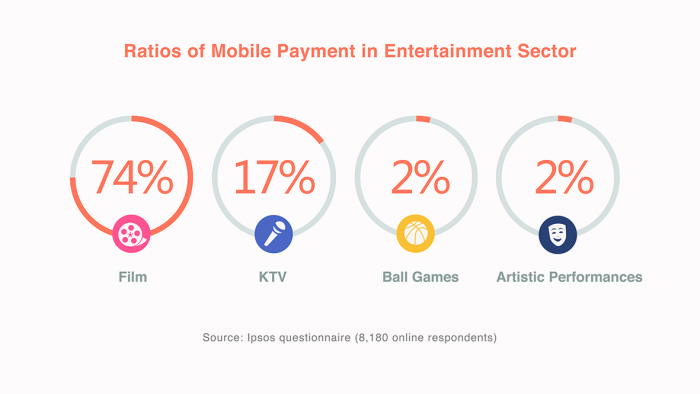 "Social-ism" with Chinese characteristics
The report points out that Chinese mobile payment behavior represents a strong social motive. Not only do people enjoy its conveniences, they also use it to connect to each other in the name of friendship and love. Hence, the unique "social-ism" with Chinese characteristics.
Online "hongbaos" (translates to "red envelopes," a reference to thepresents of money often given away during celebrations) are closely tied to human feelings. As high as 78% of people would send Hongbao to relatives and 11% of respondents said they would show filial piety to parents through mobile money transfer.
Between friends, the usage rate of mobile Hongbao and transfer is as high as 75%, whether being used to go Dutch, as a present or loan, mobile payment makes to-and-fros of money between friends and relatives convenient and hurts no feelings.