Miss Malaysia World has stripped Tatiana Kumar Nandha from the title of Miss World Malaysia 2016. An announcement on the organiser's Instagram page read:
"It has come to our attention that there is a breach of our code of conduct and contract by the reigning Miss Malaysia World 2016, Tatiana Kumar."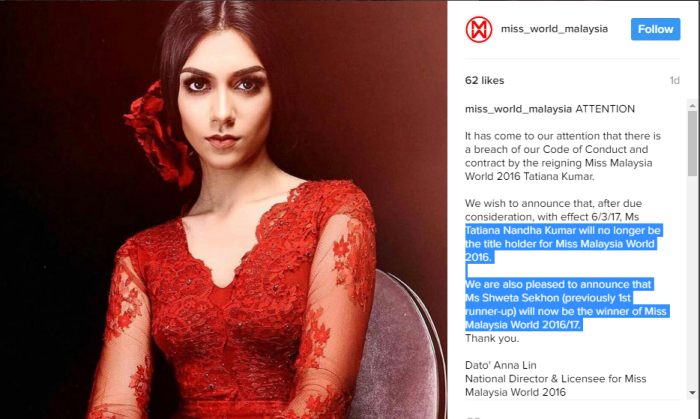 The post on Instagram by Miss World Malaysia 2016 also highlighted that Kumar will no longer be the tile holder of Miss Malaysia World 2016, and Shweta Sekhon, the first runner up, will now be the winner of the title.
The official sponsor for the event since 2013 is Metrojaya while Wacoal Malaysia is the exclusive sponsor.
The other sponsors and partners consist of Kimarie Hair Dressing Salon, SensenStyle Beauty, Whiskey Couture, Sense & Style Beauty Academy, Nithiran Couture, Dr Alice Spa, True Fitness Centre, Like Media, Jack's Stuff, Vision Studio, I Dance Studio, JS Photo Studio, Funfit, Natasha Handmade Shoes, LikesBeforeLove, The Coverage, Borneo Republic and Lim & Yeoh Solicitors.
When reached out by A+M, Anna Lin, national director of Miss Malaysia World declined to comment on this issue further citing legal proceedings as a reason. However, in a statement to the Star Online, she had explained that Kumar had breached one code of conduct involving an important sponsor.
Meanwhile,  Kumar on her Instagram page denied the allegations and said, "The allegations made against me are wholly false and unacceptable. I am very upset and disappointed with these allegations as I have conducted myself with utmost professionalism as Miss Malaysia World 2016 to-date."
"In this regard, I am currently seeking legal advice and will be seeking legal redress. Pending such legal advice, I have been advised not to make any further public statements for the time being. I would also like to this opportunity to thank the public for their tremendous support throughout my journey as Miss Malaysia World 2016 and for all your continued support," she added.