Marketing, communications and events roles have the highest median annual salaries in Malaysia, while creative and creative services jobs have the lowest.
Nonetheless, much like their counterparts in Singapore, Malaysian marketing professionals say that professional development and a pay disconnect are two issues that Malaysian companies need to address, despite a strong bonus reward culture.
According to a study by marketing recruitment agency font, (which saw responses from more than 500 marketing professionals across Singapore, Malaysia and Hong Kong), just over half of respondents felt they were fairly remunerated last year, despite 60% of them receiving a pay rise in 2014.
The study also added this complaint by respondents was not surprising as Malaysian companies might feel their bonus structure makes up for lower salaries with nearly two thirds claiming to offer staff bonuses. Yet, employees indicated only 41% of talent received bonuses in 2014.
However, companies aren't keeping pace with the desire for professional development, it seems.
Less than a third of talent said they had a career plan, despite 76% counting development opportunities as a top priority. This was despite the workforce wanting a well mapped-out career development scheme. In fact, Malaysian men cited career development as one of the top factors, over money.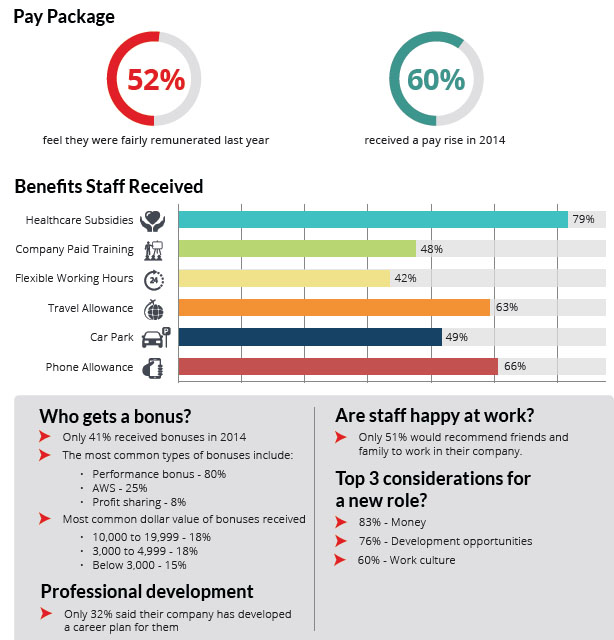 "While there is still a need for marcomms and events professionals in Malaysia, those with more specialised skills in analytics, digital and social media will be increasingly in demand, especially at a senior level," said Priya Bala, regional director of font.
"As Malaysia continues to face a brain drain, it is expected the base salaries for these specialist roles will rise. It is a problem that only half of talent would recommend their company to family and friends. This is indicative of a neutral attitude towards their work environment."
She explained that money and professional development are two consistent factors affecting staff's decisions to stay or job hop.
Rather than deal with unhappy staff when it's too late, organisations must put talent management measures in place that involve proper targets and show a vested interest in development and career growth.
She added this gap in communication between the company and employees could exist for a number of reasons, including performance-based bonuses.
However, the low number of staff with a career plan shows companies in Malaysia are not focusing enough on the professional development of their staff.
"The disconnect between what employers say they offer to candidates and what staff say they actually receive is somewhat worrying.
"Whether talking about money or development opportunities – the two main things candidates look for when considering a new role – what talent receives appears to be significantly less than what the company believes they are offering."
In-house versus agency
The median annual wage for in-house professionals is 31% higher than that of agency staff. According to font, there could be a number of reasons for this, including sample size, however, in-house salaries can be higher when combining the total package.
Marketing roles also require a combination of experiences and skills, while agency roles tend to be more specialised, meaning in-house might pay more for well-rounded talent.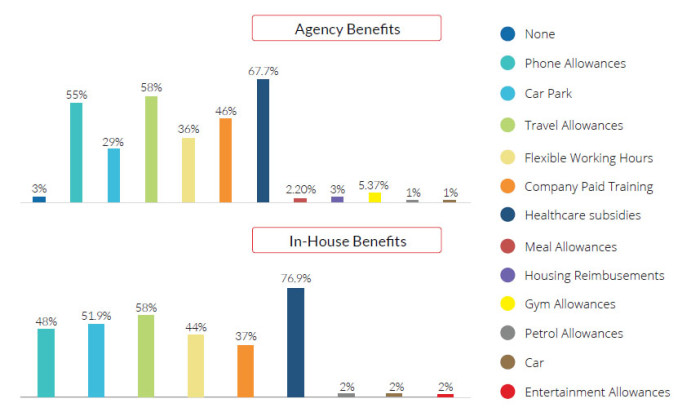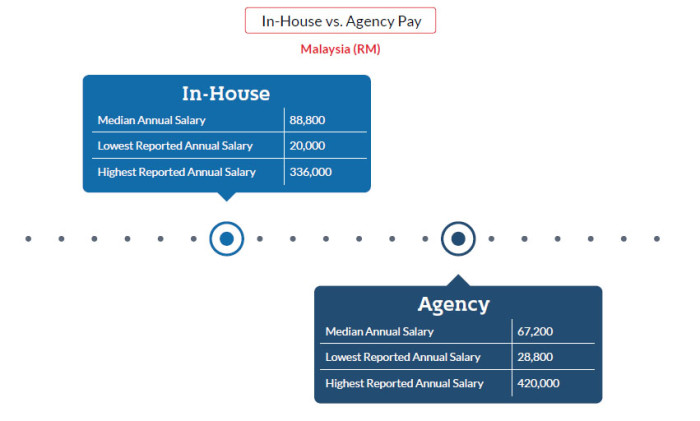 Read also:
Stressed and questioning your job in marketing?
Can Malaysia keep its senior agency talent?
To attract talent, you need star CMOs