The Philippines has consistently ranked third for having the most confident consumers globally since the last quarter of 2013, according to Nielsen.
With a score of 115 points, the island nation is just behind Indonesia, securing second place with 125.
India was the most bullish in the latest the Nielsen Global Survey of Consumer Confidence and Spending Intentions report with a score of 126. In contrast, Italy was the most pessimistic with a mere 47 points.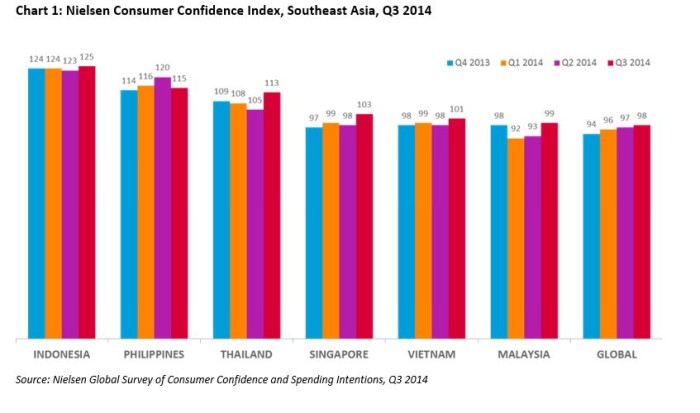 Another country from Southeast Asia in the top five is Thailand with a Consumer Confidence Index score of 113 to land at fourth place. Globally, consumer confidence remains steady at 98 points.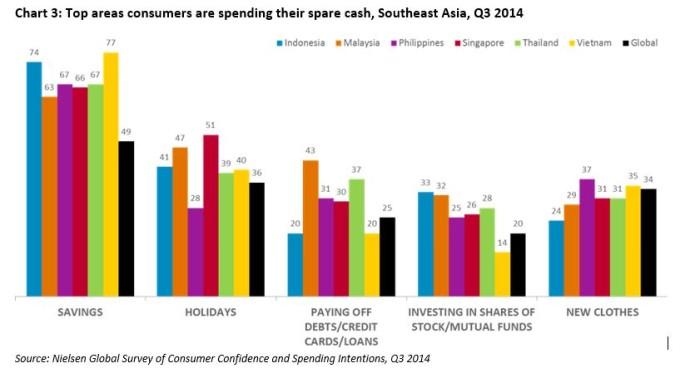 Filipino consumers were found to be eager to spend on new clothes (37%), home improvements/decorating (29%) and holidays and vacations (28%). However, Nielsen found that Filipinos remain relatively frugal, with close to seven in 10 Filipino and Thai consumers (67%) remain focused on putting aside savings for the future.
Consumers from Vietnam (77%), Indonesia (74%) Singapore (66%) and Malaysia (63%) also diligently stashing their spare cash into savings. This is compared to the global average of around 40%.
"As Filipino consumers experience an improvement in their economic status, they remain prudent with their spending," says Stuart Jamieson, Nielsen's managing director in the Philippines. "With increases in prices, they will be on the lookout for ways to get more value out of products and services."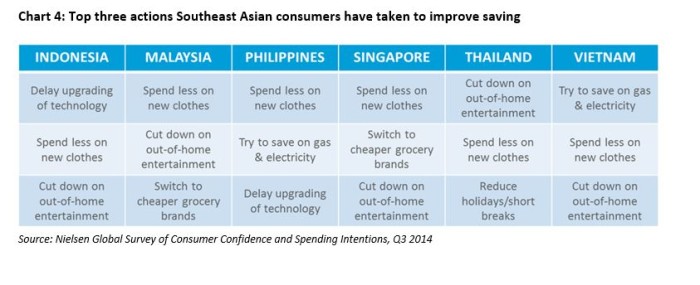 Saving money also largely involved cutting down bills, Nielsen revealed. Close to nine in 10 Thais (88%) have changed their spending on household expenses, the highest level globally, followed by 86% in Vietnam, 83% in the Philippines, 79% in Malaysia, 76% in Indonesia and 63% in Singapore.
Spending less on new clothes, trying to save on utility bills and delaying technology upgrade are some of the most common areas where Filipino consumers are looking to save.

Job security concerns among Filipinos over the next six months has gone down from 36% in the first two quarters of the year to 34% in Q3 2014.
However, it was replaced by worries on health and work/life balance (27%), followed by concerns about parent's welfare and happiness (16%) and increasing utility bills (16%).
"While consumers are just starting to enjoy the perks of their personal economic growth, a level of caution remain in their view as concerns about job security, health, and the welfare of family members are always in their minds," notes Stuart Jamieson, Nielsen's Managing Director in the Philippines.