Café de Coral's managing director Daren Lau opens up to Inti Tam about how the fast-food chain reinforces its image of "the canteen for Hong Kong people" in 2017 and beyond – and how an almost half a century-old brand remains the staple for Hongkongers from all walks of life, and remains as relevant as it has ever been.
F&B veteran Daren Lau joined the Café de Coral Group in March 2015 and, alongside his MD role, he also serves as a director of several subsidiaries of the company.
He is responsible for the overall operation and business development of its fast-food, institutional catering, school catering and the quick service restaurant business for the Hong Kong region – and he couldn't have joined at a more interesting time.
Despite the overall sluggish retail sales in Hong Kong, the city's food and beverage spending continues to trend upwards.
According to the Census and Statistics Department's latest report on the quarterly survey of restaurant receipts and purchases, the value of total receipts of the restaurant sector in the second quarter of 2017, provisionally estimated at HK$27 billion, increased by 4% over a year earlier.
Café de Coral group spent up to an eight-figure budget to transform a 20,000 square foot space in the heart of Causeway Bay, JP Plaza, into a multi-brand dining hub – named "Festiva", which positions itself as a social gathering space for food that matches the style and pace of typical Hong Kong lifestyles.
Having opened in September, Festiva houses five other restaurants owned by the Café de Coral Group, alongside its iconic and eponymous fast-food chain Café de Coral, serving Japanese gourmet to Shanghainese dishes.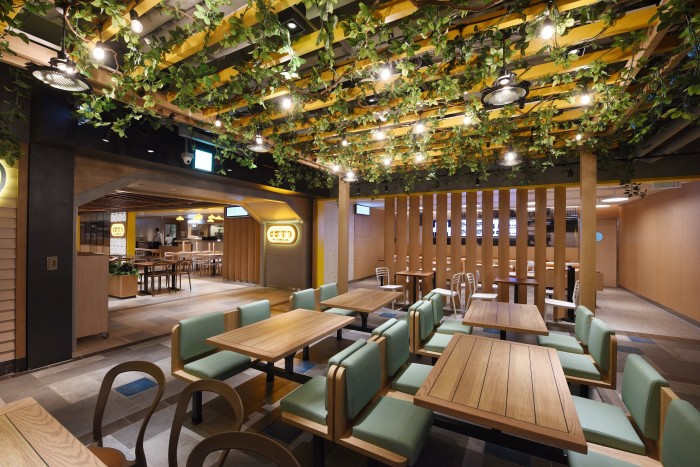 The homegrown Hong Kong restaurant operator looks to bring diversified dishes from breakfast through to dinner to delight its customers.
Although the Café de Coral Group has been operating since 1968, it's the first time the company is bringing together different kinds of eateries in one location.
"We intend to provide a place for people to sit down and take a break," says Lau, managing director (quick service restaurants group) of Café de Coral, who was behind this new dining concept project.
We also want to showcase different restaurants from our group, offering different price ranges in one venue. Each restaurant may look different from one another, but collectively it can create a synergy.
He believes the modern lifestyle has made Hongkongers a bit too comfortable with their mobile phones, even if they are eating out.
"We feel like people who keep playing with their phone are indifferent to others, so with this new meeting place, we want Café de Coral to serve as a small community for customers to share their moments with family, friends and colleagues in a bid to trigger happiness."
He underlined the importance of happiness during our conversation to echo the fast-food chain's slogan "Happiness First".
Seeing as the company has a long history in Hong Kong, and has played a big part in the lives of several generations of Hongkongers, it commissioned famous Australian interior design company Landini Associates to give the 20,000 square foot dining space a fresh look.
Featuring teal and soft yellow colour tones, the new venue also features Hong Kong's iconic plastic pendant lights; the urban vibe and modern design create a comfortable and inviting atmosphere.
Café de Coral also invited local artist Stanley Wong, also known as anothermountainman, to create an LED wall showing pictures of Hong Kong's community.
The community theme is the lifeblood of the Festiva venue, and numerous community elements that Hongkongers would find familiar were organically woven into the design to evoke a sense of belonging in a modern and comfortable way.
This kind of new interior design, dubbed the "sixth generation" design, will be gradually deployed to all its 176 outlets across the city.
Catering to changing tastes
As a listed restaurant operator serving breakfast, lunch and dinner, Café de Coral has a lot on its plate. Lau says the company launches more than 100 campaigns and promotions on different scales each year – be they big or small, planned or ad hoc.
To support such a prolific output, it couldn't succeed without the help from in-house and external agencies.
Steering the wheel of one of the largest fast-food chains in Hong Kong, many would assume its business leader is always in a rush, but on the contrary this managing director is moderately calm and humble.
We are a brand for Hong Kong people and we focus on doing practical things, as a cafeteria (for Hongkongers) there's no need to show off.
In the digital age, many brands can't afford not to further engage customers virtually. Lau reveals Café de Coral will revamp its mobile app which is set to be rolled out in the second half of 2018.
The brand launched its membership programme "Club 100" to acquire and retain customers back in 2006, and has now amassed more than 200,000 members. Lau thinks it's time to enhance the CRM programme.
The new mobile app will allow users to order and pay through the app, and it will also serve as a better CRM platform to uplift loyalty.
As busking and street performances are becoming more popular among the younger generation, the fast-food chain has also organised different engagement activities to target these segments, such as "Music Station", an annual outdoor street music event with its partner, the Hong Kong Arts Centre, to speak the same language as youngsters to connect with them on both an online and offline level.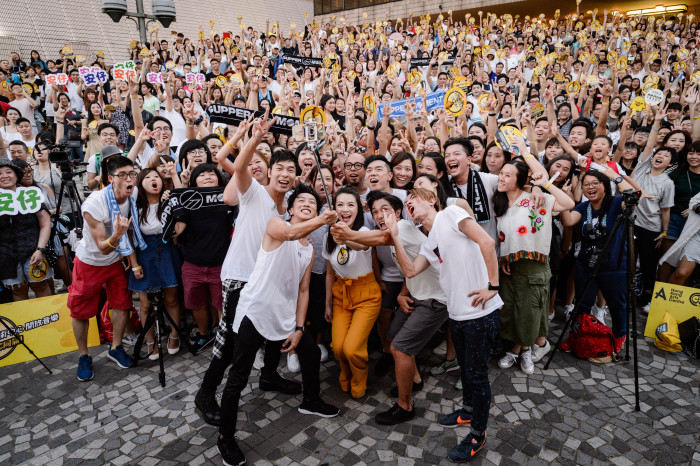 When it comes to food, the real strength of the brand, Hong Kong people are known for being spoiled for choice, and they are especially fond of trying fancy and novelty products.
Lau believes that as "the canteen for Hong Kong people", "it's crucial for Café de Coral to provide quick and nice three square meals for Hong Kong people".
To cater to Hong Kong's rapidly evolving taste buds, it has tapped into Japanese and Korean dishes at an affordable price.
Moreover, the brand realised that many crave fancy flavours alongside their beloved staples, so in May, it struck a strategic partnership with one of the world's premium coffee brands Segafredo Zanetti to provide the Italian coffee in all of its branches.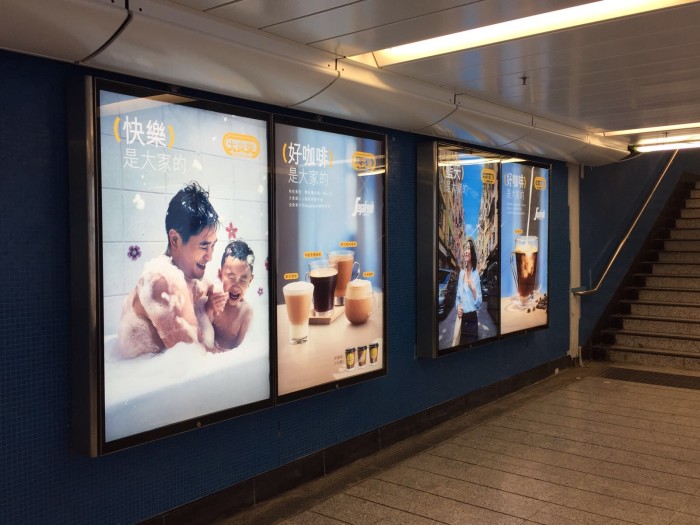 "A growing taste for coffee has been seen among Hong Kong consumers and we need to match their taste," he says.
He explains that when people are eating authentic local food such as macaroni soup with ham or turnip cake, and sipping Italian cappuccino at the same time, it can give a new meaning to the fast-food dining experience.
Making marketing meaningful
Enjoying a strong brand presence in the city, Café de Coral doesn't seem to have a regular brand ambassador like its counterparts. But many will recall its collaboration with stand-up comedian Dayo Wong for a series of advertising campaigns to promote the "Happiness First" slogan last year.
An ad starring Wong highlighted the importance of happiness and showing the people around you in everyday life that you care about them. Thanks to the smart choice of celebrity and use of a song which has a strong relevance with Wong, the ad became enjoyable to many and generated much discussion.
Lau clarifies the company doesn't have any long-term celebrity endorsement deals, but selects relevant celebrities to represent the brand on a project basis.
For example, this year it kicked off a food waste reduction campaign with local rap and hip-hop group FAMA to draw awareness to the issue.
Additionally, it partnered with Italian influencer Pietro Boselli together with local actress Gigi Leung and Louisa Mak to launch and endorse its Café de Coral and Segafredo coffee campaign.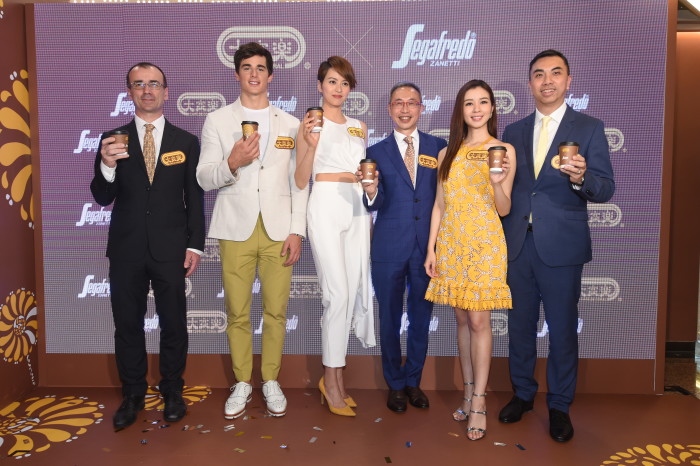 Lau explains that moving forward it "will continue to work with different celebrities and influencers from time to time, according to their image, belief and the interaction with the brands and products as we see fit".
As it moves towards its 50th anniversary next year, he says the brand will continue to upgrade its hero products, such as the baked pork chop rice and will also engage with a star chef to explore new promotion opportunities and take new product launches to the next level.
But it's not all about external promotion – the company invests a lot of time and money into caring for its employees and the wider community.
For years, the manpower shortage has hit the restaurant business hard, so in addition to surprising and celebrating customers for the anniversary, Lau plans to throw a big celebration for the company's employees to recognise their hard work.
The company also plans to beef up its CSR initiative – "Coral X Food Grace Community Spring Feast" – serving more grassroots free meals at its fast-food stores during Lunar New Year in 2018.