Insurance firm Manulife launched an innovative campaign called Manulife MOVE that incentivised customers with an active lifestyle with lower premiums. We talked to Manulife Philippines CMO Melissa Henson about the rationale and impact of the campaign and her own career transition from banking to insurance.
Manulife has been in the Philippines for over 100 years. How is this campaign different from your other major marketing campaigns in the past?
Manulife has been running brand campaigns since 2013. Up until we launched Manulife MOVE, all our campaigns have featured our mother brand. This is the first time we have highlighted a specific program. Apart from that, this campaign has also been quite different in terms of strategy and media mix.
Because Manulife MOVE is an innovative program that encourages consumers to be more active, we wanted the campaign to mirror those characteristics as well – we leveraged newer, more innovative channels and media, and also made the campaign more interactive, so that the audience can move with us.
What are the latest statistics on insurance adoption in the Philippines and what do you think are the main obstacles to higher insurance penetration?
Insurance penetration is still quite low – statistics vary depending on the source, but it's in the single digits, around 2%. Historically, one of the factors is affordability – something which has shifted in the past few years, given the growth in our economy and, consequently, purchasing power and consumption. Another factor is education. We need to do a better job at informing consumers on the value of protection and long-term savings and investment.
We also need to make insurance relevant to our consumers – insurance is no longer just about buying a policy, so your loved ones receive a benefit, should something untoward happen to you. It's now also about planning for your future and making sure you achieve your goals, while also living a fulfilling and healthy life. That's why we launched Manulife MOVE.
Can you tell us the marketing insight behind the Manulife MOVE campaign? Was it a response to customer demand for lower premiums or was it Manulife's attempt to change customer behavior (a healthier lifestyle) and rewarding it through discounts?
We ran some research that told us two things: first, our customers want to be rewarded for living a more active lifestyle, and second, they want to use technology – gadgets and such – to help them achieve their fitness goals.
Manulife MOVE is our answer to these customer needs. The program rewards customers for being more active by giving them a special rate on their insurance premiums if they take more steps every day, and it leverages fitness trackers such as Misfit and Fitbit to help them track their progress against their target number of steps.
The campaign is unique in the sense that it directly ties up customer behavior with a relevant incentive, not just a straight up discount promotion. At the same time, the incentive makes the customer "work" for it (through the average daily steps requirement). Does that hinder adoption?
We haven't seen adoption to be an issue. Because we are responding to a need that our customers themselves have identified, Manulife MOVE has been very well received.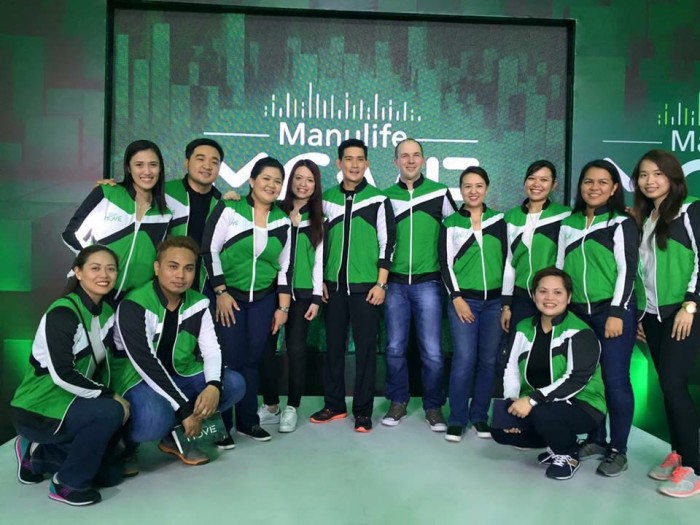 It appears the Philippines was the second market after Hong Kong where the campaign was launched? Any particular reason why the Philippines was chosen as one of the earlier markets for this campaign?
We felt that the Philippines is a strong market that is ready to embrace an innovative program like MOVE. The economy has been on an upswing – employment and consumption have been on the rise – and insurance penetration is still low compared to other Asian markets.
In addition, there is a growing interest in fitness among Filipinos. Marathon participation rates have been rising – we have statistics that say participation tripled between 2009 and 2014 – and various forms of physical activity, such cross circuit training, spinning and yoga are gaining popularity.
Of course, another factor is the fact that technology adoption is very high in the Philippines. Years ago, we were known as the SMS capital of the world – as technology has evolved, so have we, and we are now the selfie capital of the world. Studies show that the average consumer in Metro Manila has over 4 electronic devices and 64% of Filipinos from Manila consider their mobile device as their most important piece of technology – we're not far behind Hong Kong, where that number is 72%. All indicators pointed toward launching Manulife MOVE in the Philippines: a growing economy, strong interest in health & wellness, and high technology adoption.
It seems the campaign primarily targets Millennials, who are probably the least likely to think about insurance. Would they care about discounted premiums when insurance may not be a priority for them? Why target Millennials in the first place?
I think, given that Manulife MOVE leverages gadgets and that we launched a very interactive program, the inclination is to assume that the program targets Millennials. While this may naturally appeal to that segment, Manulife MOVE is actually something that we believe can benefit a broad range of consumers – people of all ages aspire to live healthier lifestyles and also prepare for their future. Manulife MOVE is something that can help them achieve that, regardless of their age or life stage.
Are there plans to target other segments that are more conscious about the need for protection, like married couples or Gen Xers with children?
Manulife MOVE offers benefits that cut across ages and life stages, and we've actually seen that people of all ages are interested in the program.
Can you describe the components of the integrated marketing campaign and which channels proved to be most effective?
In the past, we have mostly leveraged traditional media and material for our campaigns – TV, radio, print, out of home such as billboards and buses. With the launch of Manulife MOVE, we wanted the campaign to embody the innovation and energy of the program itself, so we expanded our media mix and leveraged more interactive content.
In the past, we have mostly leveraged traditional media and material for our campaigns – TV, radio, print, out of home such as billboards and buses. With the launch of Manulife MOVE, we wanted the campaign to embody the innovation and energy of the program itself, so we expanded our media mix and leveraged more interactive content.
We still launched a TV commercial and ran print spots, but the campaign also included several unique elements that were firsts for us and, actually, firsts for the insurance industry. We wanted to demonstrate how you can move in different ways to this campaign –it's not just walking and running – so we had a MOVE anthem composed, and a signature MOVE dance choreographed. These paved the way for a lot of content that we distributed via digital channels – we had a music video produced and also published a series of dancestructionals for various MOVE steps.
The materials also translated well into live media, so we had a segment on the show ASAP and also held a mall show featuring MOVE. Out of home, we had floor installations in the Makati Central Business District walkways that commuters move more by taking bigger steps, playing hopscotch or dancing.
We've also been running activation activities at malls around Metro Manila. We've seen the highest digital engagement among all of our campaigns with Manulife MOVE. We even trended twice on Twitter. Our hashtags held the 3rd and 4th spot on the day of our ASAP segment, and we also trended on the day of the mall show. I don't believe an insurance company has ever trended before. Looking at the life insurance industry, our share of voice on social was at about 90% in January and February. Digital is where we had the most success for this campaign.
 You added recording artist Sarah Geronimo for the campaign. What were the reasons for choosing her? And how does she complement your original celebrity endorser Richard Yap?
This is actually Sarah's second campaign with us. She first joined us as a brand ambassador in September2015 and was part of our Start Your Story campaign. Like Richard, Sarah had been a Manulife customer for several years before becoming a brand ambassador – there's no better ambassador than someone who has been a customer for a long time and experienced first-hand what it is like to be a Manulife policy holder.
Insurance in the Philippines remains to be mainly sold by agents. Is the campaign intended to generate more inbound or direct business or are agents actively pushing the Manulife MOVE program to their customers?
Our agents or Financial Advisors have been key to the success of Manulife MOVE – they are the strongest driver of adoption for this program. They were the first to find out about it, actually, and have been quite excited about having something so unique and innovative to offer to their clients.
How has the market responded to the campaign so far, since it was launched at the beginning of 2016? Can you cite numbers like new customers, premium growth, etc.?
I can't disclose specific numbers, but what I will say is that Manulife MOVE has exceeded our expectations.
What has been the biggest challenge for you since you became Chief Marketing Officer in March 2015?
Insurance has traditionally been an industry that is transaction and product focused – we sell our products to consumers, and then we don't hear from each other until the times comes to make a claim against a policy. Our biggest challenge as a company has been how to change that and make Manulife more relevant in consumers' day to day lives, so that we can build long lasting relationships with them.
That's why we launched Manulife MOVE – this program will allow us to actively engage with our customers as their partner in achieving their health and fitness goals.
Your background is mainly in the financial services industry, particularly in banking, where you were involved in credit cards, eBusiness, and a major re-branding effort. How has your experience helped you in your transition to the insurance industry, where selling insurance is a tougher sell than selling deposits, loans, and credit cards?
Banking and insurance have a lot of similarities – both are financial services, both deliver products that are not tangible to the senses. That said, both are dependent on relationships and differentiate on the quality of service. It's all about delivering on our brand promise and ensuring that we provide our customers with an exceptional experience at every touchpoint.
What's the next move for Manulife?
There are a lot of exciting things coming, though I can't go into specifics. Let's just say that it's a great time to be with Manulife.