I don't quite know what to expect as I make my way up an old staircase at the lower end of Hollywood Road to meet Norma Chu for the first time.
You might have seen her on now TV or Buspak's onboard TV cooking up a storm, or fronting a CLP commercial, or perhaps you've seen one of the hundreds of cooking tutorials on YouTube or even experienced a live DayDayCook event.
But Chu, a former equity analyst, is fast becoming the Martha Stewart of Asia – but let's not pin that badge on her, for now.
What launched as a side project of sorts in 2010 has quickly become a full-blown media career. DayDayCook, a recipe site specialising in Chinese home cooked meals, has exploded, especially in the past six months, and it's only getting started.
To date, a growing legion of marketers from Nestlé, Unilever, Samsung, Nokia, Lee Kum Kee and Heinz have explored a whole range of branded content opportunities, partnerships and sponsorships to capture Chu's loyal fans of young working professionals, newlyweds, mums and even dads.
The DayDayCook website now reaches more than 100,000 people a month, but add in 128,000-plus Facebook fans and tens of thousands of YouTube views and the numbers start to stack up.
On any given day the site hosts up to 15 advertisers, but Chu is quite casual, almost unfazed or either very good at hiding her excitement, when she points this out.
"Growth for the site has been very good in the past year, but I still see more coming," she says.
"We've only been selling advertising since April this year."
The appeal of the site, she says, comes as a big shift in eating, especially towards healthier meals cooked at home, sweeps through a powerful and big spending demographic of young married couples.
I understand why people eat out so much, because eating at home kind of sucks.
"In Hong Kong a lot of people have maids who will only prepare the type of dishes they know how to cook. People are almost nesting again.
"When I get invited to a friend's house for dinner, they have these beautiful homes, but the food is mediocre. Having DayDayCook, a lot of my friends start bookmarking what they like."
This seems to be the perfect storm for Chu and her team of six full-time staff.
"You can't target older mums or housewives anymore, their kitchen is already filled with junk. Young married couples want to explore new things, try new gadgets in the kitchen and try out new recipes."
And this is where the site begins to flex its muscle. Brands, which have been slow to embrace the digital space, are finding a very comfortable home with Chu and the site, through a series of natural product placements.
Additionally, posts on Facebook, where up to two sponsored posts are featured each day, along with Instagram and to a lesser extent Pinterest, are almost pulling these brands into the digital space by default.
"I love working with some of these very traditional brands and making recipes cool for them again," she says.
Kevin Huang, CEO of Pixel Media, which started selling advertising on behalf of DayDayCook in April, says many of these brands are hungry (pardon the pun) for growth across these digital platforms where younger consumers are now spending most of their time.
"A lot of the brands, especially the ones that are native like the sauces or dumpling brands, are very traditional in their marketing approach," he says.
"But now there's actually a platform online focused on a very targeted audience. It's a natural no-brainer.
"When we (DayDayCook) present it as product that we use, it has longevity. Even three years after the campaign."
But Chu offers a different take on the initial success with some of these very big brands.
"A lot of people think Chinese cooking is difficult and to a certain extent quite old school.
"I want to change that image of Chinese cooking. It should be simple and it should be young and hip, in a way."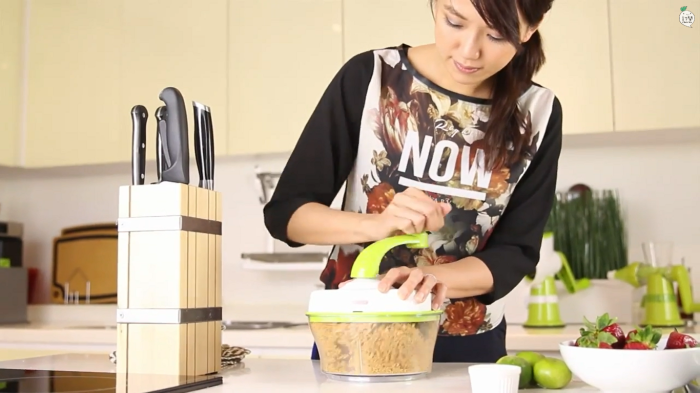 She says another element that has helped to attract a younger audience is the fact that since day one, the DayDayCook team has maintained a high-level production and presentation to everything that gets released – from food photos on Facebook to production values on YouTube, something Chu says, big brands have welcomed.
"We design the recipes, we handle the entire production process and for the clients we work with, that's what they want. We can do up to six dishes a day and there is quite a bit of product placement, but these are brands I would be cooking with anyway. It's very natural."
The year ahead looks like even more rapid growth for Chu and the DayDayCook team. A DayDayCook shopping platform selling select kitchenware and gadgets are in the pipeline, as is a beefed-up loyalty programme and potentially her own cooking show on YouTube.
"The website is the core where people can always come to. But I want DayDayCook to go beyond that.
"Now in addition to that they see me on TV, see some of the marketing collaboration with brands, that's beyond what I planned originally when I was doing this on the weekend."