Facebook has announced that it will be banning all ads "that promote financial products and services that are frequently associated with misleading or deceptive promotional practices, such as binary options, initial coin offerings and cryptocurrency."
In a blog post dated 31 January 2018, product management director Rob Leathern wrote that in order to safeguard users, "misleading or deceptive ads have no place on Facebook."
This means that any and all advertising – even those by legitimate businesses related to cryptocurrency will henceforth be banned from the platform, and ads that violate the company's new policy will be banned from Facebook's app, and related services, including photo-sharing service Instagram and Audience Network, which places ads on third-party apps.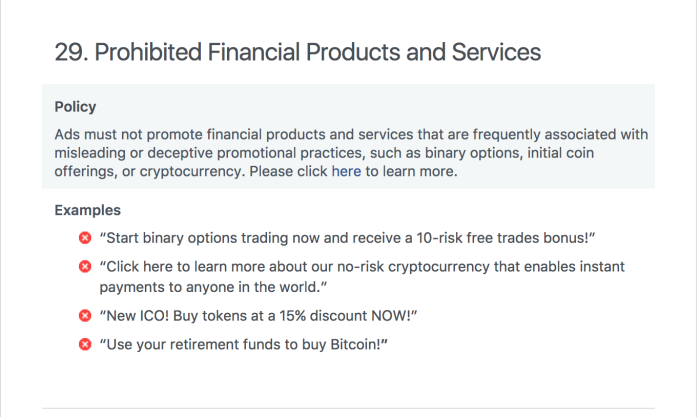 "This policy is intentionally broad while we work to better detect deceptive and misleading advertising practices, and enforcement will begin to ramp up across our platforms including Facebook, Audience Network and Instagram. We will revisit this policy and how we enforce it as our signals improve," the blog post wrote.
The policy looks to be a part of a shift in Facebook's focus on the end-user, such as its changes in the Newsfeed announced last month which would essentially demote content from Pages and promote posts by friends. At the the same time, Facebook has announced a greater emphasis on what it calls 'quality news' and 'trusted publishers' to help in their ongoing battle against fake news, by for example prioritising local publishers and giving 'trusted' media a special tag – a move media mogul Rupert Murdoch wants them to pay for.