A desperate Chinese mother has taken out a full front-page advertisement on Chinese Melbourne Daily begging her son to come back home for Chinese New Year.
After repeated attempts to force her son into marriage, the Guangzhou-based woman pleads her son, who is working in Australia, to retun back to his family.
"We've called you many times but you didn't pick up, maybe this is the only way to let you know."
"Mum and Dad will not force you to marry any more. Come home for Chinese New Year!"
Chinese Melbourne Daily is the largest Chinese-language daily newspaper in Melbourne which has a state wide circulation of 15,000-18,000 copies.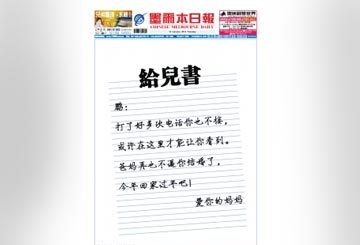 (Photo curtesy to Chinese Melbourne Daily)