The future of customer loyalty is emotional engagement. While loyalty points are just a form of currency in the market, loyalty itself stands for an authentic relationship, according to industry experts.
At Marketing's Customer Loyalty 2016 conference, a handful of the region's industry leaders – from established brands to a new breed of rising companies – talked about how they were establishing loyalty in customer relationships to gain an edge in their highly competitive markets.
Though every speaker had a different take on loyalty, what they had in common is that loyalty programmes are no longer just a collection of points or putting a card in a patron's wallet; rather, it's about leveraging new platforms and channels to create a unique experience, to prove your brand's value, and eventually to build an emotional bond.
Good loyalty programmes should create unique experiences, which synchronise with brand values and get customers emotionally attached.
While long-term customers are the most valuable to a company, Winny So, head of marketing for commercial banking at HSBC, said corporates should not just look at the balance sheets or numbers, but take the customer's point of view to understand what they really need.
The long-standing bank has employed a "customer insights 360" strategy to gather every touch-point with its customers. Offline data, such as banking behaviours and daily commendations, enquiries or complaints, and online data collected through social media interactions, all contribute to the customers' big picture, and enables front-line people to be proactive in customers' needs for better experiences.
Raphael Cohen, co-founder and chief sales officer of HotelQuickly, agrees mobile, digital and social are increasingly becoming important as communication channels.
"When brands engage customers, they need to be aware of any touch-points that enable them to listen to what they are saying."
Similarly, food delivery platform foodpanda said it had utilised every piece of data collected to construct algorithms for the highly fragmented market.
"As simple as why people are more likely to eat salad on Mondays – these small questions can lead to big answers for the highly under-penetrated food market," says Alexander Roth, managing director at foodpanda Hong Kong.
"Data has proved that improved customer services trigger higher user engagement, so we pinpoint segmented needs to further optimise customer services. It doesn't matter how small your company is, if you find what your customers want, you can always surprise them."
On the other hand, Aimia's director and head of the APAC strategy Chris Yeo advised brands to avoid being "overly customer-driven".
"The first step is always to identify your brand's sustainable, unique assets, then design strategies such as analytics-driven personalisation to exploit them. You have to be strategic on loyalty design to differentiate your programme from your competitors."
While most players have developed a standalone loyalty programme or a standalone loyalty programme with partnerships, Yeo said often a lack of communication between internal departments stopped a programme from flourishing.
Brands should use their unique assets to increase programme value.
He reassured that a well-designed programme will create experiences that synchronise with brand values, in turn driving customer engagements and commitments.
In fact, aligning loyalty-focused strategies with a company's development often leads to a revamp of a brand, which some long-established brands have demonstrated.
The customer journey is now comprised of multiple touch-points and experiences a customer has with your brand over time. This journey is no longer straight and narrow, or even predictable.
Kevin Coon, vice-president of BMW Group's importer markets, extends his brand focus from hardware designs to software services with the BMW i Next electric vehicles and mobility programmes, after the company realised drivers wanted higher connectivity in their journeys.
BMW ConnectedDrive, which provides digital services and driving assistance to drivers, is conquering different regions to change the customer experience in the future.
Undeniably, perception is a huge part of the customer experience. Henry Yim, group managing director at Amoy Food, shared the brand's strategy of re-establishing a "Made in Hong Kong" image through traditional and online channels to create trust and enhance the image of Amoy as a safe and reliable producer of food.
"Embrace transparency and openness to create trust, and consumers will reward you for it."
Grace Chan, director head of marketing at American Express Hong Kong, shared how the brand had leveraged centennial celebrations to drive stakeholder engagement.
Steven Greenway, deputy chief executive officer at U-Fly, said a mismatch between a loyalty programme design and a company strategy would reduce the loyalty programme's effectiveness. Furthermore, he called for the need to embrace dialogue.
There's no need to go too complex when you talk about building loyalty – it works with an informal and random chat with customers.
Indeed, a small gesture goes a long way in a customer's journey.
Greenway told the story of a friend in the hotel industry, where the hotel acted immediately in the face of an online call for help. The hotel responded fast when it saw Kitty talking about a jet-lag on Instagram, and proposed several solutions like doing yoga that could possibly soothe the tired soul.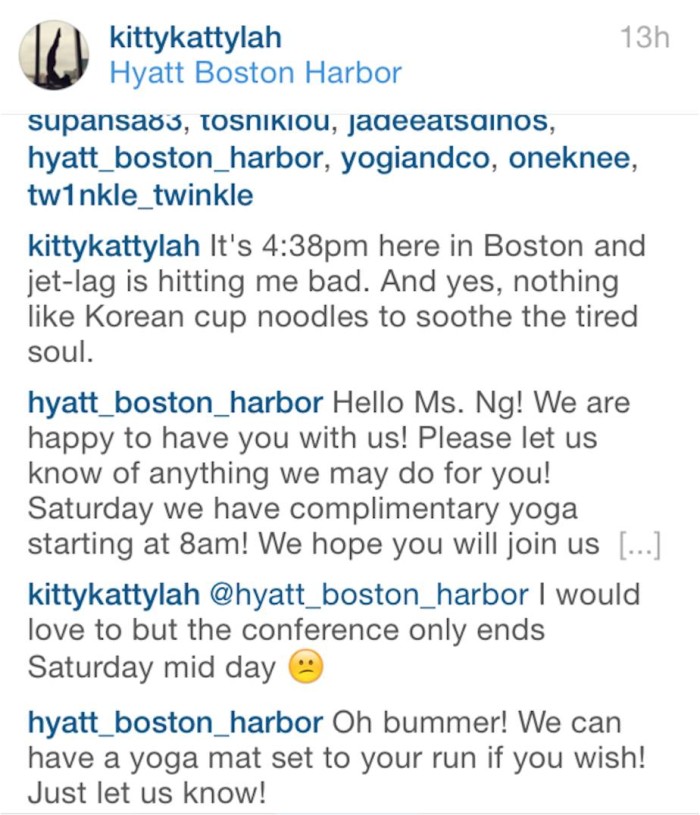 "Sending a happy birthday, or reminding customers how many time they've been on board, are not dialogues. It is the sense of a personal touch that can turn it into a real loyalty relationship."
Online platforms such as Facebook and Instagram are good places to create an interactive dialogue with customers.
To amplify the result, brands do not essentially have to walk alone – crossing over with other brands on their channels may make good chemistry as well.
"Look at the disruptors and think of what to do with them," Greenway suggests, reasoning that partnerships across boundaries can drive unexpected synergies.
"We are talking about many companies who are disrupting whole industries, but everyone is just dipping their toes into the water. Brands can start off by linking yourself to member segments, but don't limit yourself to the traditional players. Not just hotels, but also Airbnb."
Adds Joanna Wong, head of business marketing for Asia Pacific at Spotify: "If you are not on-demand, you are old."
The music and video-streaming platform partners different sectors, including FWD Insurance, Fashion Walk and Star Wars the movie, to make sure it reaches customers in the right moments.
"Think out of the box. Embrace the new generation of customer choices and preferences, then choose the most suitable strategic partnerships to collaborate and convert insights to engage with new customers."
Many companies have already realised emotional engagement triggers different customer behaviour which also impacts customer loyalty and retention. When companies connect with customers' emotions, the payoff can be huge.
(Photo courtesy: 123RF)