Carat has updated its global ad expenditure forecast, while China's ad spending outlook has been revised down from the +8.1% previously forecast in March to +6.5% due to the slow down in the economic growth.
Advertising spend in the Asia Pacific is forecast to increase in 2015 by +4.1% (revised down from +5.2%) and by +4.7% in 2016 (revised down from +5.8%).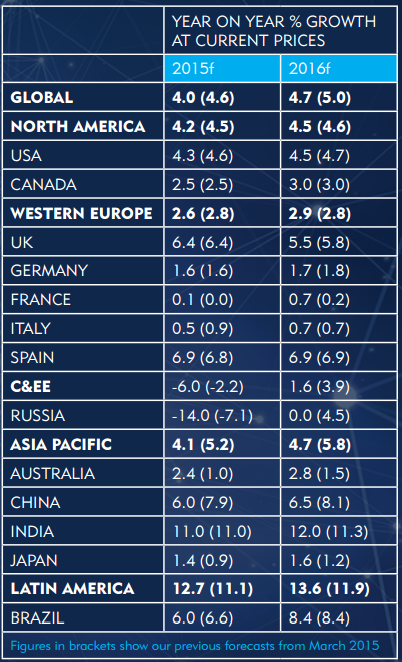 Growth rates in the region have been lowered due to the slow down in advertising spend in China, the world's second largest advertising market, affected by decelerating economic growth, such as a devaluation of its currency, volatility in the financial markets, and falling commodity prices.
Forecasts for 7 out of the 14 markets analysed in the region, have also been revised down since the March 2015 report for both 2015 and 2016. These include Indonesia, Hong Kong, Taiwan and Malaysia.
The Dentsu Aegis Network-owned media agency says China's advertising market accounts for 15.4% of the global advertising market, based on 2015 figures and these lowered growth rates have subsequently affected the global advertising market.
By media, digital media spend in China is expected to maintain a rapid rise of +28.5% in 2015, fuelled by the upsurge in mobile spend which is forecast to see the highest growth of +56% as consumers' lives and behaviours revolve more and more around the digital realm.

Based on data received from 59 markets across the Americas, Asia Pacific and EMEA, Carat's latest global advertising expenditure forecasts that an encouraging rise in growth for 2016, with levels of year-on-year global growth of +4.7%, reaching US$554billion.
This is in line with continued global macro-economic strength and stability forecasts combined with an uplift from large upcoming quadrennial events: The US presidential elections, Rio 2016 Olympic Games, as well as the 2016 UEFA European Football Championships.
"Carat's latest advertising spend forecast shows optimism balanced with realism during a year of increased volatility in major markets such as Russia and China. Noticeably, the landscape is becoming increasingly complex as previously grouped markets, such as the BRIC economies, are now operating differently and economic situations can quickly change markets at pace,"  says Jerry Buhlmann, CEO of Dentsu Aegis Network.
As always, digital remains a bright spot. Digital media continues to achieve predicted high growth rates of +15.7% in 2015 and +14.3% in 2016, consistently growing year on year spend although growth rates are slowing.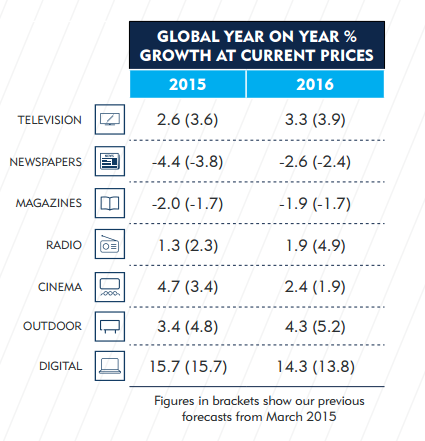 Digital share of advertising spend has increased by, on average, over two percentage points each year to reach 24.3% share of spend in 2015, and is forecast to be over a quarter of total advertising spend in 2016 at 26.5%.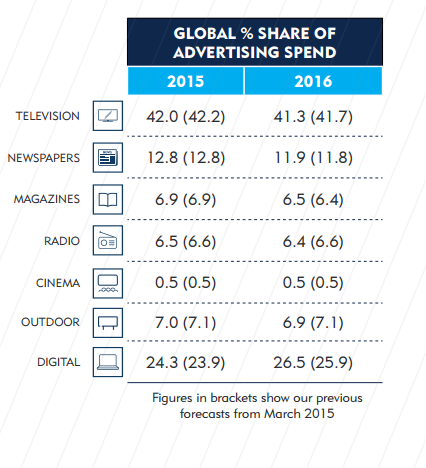 There has been a rapid growth in programmatic buying, with growth set to continue at an extraordinary pace. By the end of 2015, in the US market programmatic transactions will be the majority, with 52% of non-search digital advertising spend and growth at a rate of circa 20% a year predicted to continue for the next few years.
Mobile is experiencing the greatest spend growth across all media. The opportunities to re-target consumers closer to purchase activity is a big driver. The media powerhouse forecasts growth in mobile spend at +51.2% in 2015 and +44.5% in 2016.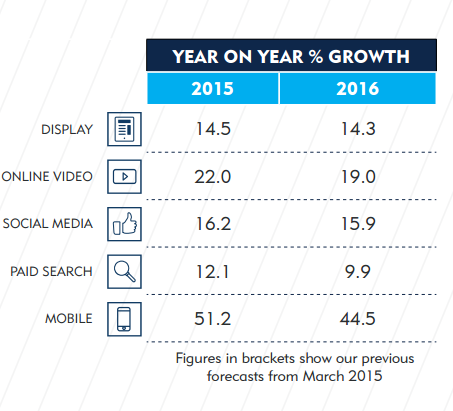 Given the size of spend on TV and the shift to digital, growth in advertising spend for TV is in low single digits, +2.6% in 2015, increasing in 2016 to +3.3% in a year of events.
"Digital media continues to achieve outstanding growth as the effectiveness of this medium and results achieved, especially with Millennials, warrants the upsurge in spend levels. As digital rapidly evolves into a more established asset and programmatic and search bring stronger performance and efficiency." Buhlmann adds.