The summer holidays are not yet over but already marketers are looking ahead to the big moments at the end of the year. For retailers festivals and holidays means one thing 'ÄĒ shopping: a surge of consumers looking for seasonal deals or last-minute gifts. It'Äôs hectic and exhilarating at the same time, it'Äôs also critical for business success: many businesses rely on this seasonal boost to see them through the 'Äúlean months'ÄĚ afterwards.
What'Äôs the best way for Hong Kong retailers to succeed this holiday season? One approach is to take a fresh look at your digital strategy. It'Äôs a mistake to put digital in a 'Äúsilo'ÄĚ 'ÄĒ too often the online and offline worlds are treated as entirely separate, but 'ÄĒ especially when it comes to shopping 'ÄĒ we'Äôre seeing the line becoming increasingly blurred.
According to Google's Micro-moments Research, even though Hong Kong consumers still lag far behind other markets in Asia when making mobile purchases (currently ranked #9 in the region), the number is still high with almost two thirds (64%) of respondents from the survey likely to buy from mobile sites or apps with quick purchase options available.
In-store sales and footfall are still important measures for Hong Kong retailers, especially in a city with stores everywhere and on every floor of most buildings. But the smartphone has become a mobile guidebook and assistant for Hong Kong consumers. Here are just a few startling facts:
'óŹ 90% of Hong Kong consumers consult their smartphone while making a purchase in a store.
'óŹ 80% have purchased a brand they wouldn'Äôt normally consider because of relevant information available through their phones in the moment.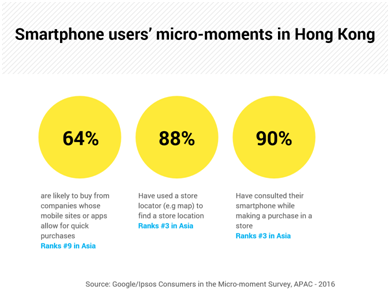 Retailers that understand the micro-moments that matter to their consumers and help them find what they're looking for will be the winners this holiday season. Here are four game-changing insights with tips for how retailers to drive seasonal in-store sales:
1. Start bidding for keywords like 'Äėnear me'Äô or 'Äėwhere to buy'Äô
The trick to coming up with great keyword ideas is to put yourselves in the shoes of a consumer. Consumers don'Äôt just want to know price information, they want to know where they can physically buy a product 'ÄĒ and if it'Äôs just around the corner all the better. By adding simple phrases such as 'Äėlocation'Äô, 'Äėnear me'Äô, or 'Äėwhere to buy'Äô, you can drive traffic to your store.
2. Use bid-by-distance to target consumers near your store
Bidding-by-distance can be extremely effective in high-density city like Hong Kong. Consumers who are searching for you or your products on smartphones near your store are more likely to walk-in and purchase if they see an advertisement or a video about your products at that moment. You can simply specify a radius around your business location and show ads to potential customers when they search related keywords near you.
3. Be helpful when people search your store on Google Maps
Mobile allows consumers to take valuable actions like looking up directions and placing calls to a business they'Äôd like to visit. In fact, 88% of consumers in Hong Kong have used a store locator on their phones. It'Äôs critical to display an accurate address, phone number for appointments, and opening hours on maps when consumers search. To draw even more foot-traffic, uploading a 360-degree panoramic business photo for potential customers to 'Äúgo inside'ÄĚ your store may also boost their interest in visiting.
4. Prioritise your digital spend
Marketers working for department stores with a huge variety of products will know that some products and services sell better offline than online. Therefore, prioritising the digital spend on categories with a high in-store impact, such as cosmetics, entertainment and luxury, is important. Data analytics and measurement tools can help you evaluate how much you spend on digital advertising and drive in-store sales.
Today'Äôs consumers are looking for businesses that can meet their needs as quickly as possible. This means every business is an online business now 'ÄĒ whether or not you sell things over the internet 'ÄĒ because consumers are online on their phones and expect shops and information about shops to be there too.
Leonie Valentine is managing director for sales and operations at Google Hong Kong.