Bringing on board a slew of new clients would usually lead to the expansion of an agency and the hiring of more employees. We suppose that's why BLKJ has put up a post on its Facebook page. True to its cheeky nature, the agency turned a typical job ad into a witty one by injecting industry references and really (and we mean really) grabbed our eyeballs.
The ad paints a picture of an ambitious and bright-eyed individual who is disgruntled at the fact that their contributions are not recognised by the company, and gets shot down by ECDs who cannot comprehend the ideas they put forth. The individual then stumbles upon "a pretentious heap of sh*t from some place with a funny name" and applies for a position with BLKJ. Subsequently, the individual is faced with pleas from current employees to reconsider his or her resignation. However, the individual remains adamant as he or she knows that the sun is beginning to set on network agencies (harsh reality check, we know).
The ad says:
"The Grand Global Creative Poobah will plead with you, first on Skype, and then in person. But you will hold firm in your decision. Because you know something that Sir Martin is only just coming to terms with; the network agencies are unravelling faster than a ball of wool in a kitten's paws. The stock points will drop 17 points. The suits will shake their head and sigh and mourtn the end of an era. They will plan a Tatler-worthy farewell party for you which you will not attend," the job ad said.
It then goes on to describe how BLKJ will welcome the individual with open arms by "[rolling out] a 1.2km long red carpet all the way from Mountbatten MRT to the office" and "the agency CEO will shake your hand and never let you go".
The recruitment ad ends on a light-hearted note, poking fun at the individual behind the Facebook post. "And at some point you will meet the bubble gum brain that wrote this embarrassing piece of abomination and tell him that you never, ever put up a print ad on social media," it said.
View BLKJ's ad here:
In a statement to Marketing, Joji Jacob, co-founder and creative partner of BLKJ, said the ad was done with the thought that creativity means finding a better way of doing things. As such, the agency decided to produce and release the job ad on its own Facebook page instead of going to a recruiter or putting out a paid ad.
"The idea for the job ad just demanded that it be all text, there wasn't really a need for a visual. I'm sure print has a role when it comes to putting out recruitment ads, but we were targeting young creative teams and social media was the best way to reach them," Jacob added.
And as we all know, the job ad comes days after the agency bagged the StarHub account.  It was also appointed by Scoot last year to manage its creative duties for a period of 27 months, with the option to extend.
BLKJ isn't the only agency to have created quirky posts for its recruitment drive or around its employees. Last year, local independent creative agency, Blak Labs, launched a Grad Challenge with the promise of an eight-week placement, aimed at Nanyang Academy of Fine Arts (NAFA) School of Art and Design graduates. The challenge highlights the "dogged mentality" needed to succeed in advertising, requiring graduates to submit five pieces of their best work. Although aimed at NAFA graduates, the agency said this challenge is "open to anyone looking for a place to sit, stay and play".
Advertising the challenge on its Facebook page, the agency even produced a video starring a black Labrador Retriever to demonstrate the "dogged mentality".
Prior to that, the agency also issued a challenge to prospective hires where NAFA students received a test in their graduation booklet and on digital channels, requiring them to spot at least 10 design errors deliberately hidden within the creative with a total of 20 errors hidden in the ad.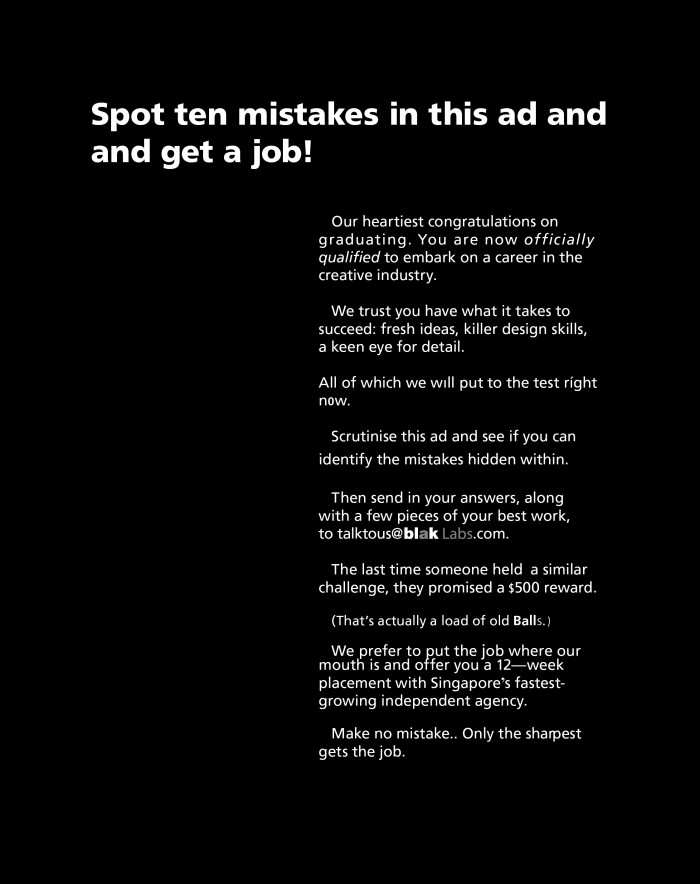 According to Blak Labs at the time, industry practitioners should be able to spot a minimum of 15 errors to be worth their salt.