Insurance company AXA is encouraging parents to be overprotective in ensuring that their family are well-insured by launching a AXA SmartFamily. According to AXA, this a first-of-its-kind Personal Accident (PA) plan in Singapore, which offers financial coverage along with eight additional non-financial services.
In an effort to promote its plan, AXA has heralded an integrated approach to marketing its campaign. Throughout the month of September, the campaign will roll out in phases on various media platforms.
Beginning with media activation, the campaign kicked off on 2 September with AXA organising a launch event – in a game show format - for the media, artistes and key opinion leaders. Named The AXA SmartFamily Game Show, it featured two local celebrity family teams battling it out by answering questions related to the PA plan. The event also included other entertaining skits by local artistes depicting the types of coverage that the plan offers.

In addition, AXA will launch the first concept taxi for its campaign which features taxis with customised interior features on top of exterior body wraps. Over 300 taxis island-wide will have their interiors fitted with an extra layer of padded seat covers, car mats and seatbelt protectors to relate to the campaign's theme of protection.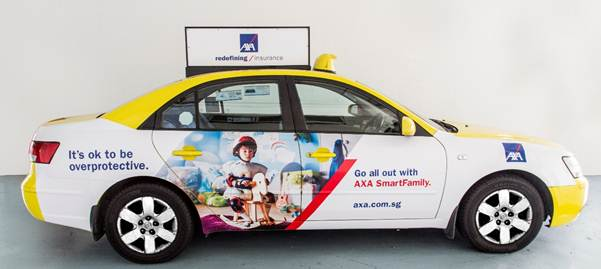 Meanwhile on 28 September, AXA will release a social experiment video online to leverage on online conversations. For this, two teams comprising parents and seasoned product design experts are gathered to re-design the safest household products frequently used by parents and children. A blind test is then conducted with a separate group of parents who are asked to pick their favourite design from the two teams.
AXA will also extend the conversation on ground, to a wider audience in the heartlands through an outdoor exhibition event. From 28 September to 4 October, designs from the social experiment video will be made into prototypes and displayed at Serangoon's Nex where high human traffic consisting of families frequent often.
By sharing the prototypes designed by parents that exemplifies overprotection, the exhibition serves to strengthen AXA's brand and product relevance through this collaboration between AXA and parents as well as increase awareness of the campaign further.
"The notion of protection is mostly innate and intangible in the minds of parents. Our campaign aims to embody 'protection by all means'  in a more tangible way for people to better understand and visualise what this means.  We want people to experience this first-hand – see, touch, feel and connect – so that the power and need to protect comes alive in the hearts and minds of Singaporeans," Kwek-Perroy Li Choo, chief marketing officer of AXA Life Insurance Singapore, said.