In an attempt to lure women into the Army, the Ministry of Defence (MINDEF) advertised the Army Women's Seminar 2013 to be held on 14 September.
The direct mailers came complete with a fake mirror and eye-shadow palette. The envelope said: Discover shades of green that bring out the best in you.
This caught the eye of women's rights group AWARE Singapore. In a Facebook post, it said: We want to let the Army know that make-up doesn't stir our patriotic sentiments. Can you help us think of a creative, effective way to send them a message?
MINDEF could not be reached for comment. Its agency Mandate Advertising, which created the ad also declined to comment.
When contacted, Corinna Lim, executive director of AWARE told Marketing that the ad reflects "inaccurate and offensive stereotypes about women" and the Army's use of make-up and mirrors to appeal to women is "trivialising".
"The ad implies that women care more about how they look in Army greens than the crucial work of the Army.[…] Advertisements which play on such gender stereotypes reinforce very limiting images of women. They deny women a holistic personhood by ignoring their complexity as people and their varied interests as individuals," she said.
Attracting women to the Army does not start and end with an ad campaign – it is about redefining the experience as one that is palatable to women and if MINDEF is trying to remove gender barriers to joining the army, using marketing gimmicks like make-up is not the way to go, she explained.
Going forward, Lim advices that recruitment ads for the Army that target women should appeal to their agency, their value as a citizen and soldier, and to their patriotic sentiments, just like the ads targeted at men.
"MINDEF's recruitment ads targeted at men focus on the work and appeals to their patriotic spirit, not how good they would look in their uniforms."
Some women have also supported Lim, commenting that "if [the army] wants the women to join in the task, then [it shouldn't] make them look dumb with such things as it's not very encouraging." Others have asked the army to "stop limiting women to makeup loving barbies" as it does "nothing but perpetuate the already existing stereotype."
But not everyone dissed the ad . Some of the men came to the campaigns defense saying "these mailers focus on promoting the idea that an army career doesn't mean you have to shelve your feminine side and wear machismo like a badge."
The post by AWARE continues to gain traction as it had already been shared 83 times at the point of writing.
Here is the ad: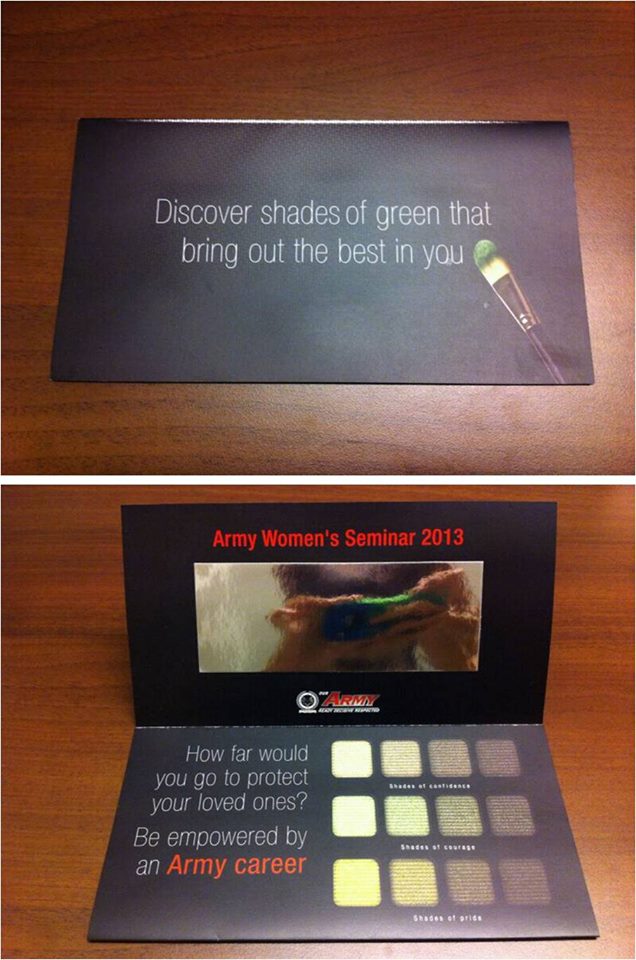 (Photo Courtesy: AWARE Singapore)
Agency folks weigh in
When asked, Noah Regan, creative director of The Host said that recruitment of women into the army is rather should be a serious business but the direct mail came across "a little too flippant."
He added that while the message behind the campaign isn't intentionally offensive, the intended female audience probably wont feel convinced that the army is the place for them to advance their lives or career.
"I sense that they will feel that this is still a male dominated organisation that likes to have a laugh at their expense. To recruit female talent into the army they need to talk to women as equals and give them more powerful reasons why," he added.
Meanwhile Robert Gaxiola, creative director of ManghamGaxiola said that a woman's role in the military is a controversial topic.
"I think this direct mail piece paints a very clear example of what the army currently thinks of Singaporean women. If this is how they currently view women, how will they ever be able to present a serious career to women inside their own ranks?" he added.
Creatively however, Gaxiola added that it does get the attention but sadly it's just "loaded with the wrong message" and strategy fails as a means to break the ice and draw women in for a serious occupation in the army.
"I'm not sure what was story was behind it, the brief, or what alternative ideas shown were but it appears they fired this one at a target they clearly didn't understand as well as they should have."
He added that hence it was important to have an open conversation so as to "better understand the issue and sensitivities at hand."
"Well, if this gets everybody talking about it. I guess it has achieved its awareness objective,"  Lionel Goh, general manager of Saatchi & Saatchi said.
"It is interesting that they have found out new ways to communicate rather than more of the same predictable wall paper work that we see. Let's see what the returning numbers are. Only then will we appreciate the effectiveness of the campaign.