In the past decade China has offered retailers and consumer goods companies opportunities for unbridled growth and long-term potential.
But this has changed over the last two years as headline retail growth has declined by two points from 14% in 2012 to 12% pa in 2014, with many businesses have seen low-single-digit growth and negative like-for-likes, finds OC&C Strategy Consultants' latest report The New Normal: Time to stop making excuses and adapt instead.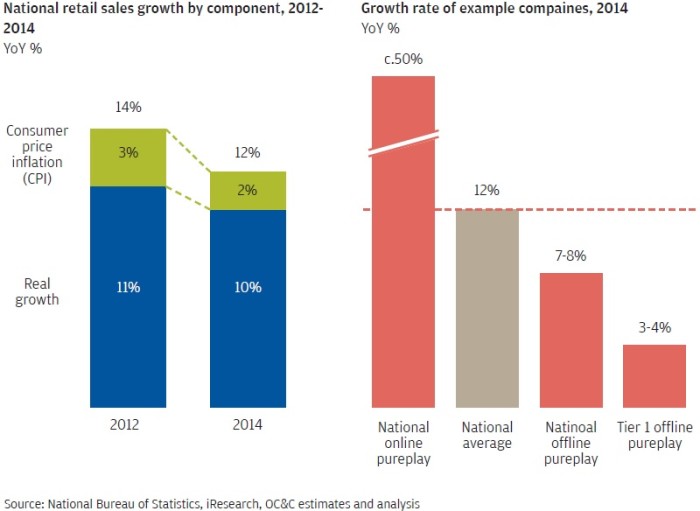 The report shows businesses that are under-exposed to well-performing areas of the market, such as online and lower tier cities, have seen their growth rates halved in the past two years.
Some of the largest offline operators such as grocers, department stores and electrical stores, have experienced especially difficult times as they have been dependent on extra space to drive growth.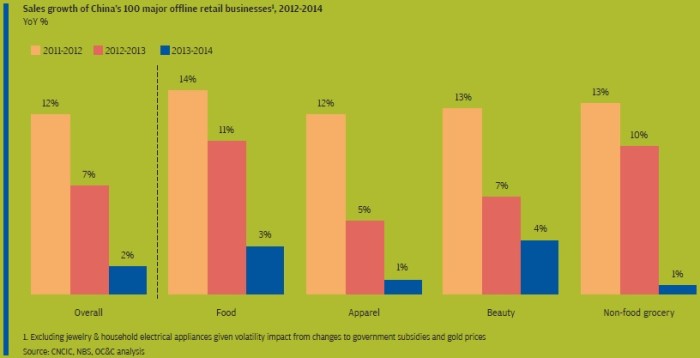 Many foreign consumer goods companies also suffered due to the emergence of domestic online players with their own stores hosted by Tmall, causing many consumers to shift away from established, international brands as they move online.
Not just the retailers have been badly hit; many of the largest consumer goods companies, particularly the international retailers, are also suffering from declining sales, price pressures and over-stocking issues.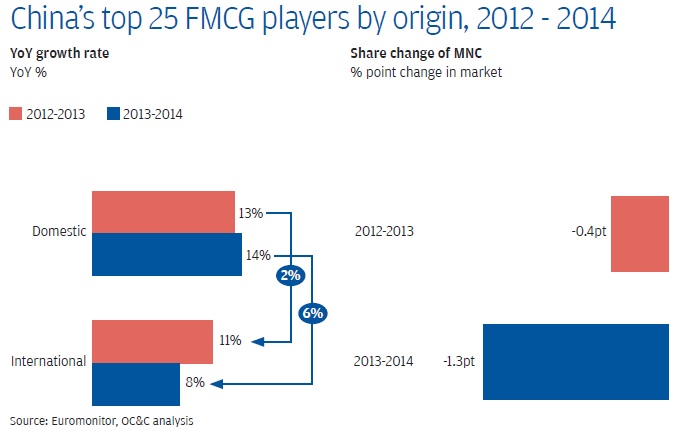 However, the report says China remains a good place to spend money while being in the midst of declining inflation rates, which have driven down overall value growth in the market; real retail sales growth has been similar in both 2014 and in 2013 at around 10%.
One of the key drivers of declining inflation has been the growth of online.
Apart from lower price, which is about 6% cheaper than offline,  there is also an ongoing deflation in the online channel at -2% pa over 2014, according to OC&C's statistics. That puts pressure on offline retailers to follow suit to remain competitive.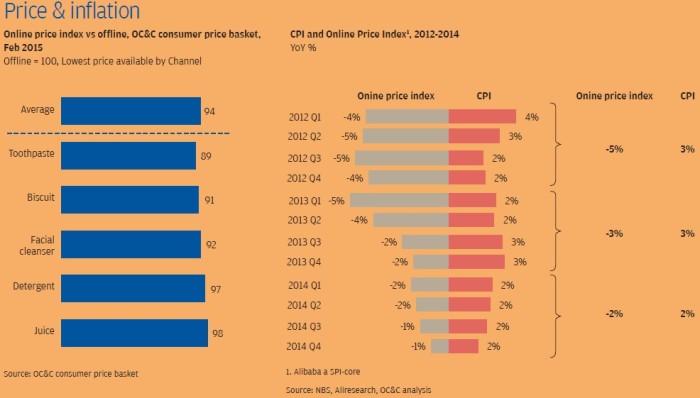 Online now accounts for over half of the retail market growth given its strong performance during the past six months, when online ate up much of the gap to represent around half of the retail market growth in Q4 2014, and the ongoing growth of m-commerce has been a key driver of this.
Meanwhile, online is also expanding relatively newer categories such as grocery.
The traditional strength of online generalists such as Alibaba and JD.com has been complemented firstly by their growth into the large grocery category, illustrated by the launch of TMall supermarket, and secondly the growth of powerful specialists such as Yihaodian.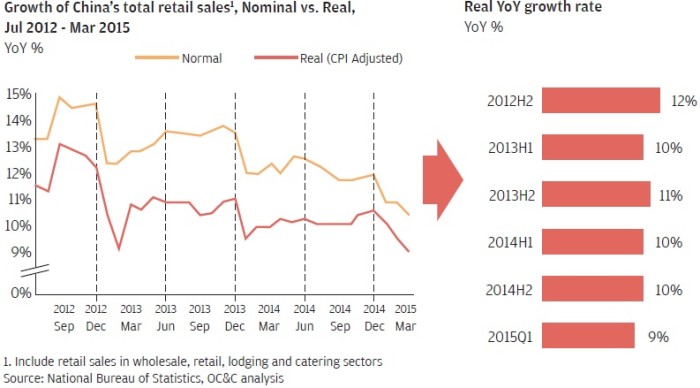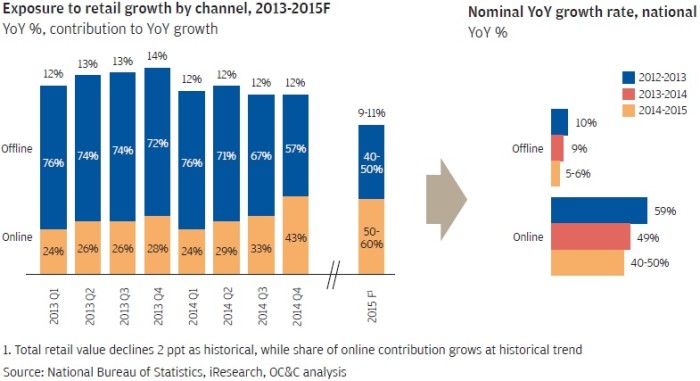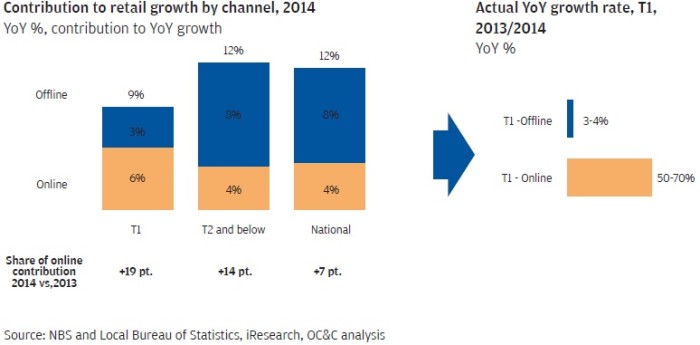 Despite concerns over slower, and even negative growth for some retailers, China continues to expand far quicker than most other world markets.
With levels of personal disposable income remaining high and consumer confidence still strong, the immediate challenge for retailers and consumer goods companies is to become successful online, as it now accounts for over half of retail market growth.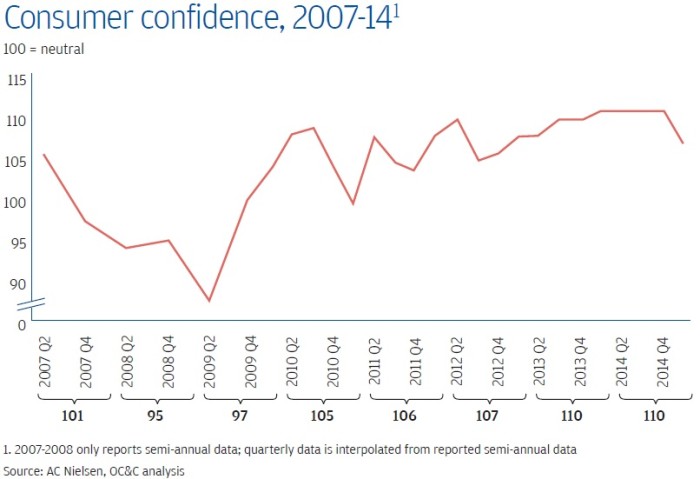 The report suggests four key actions that consumer businesses in China need to be considering as part of dealing with this change in growth dynamic:
1. Be realistic about your underlying market and budget appropriately
China is no longer the land of unbridled growth it used to be. Accepting this, understanding true exposure to market growth and then planning correctly for the future will put businesses on a stronger footing.
An offline, upper-tier focused business cannot expect to perform like the overall market without the growth pillars of online and lower-tier cities. For many multi-nationals this can be a tough sell back to home offices but it is a challenge better faced up to now than later.
2. Offline is far from dead but does deserve less focus
The expertise and culture of many MNCs is, and remains, focused in offline modern trade. It's still the biggest channel for most so cannot be forgotten but too strong a focus many hold back the business for embracing the faster moving online. If online isn't getting the focus it needs then it may require a senior level carve-out, in both P&L and personnel, to give it the focus it needs
3. Look to lower tier cities
Lower tier cities are more attractive than ever as a source of growth in China and businesses need to ensure they have access to these consumers. The scale of opportunity will be very different for each business thus impacting their approach.
All players should look to serve these cities via online but those with more suitable propositions will need to ensure they have a solid offline retail strategy to make the most of the opportunity.
4. Building the right proposition for growth in each channel
The growth and pricing dynamics of each channel are radically different and need to be assessed individually.
Front of mind awareness is more important than ever in the online world.Front of mind, blockbuster brands are best placed to push through the overwhelming range of choice online.
Online allows players to offer a broader range of products than offline. These specialist products can be destination products in their own right if they are suitably specialist and often unavailable offline. Aside from sales they can help to "pad" out the brand's presence in a category and gain eye-space.
Online is a more cut-throat world than offline and in turn requires a greater level of promotional investment. If businesses want to hold / gain share online they need to be willing to invest in promotions to get there. It's not just a case of the depth of promotions but also a creative range of mechanisms.