Marketing and public relations/communications specialists came out as one of the top five positions that are the hardest to fill in Singapore.
According to a recent study by global workforce firm ManpowerGroup, other jobs that also made the cut in Singapore are accounting and finance talent, sales representatives, engineers and secretaries (including receptionists and administrative assistants).
However, globally, marketing and PR are skills that are not on the shortage list. The top five talents that are hardest to find globally are skilled trade positions, sales representatives, engineers, technicians and drivers (particularly of heavy vehicles), said the Milwaukee-based company.
Linda Teo, ManpowerGroup Singapore's country manager, said of the 234 respondents in Singapore, 40% of them said that they found it hard to fill these positions in Singapore. Yet at the same time, employers do not seem to show an urgency to put in strategies to tackle the talent shortage or stay ahead of the curve to find individuals to meet their business needs, Teo argues.
Teo attributes the shortage to "widespread restructuring that is sending tremors across sectors, with shocks being added from a tightening labour market".
"Today, merely recruiting and placing candidates will not yield results. Employers need to encourage a learning culture among their employees and to get them to chart their own careers," Teo said.
She added that employers also needed to explore untapped talent pools such as youth and older workers, and look to enhance benefits.
She explained that such strategies are necessary as the talent shortages may have a negative impact on business. The most likely negative consequences of not putting in place a strategy can result in companies having a reduced ability to serve clients (42%) and reduced competitiveness and productivity (42%).
So why is it so hard to attract talent in these areas?
Teo told Marketing that as Singapore expands her role to become a hub for various sectors, the country will draw more companies, including multi-national players here, leading to more employers looking for communications individuals within an already limited talent pool.
Moreover, the skill sets required for today's marketing, public relations and communications practitioners, include handling more than just mainstream media.
"Members of the public expect to be reached over many touch-points – from feedback channels to Facebook pages. The talent pool which is already familiar to these new needs is, however, small. In addition, the fresh cohorts of talent – practitioners of tomorrow – now being groomed in polytechnics and universities in mass communication disciplines, are only beginning to enter the job market with ready skill sets."
Goh ShuFen, R3's principal consultant and president of IAS, said: "In my professional capacity at R3, where our client relationships average 8.5 years across private and public sectors, we have observed the number one issue on both sides is retention at the mid levels and filling in the right talent at senior levels (CMO, group director and upwards)."
She added that outside consumer marketing companies such as Unilever and P&G, most organisations do not have marketing and communications-specific development programmes for their staff. Marketers recruited into companies are more or less in charge of their own development and very few take the initiative to chart their own growth.
"On the marketing services agency side, it's been a perennial paradox that an industry that's essentially a people and ideas business, does not in reality invest much behind their own people," she said.
She added this had been recognised as a pertinent issue in Singapore and, hence, government agencies such as EDB were supporting industry bodies such as IAS to spur talent attraction, development and retention. Currently, IAS has also been tasked to raise the professionalism and attractiveness of the sector, as well as offer more training and talent placement programmes.
Priya Bala, the regional director of recruitment agency Font, added that while there was undoubtedly the problem of Singapore being a tight employment market, another issue that had not been raised was the time companies and agencies were taking to hire.
"Essentially, it's taking too long to lock down talent. Companies tend to prefer to wait to see more resumes as they search for the right person, but by the time they are ready to start interviewing, the candidates we've presented are no longer interviewing," she said.
She added it is a talent's market in this industry and employers must be ready to move when the talent is ready.
"If someone comes along who fits the criteria, you'd be wise to proceed swiftly. A good recruiter will have eliminated unsuitable candidates for you, so trust in them," she said.
She also added the roles are increasingly seen as hard to fill because of the ever changing nature of the roles. Today, in PR and marketing, the roles either require a specialist skill set or they are really broad.
"Marketing once used to be very traditional, but now the expectation is that people will join a company with 360-degree knowledge. But talent will never be an expert in everything, and so there needs to be some level of compromise," she said.
Hence, employers need to know their "must-have" and "nice to have" criteria, and be prepared to learn and train and develop talent to fill any gaps they may have.
Meanwhile, in Asia Pacific, the proportion of employers who report talent shortages stands at 48%. Apart from Japan where 83% of respondents cite talent as a concern, the lack of talent is also a concern in Hong Kong (65%) and Taiwan (57%). However, talent inadequacies are least likely to be a concern for Chinese employers (24%) given the country's huge population forming a formidable workforce.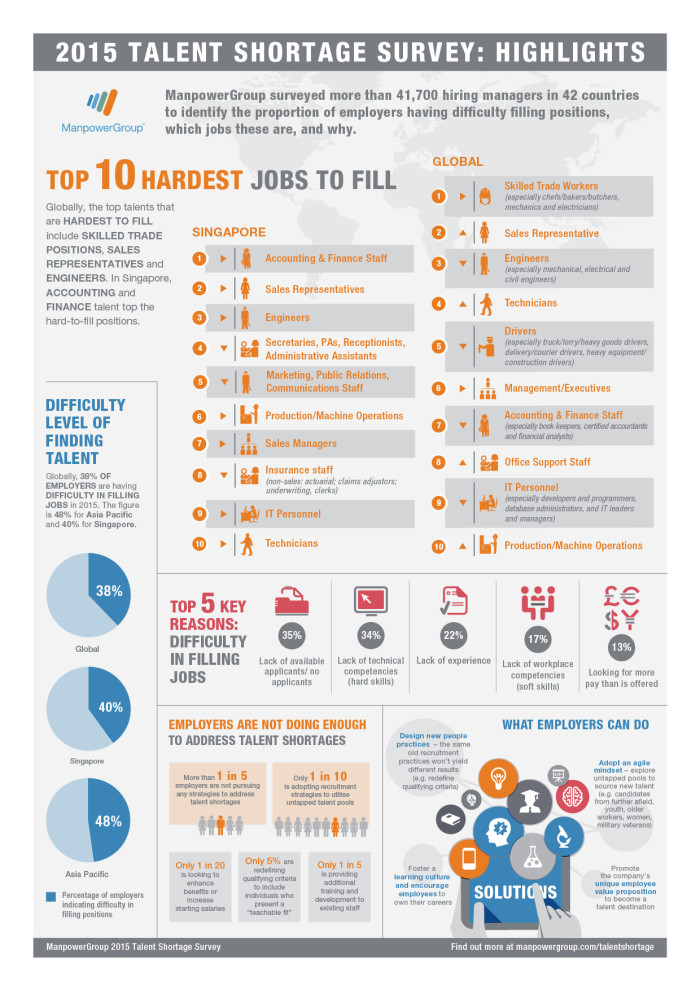 The findings were released by global workforce expert ManpowerGroup in its 2015 Talent Shortage Survey (TSS), in which 41,700 hiring managers in 42 countries and territories were surveyed in the 10th annual survey.
(Photo courtesy: Shutterstock)