Christmas and New Year, the biggest seasons for people to celebrate timeless traditions, are just around the corner. As people will be shopping for gifts around the world, the best days to shop online are Sundays for eCommerce in Hong Kong, according to Facebook.

Meanwhile, Mondays are the best days to shop for travel and eCommerce, and Tuesdays for consumer packaged goods for Hong Kong shoppers. The top weeks for online shopping are 2-8 December for travel and consumer packaged goods and 9- 15 October for eCommerce.
The social media says experience will even be more priceless for the holidays: one out of four global users said a shared experience is the ideal gift, 50% of people prefer that ideal gift to be thoughtful and 85% said spending time with their loved ones is the best gift of them all. Around 44% also said they want quality time as a gift, and 34% plan to gift quality time as a gift.
Mobile will make this holiday season different from others as visual experience takes centre stage. As Facebook internal data reveals, 77% of video posted by Hong Kong users during the holidays are via mobile, and 28% more mobile content are created during Christmas and New Year than any other holidays.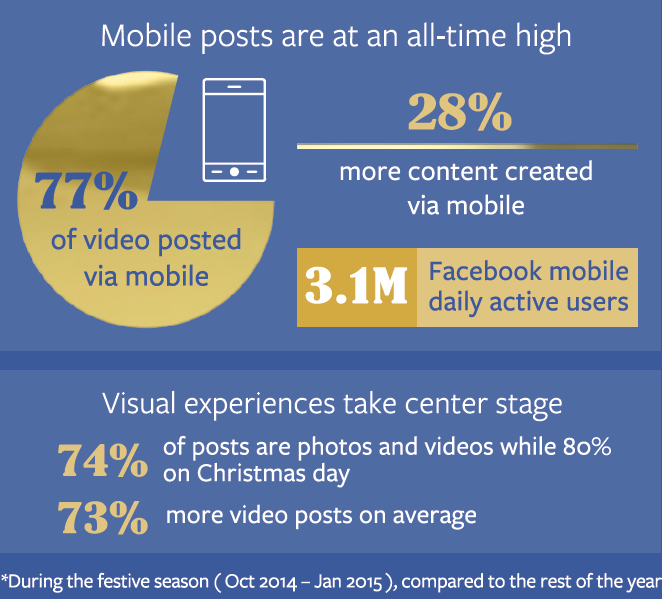 Currently, over 91% of Hong Kong users access Facebook on mobile. As of Q3 2015, there are 3.1 million mobile daily active users of the 3.4 million total daily active users in Hong Kong.
With Hong Kong people sharing their holiday moments, content creation peaks during Christmas and New Year. Christmas Day is the busiest day on Facebook as 54% more mobile content are created on average, while 36% more during Christmas Eve. On New Year's Eve, there are 47% more mobile content created, while 45% more during New Year's Day.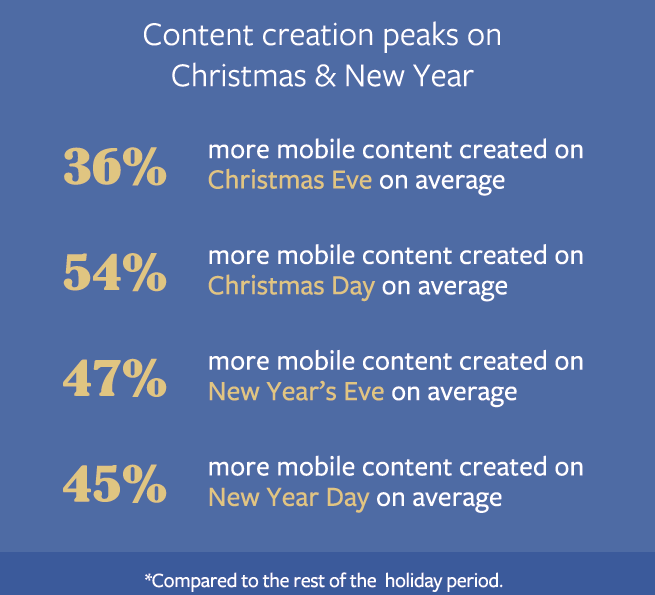 For their holiday get-away, Hong Kong users prefer their favourite destinations.  Japan, Taiwan, Thailand, China and Korea are on top of their list, and others include Australia, United States, Macau, Philippines and Singapore.

Food and restaurants lead the holiday check-in categories followed by travel and transportation, art and entertainment, shopping and retail, and outdoors.
On the other hand, the social giant suggests three ways for brands and marketers to connect with the people that matter during the holidays:
Drive brand momentum during Christmas – Build brand affinity by using video or carousel ads with emotionally relevant messages. Leverage reach and frequency to buy guaranteed audience and avoid wasted impressions.
Maximise sales during the festive season – Engage with targeted creative and drive purchases online, in store or on mobile app using carousel link ads. Optimise for CPM to reach a wide audience or target specific customers using Custom Audiences.
Keep customers engaged after Christmas – Hong Kong people continue to shop into the New Year. Identify recent purchases and customers who didn't convert, or find new ones.