Hyatt Regency has brought its multi-million global campaign It's Good Not to Be Home to Hong Kong with a local execution called Make the Most of Being Away.
Hinging on an insight that family is an important part of Asian culture, the local version is adopted for the entire Asia and Europe markets, as the original slogan could be misinterpreted if English is not your first language, according to Carina Chorengel, senior vice president of brand and commercial strategy Asia Pacific at Hyatt Hotels and Resorts.
"Asia and Europe are multi-language regions. We needed to make sure we had a slogan that resonated across different cultures and languages," she told Marketing.
"We found that the slogan 'Make the Most of Being Away' is what people in Asia resonated with the most. We want to be most relevant to the culture in which we operate."
Hyatt's global research shows that 78% of travellers value experience, fueled largely by the mountain of information that is available online.
TV will not be a part of its local campaign, with employee engagement to be a key focus in Hong Kong.
"At the end of the day the hospitality industry is all about experience. Marketing and sales and say whatever we want but, really, the experience is felt and lived in the hotel."
In view of this, What it calls "The Colleague Challenge" was born to put Hyatt employees around the world on a task to create videos about how to make guests feel good not to be home, or to make the most out of the staying.
"Each hotel is encouraged to challenge another hotel under the Hyatt family for the film, just like the Ice Bucket Challenge," said Chorengel.
For example, the Hyatt Regency's Sha Tin team in Hong Kong has taken up a challenge "nominated" by the Hyatt Regency in Paris. Hyatt Regency Hong Kong in Sha Tin then challenges Hyatt Regency Da Nang in Vietnam.
"The personality of the brand is being clever, confidence and energising; it's a branding that foster connection."
On the social front, the campaign will see some 3D art pop-ups taking place at five Hyatt Regency properties in Tokyo, Denang, Perth, Suzhou and Sha Tin Hong Kong.
Under the theme of iconic attractions from each city, the pop-ups aim to create photo-ops for both Hyatt's employees and guests to share on social platforms, leveraging offline and online spaces to foster connection with guests.
The experimental zones at Hyatt Regency Sha Tin will be unveiled later this week.
"In Asia, many people visit the hotel not for travelling but for dinning or events. So we conduct the 3D art pop-ups in public space; whereas in the US, the backdrops were set in elevators for both guests and employees to selfie."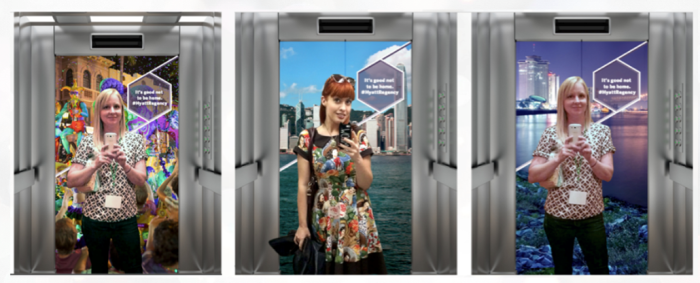 "It's about creating memorable experience and excitement for all type of guests," she added.
Created by ad agency Pereira & O'Dell, the global marketing campaign is aimed at both consumers and the MICE industry.
The Hyatt Regency brand now has 153 properties globally and 31 hotels in Asia, excluding India. The brand is expecting some five Hyatt Regency hotels opening in Asia in 2016.