The inclusion of men's and women's rugby sevens in the 2016 Olympic Games has been a trigger for growth a sport which will be on full display in Hong Kong over the next three days.
Rugby sevens and sport in general is now recognised as an important way for brands to look beyond traditional marketing and engage consumers in an entirely different and arguably more meaningful way.
Giles Morgan, global head of sponsorship and events at HSBC, said the bank is committed to rugby sevens at all levels, from grassroots sponsorship, to employee and customer engagement at the highest levels.
"As series sponsor and co-title sponsor of the Hong Kong Sevens, this matters to us," he said. "What we are very proud of at HSBC is that we are seeing a game in growth.
"As we get ready for the Rio Olympics, participation numbers, spectator numbers, TV viewer numbers are growing exponentially. It's an investment and we are doing it to grow our business, grow our brand, engage with customers and to make our staff proud. All that has to be measured, because we don't invest without a return."
We are doing it to grow our business, grow our brand, engage with customers and to make our staff proud.
Ahead of the Hong Kong leg of the HSBC World Rugby Sevens Series, a new report suggests that global participation in the sport could more than double in the next decade.
The research reveals that participation could reach 15 million by 2026, with women set to be the primary growth driver, representing more than 40% of worldwide rugby union players in a decade's time.
"The incredible thing about rugby's growth in the last three years is that almost half of it has been fuelled by increases in women's participation," Morgan added.
"The number of female players has gone from 200,000 to 1.7 million in that time, with sevens acting as the perfect catalyst. It has been nothing short of explosive and we believe this will continue."
HSBC, which re-signed its title sponsorship of World Rugby until 2019/20, has also be working to grow the sport among Hong Kong youth. This year more than 3,000 school kids will participate in the Hong Kong Sevens.
Case Everaert, director of youth at HKRU, said both boys' and girls' rugby in Hong Kong is strong and growing, especially in schools.
"It is great to see so many youngsters cheer on the National Men's and Women's teams. It shows that kids of all sizes and ages aspire to one day wear a Hong Kong National Rugby Team jersey, either as player or supporter."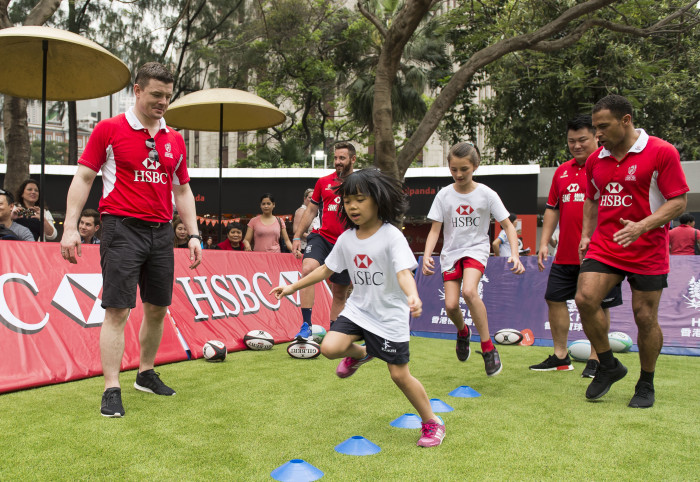 In addition to the serious side of sponsorship and brand building, it's also a bit of fun. Each year HSBC has used the event to showcase Hong Kong culture.
"Clearly the Hong Kong Sevens is the grandfather of all the Sevens tournaments around the world. We are enormously proud to be back as a co-tile sponsor," Morgan said.