Facebook has updated its Pages to help businesses build mobile presence and communicate with customers more easily. The new features to Pages is aimed helping  the over 45 million active businesses on Facebook, highlight important information that are pertinent to their goals.
Here are some quick facts about Pages:
In Singapore 67%, Thailand 70%, Indonesia 61%, Malaysia 76%of people on Facebook are connected to an SMB page.
Nearly twice as many Thai users send Facebook messages to businesses each month than the global average.
Nearly fifty percent more Malaysian users send Facebook messages to businesses each month than the global average.
More than twice as many Singaporean users send Facebook messages to businesses each month than the global average.
More than 85 percent of Facebook users in key Southeast Asia markets such as Indonesia, Singapore and Thailand are connected to a Page.
Facebook sees over one billion people visit pages every month. A few weeks ago it updated messaging features for Pages to help people and businesses connect faster and more conveniently. In the new messaging feature, users can communicate with businesses through chats. New tools for Page admins allow them to manage and respond to messages.
Here is what it looks like:
The gradual roll out of the feature has started, beginning with the US.
It also added a feature to identify responsive pages. Pages that respond to 90% of messages and have a median response time of less than five minutes will now have a "Very responsive to messages" badge on their profiles. This feature is visible on desktop and mobile app globally. Here is what it looks like: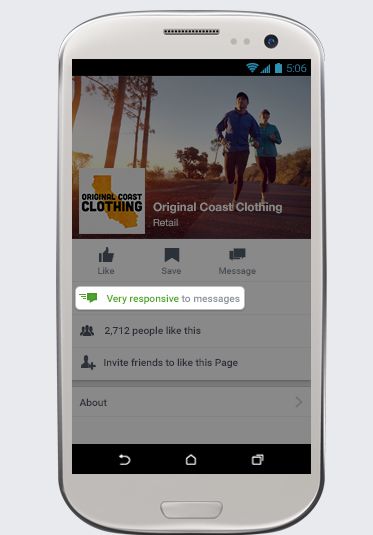 Now it has added more features. The changes in a nutshell are as follows:
New and more prominent call-to-action buttons
Within the page now, the call-to-action (CTA) buttons fronts a new look, appearing bigger and brighter in the the cover photo to make its presence on mobile more prominent. "CTA  buttons bring a business's most important objective to the forefront of its Page, whether it's encouraging people to book an appointment or browse an online shop," Facebook said. Here is what it looks like.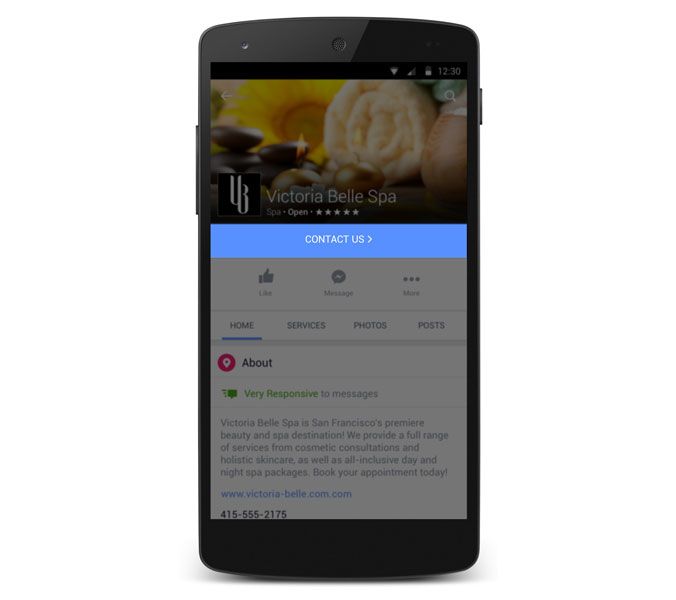 Facebook is also testing several new CTAs on mobile, including "Call Now," "Send Message" and "Contact Us," for businesses and consumers to connect easily. Over time, Facebook will add additional calls to action buttons to further help businesses drive their unique goals. So far, prominent CTAs are available on desktop and mobile globally.
[Call Now is 100% available, Send Messages is being rolled  out and Contact Us is being  tested]
New sections for Pages
Until now, Pages have been largely the same for every business. Facebook now is beginning to add
new sections to Pages, so different types of businesses can prominently feature the information that
is most relevant to their organisation.
For instance, the new Shop section helps retail businesses bring their products to the forefront of their Page, while the new Services section enables professional services businesses to showcase a list of their offerings at the top of their Page. So now, for example, a spa can add their services menu to their Page or highlight the line of products they sell, helping people get to know their business faster.
Shop, however, is not an e-Commerce feature. In an interview with Marketing, Benji Shomair, director of global partnerships at Facebook said: "This feature doesn't allow users to make a transaction, rather is aimed at initiating a conversation about a product which could then eventually turn into a transaction." Shop is aimed to be an online catalog of products. Previously, Facebook users had to access this feature via Shopify.
Facebook is gradually rolling out the services section on mobile first, globally. Here is what it looks like. It also plans on building additional sections for Pages in the near future.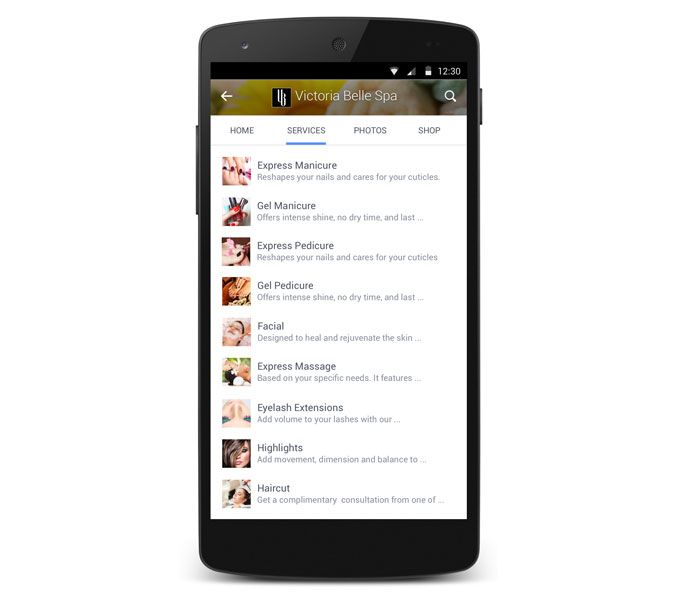 Improved Page layout
The improved page layout enables seamless transition of Pages between phones and tablets, making it easier to navigate through Pages on mobile. To reduce the amount of scrolling, each Page section has a corresponding tab, just like how videos and photos have their own tabs.
When this new layout launches in the coming weeks, Page visitors will be able to click on the tab associated with a section to see more details. The Home tab, which is the landing tab on Pages, will also contain highlights of each section, so relevant information is front and center when someone first gets to a Page. Facebook is now testing components starting in September, firs in the US and will then roll it out globally.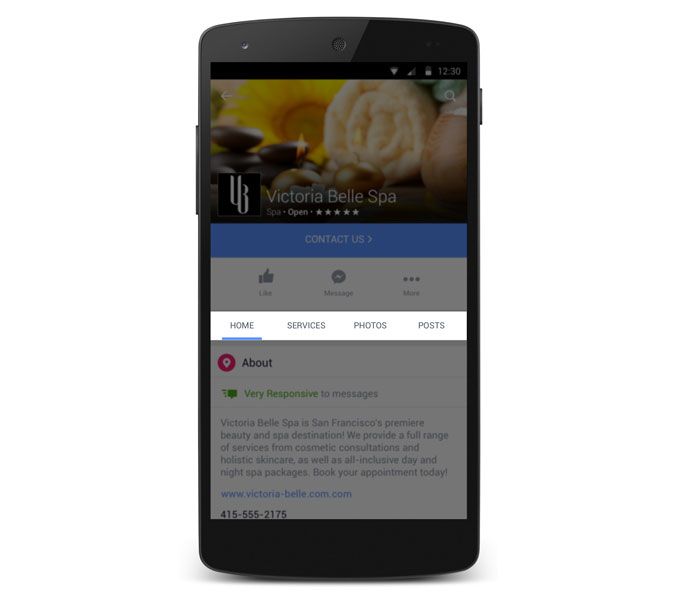 Here are some resources for marketers, specially from the SMB segment, to get started with updated Pages: