Attending a never­-ending list of meetings and press interviews right after a four­-hour flight is nothing new to Irene Lin.
A frequent traveller who has held a number of executive roles in the hospitality industry, Lin shows no signs of slowing down after what many would call a long day.
After a cheerful greeting at the Mirage Bar & Restaurant at the Renaissance Harbour View Hotel, she introduces me to the stunning harbour views out back, as well as the handcrafted burger menu designed specifically for the ongoing Rugby Sevens in Hong Kong.
This year marks the second time Marriott International, the world's largest hotel operator, is sponsoring the city's big rugby game, but for Lin, it's the first year where she is taking part as an executive of Marriott, and the first time she's launching premium experiences centred around the event.
Previously in the role of vice­-president of distribution, loyalty and partnerships at Starwood Asia Pacific, she joined Marriott Asia Pacific as vice-president of digital, loyalty and portfolio marketing last September, amid Marriott's US$13 billion takeover of Starwood Hotels & Resorts Worldwide Inc.
Half a year into the integration between Marriott and Starwood, she says it has been the biggest learning throughout her career so far, both from a work perspective and a people perspective.
"The merging is actually about dealing with people that felt insecure or went through things emotionally because they didn't know what would happen next. You have to be open, talk to them and make sure they feel free to reach out to you when they need assistance," she says.
Being transparent makes a great team, and actually strengthens the team.
Prior to her 10 years of hospitality experience in the Southeast Asia region, she lived her life in transit, moving from Malaysia to Canada, from Delta Hotels in Toronto to The Westin Seattle in Seattle, and now Singapore.
But there is consistency between her moves – it's always about hotels.
"I feel that deep down in my heart [the hospitality industry] is in my DNA," she says.
Her passion for hospitality can be traced back all the way to her teenage years, when she accepted her first official job as a roller coaster operator at Canada's Wonderland.
"I remember loving it," she says with a smile.
In her early career, however, she joined a bank to develop her "transferable skills", but instead ended up realising her heart was in "the hotel business" in less than a year.
"Now that I'm with the hotel industry, I'm not necessarily operating it, but sitting at the other side being a part of the strategies in the service industry," she says.
"I'm still generating and creating experiences, ones that are not easy to duplicate."
But they are getting increasingly difficult to create as well. The hospitality industry is no longer about simply selling rooms, but more about selling experiences, and to put a cherry on top, customers expect a more holistic and coherent experience across offline and online, beyond the four walls of the hotels.
As brand and customer interactions become more dynamic, Lin has seen membership programmes change to satisfy travellers seeking memorable personalised experiences.
"The guest is looking for more, especially the new generation of customers," she explains.
"They are looking for spontaneous redemptions and more opportunities to experience the world. In response, our whole system is now about providing our members with more benefits and experiences."
At this year's Hong Kong Sevens, for example, the company offered its 100 million members under the company's three loyalty programmes – Marriott Rewards, The Ritz­Carlton Rewards, and Starwood Preferred Guest (SPG) – the chance to use their loyalty points for an "exclusive experience package".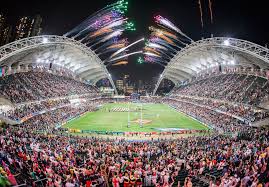 Other than a three­-night stay at the group's hotel suite, offers such as VIP treatment at the matches and tickets to the kick­off concert, meet­and­-greets with rugby legends, coaching clinics run by players, and gourmet culinary experiences, were available for purchase with reward points.
At the same time, the company would locate members on social media if they were in the vicinity of the Hong Kong Sevens through M Live, a real­time marketing hub that tracks conversations on social media, reminding members to join VIP treatments, or take part online by uploading pictures taken at the event to their social media accounts with a specific hashtag to win prizes.
"It's about how to find scenarios that let the members have fun both online and offline," she says.
"The hospitality services is still the core of our business, but we have to build more experiences for our guests beyond the four walls of our hotels.
"Eventually, the strategy of the company is to enable the entire journey right from pre­stay, to doing the stay to hosting the stay. This is where global partnerships with HK Sevens, F1 and other sports partnerships help to complete the whole cycle."
Adding to the company's portfolio soon, Lin explains, will be PlacePass, a travel technology solutions provider that offers travellers an online search platform for in­destination experiences.
Announced last month, the company invested in the new global solution to let travellers choose from more than 100,000 local experiences in 800 destinations worldwide when they book directly on Marriott.com or SPG.com or via their respective apps in the future.
Whether you would like to wrestle a retired sumo wrestler in Tokyo, or perfect your pasta-­making skills alongside a local Italian chef at a Tuscan farmhouse, members will soon have it all through loyalty points redemption.
Lin believes more local partnerships will be fostered soon, which will allow the company to create more meaningful staying experiences for its members.
"Statistically overall, for members who have engaged with one of our momentous events, they are almost four to five times more loyal than when they didn't," she says.
"So, I'm trying to really localise our strategy and partnerships, create more of these special touches, and send members the message that if you stay with the chain, the chain is going to reciprocate.
"Once members get used to our systems and travel within them, that type of loyalty is a job well done."
Yet to build up a localised strategy not only means the local team has to stay tuned into the latest consumer trends and technology, but Lin herself has to foster communications between different regional teams to create a team that truly collaborates.
"It's so difficult!" she says, with a laugh.
"In our organisation, whether you think of finance, legal or sales, it's pretty much about how you run the business, but my world is very much about innovations, new technologies, about breaking through loyalty programmes and partnerships, plus Asia Pacific is so different. China, to start with, is already the most complicated market to communicate with."
What a leader needs in this scenario, according to Lin, is to "work like a start-­up" where people don't work in silos, and leaders are on the ground to spend time with different teams from different regions, across different departments.
You have to build a team that is smarter than you. Communication and communicating often plays a critical role in achieving that.
Seeing China as the biggest potential market in Asia Pacific, she says she has been travelling to the Middle Kingdom frequently in an attempt to talk to the team and understand the complicated ecosystem.
"How do you communicate and be where the customers are; and how can you do it in a way that can reach them in­scale meaningfully? Communication and finding the right channel is probably the biggest challenge, but also the biggest opportunity in China," she admits.
And little things such as chatting with neighbours on planes have helped her to "watch the space".
"It is very difficult to turn off – and yes I think about work on planes," she confesses with a grin.
But you have to love what you do. If you love what you do, you don't feel like you are working – and the more you like it, the more you're able to excel.
This story appeared in the Marketing Magazine Hong Kong May issue as: Beyond four walls