Uber
Sam Gellman
(North Asia general manager)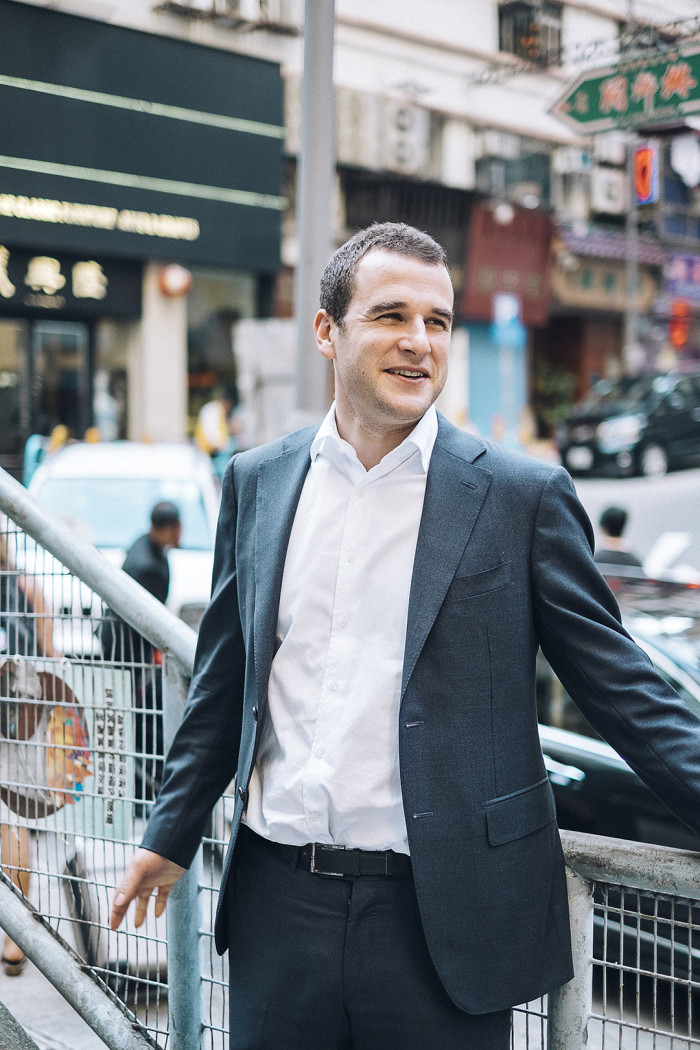 We cannot talk about innovation and not talk about Uber.
Established in San Francisco in 2009, the ride-hailing app has taken Hong Kong by storm since last year, being widely acclaimed as a "disruptive innovation" – for good reasons.
Growing by 15% per month, the newcomer in town has emerged as a big threat to the taxi monopoly in Hong Kong as it has caused a stir with locals' mindset of transportation.
In July, more than 100 red cab drivers staged a protest against Uber, along with an influx of new car-hailing platforms, including FlyTaxi and GoGoVan, claiming the new service is putting their livelihoods at risk.
Being disruptive is definitely a coveted symbol for innovation to many bright-eyed entrepreneurs, but Gellman, Uber's North Asia general manager, bears no special affection, and even opposes, this seemingly prestige reputation.
"Our goal is to give people choices, not to disrupt any models," he says at Uber Hong Kong's office at Sheung Wan.
"We want to go into a city and provide an affordable, safe and reliable way for people to get around."
With a dose of modesty and subtleness, the taxi juggernaut has now expanded to 360 cities worldwide based on a surprisingly optimistic vision – "if you give people choices for how they get around, and if you make sure those choices are safe and able to help cities, your business tends to be welcomed all over the world".
This childlike optimism may have impressed regulators in many places such as the US, Australia, Manila and Singapore, but it is still facing legal hardships in a lot of markets, including Hong Kong.
A year after landing, he says the company is still in "constant dialogue" with Hong Kong's regulatory and policy makers about the business, while police investigations are still ongoing after a crackdown in August.
"It's incredibly important that our business model fits into a regulatory framework because people need safe choices to get around.
"Uber is kind of a win-win-win model for which consumers can have more choices, drivers can have more flexible, safe and reliable earning opportunities, and ultimately, cities can suppress car ownership and reduce traffic congestion."
While more and more businesses worldwide are embracing this new sharing economy concept as well as technological innovation to solve problems that people have become used to, and are doing a great job, it's clear to Gellman that companies and entrepreneurs in Hong Kong are now trying hard to join the fray.
"It's obvious why we launched here – you go to places like ifc at 6pm and the taxi queue is an hour-long. It doesn't make sense. There's a huge trend towards more choices and more innovations in the transportation space. People want more technology and better safety in transportation.
"What we're doing is innovative because for years there is a problem that has not been solved, and we come in and bring a solution to that."
At Uber, innovation is deeply rooted in its beliefs as it looks to deliver long-term benefits.
"When we first got here, people didn't even notice there's a problem as it's been like this for ten years. Just like people never notice a problem that less than 1% of taxi drivers are women.
"But when you are a tech company you'd say we can make this better; it's about identifying things that don't have to be that way.
"By using innovative technology we can make more women feel comfortable driving, because using our service is cash-free and female drivers no longer need to worry about having to carry a lot of cash around."
But being innovative is not always easy. Despite regulatory hurdles, the business is facing another challenge to educate locals that Uber is an affordable luxury service that "anyone who can buy a Starbucks can afford to use".
"On our app you push a button then a car shows up; you don't need to have cash with you; you just get out of a car and walk away – all these make Uber a luxurious, but affordable product.
Often people assume luxurious means expensive. We want to show people that a luxury experience doesn't have to be expensive.
This sense of ease penetrates the whole Uber office – from Gellman, his team to a vintage browny bicycle resting by the office entrance. The 30-people Hong Kong operation now serves as a regional hub for Uber's North Asia businesses.
For an international enterprise that spans more than 300 cities, maintaining a certain level of consistency is essential to move forward. Gellman believes building a close-knit culture and making staff empowered are the best ways to cultivate innovative mindsets for a multinational corporation such as Uber.
"It's Uber's DNA to avoid hierarchy. We keep our team small so everyone has ownership."
While innovation has been top-of-mind for businesses in recent years, the advent of new tools, such as the ever-advancing smartphone technology at the disposal for consumers, means they need to keep coming up with new ideas.
"Smartphones have changed so much about the way people experience life. So now it's about how to utilise this great new tool to solve age-old problems. Companies know they need to do that, because if they don't, then someone else will.
"There is a perception that, how can we start figuring out what the world will look like in 10 years, how to use technology to get there, and how can we be the ones who do it. Because if we don't then the consumer will go to people who are doing that."
With this in mind, Uber's next creation will be a ride-sharing service called Uber Pool, which enables passengers who are travelling in the same direction to share rides and split costs.
Compared with the Uber operation and the technology behind its pricing, the new Uber Pool will be far more complicated.
"For us, focusing on customer experience is as important as focusing on great technology. We put together great design, usability and technology to make a great user experience.
"When you give people choices that they want, when you are helping cities to achieve their policy objectives, and when you come up with solutions that consumers want, then good things are going to happen for the business.
"It's about focusing on consumers and how to make things better."