Facebook's declining organic reach is not a surprise anymore, but for marketers it is a warning, of sorts, to get working on a complete social experience and putting a check on their over-reliance on one social media platform.
Recent months have seen the organic reach of Facebook company pages decline significantly. According to MEC, the average organic reach stood at less than 5.87% in February this year on average across 43 different fan pages.
"In August 2013, the organic reach was 15.09% – so it's been a sharp drop in just seven months and we expect this trend to continue," said Thomas Lyngsfeldt, digital director of MEC.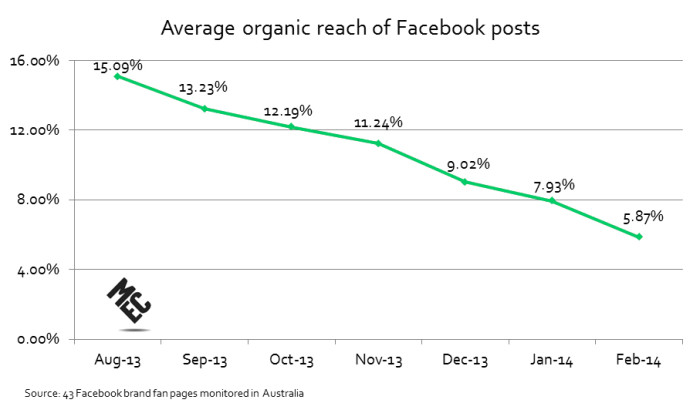 Facebook made it clear in December last year the drop was driven by its shift in focus from fans to target audiences. While Facebook assured brands they could continue to reach their fans with organic posts, the empirical data shows the social giant's approach is to brutally decrease the organic reach in a short amount of time to a level where organic posting might not make sense from a business perspective.
"Companies will have to 'pay to play' on Facebook in the future," Lyngsfeldt said. 

What marketers have to say about this:

Rod Strother, director of the digital and social centre of excellence at Lenovo, said at Marketing magazine's recently concluded Content 360 conference: "Facebook is like a crack dealer, unfortunately. We are all hooked on it."
"If you [brands] are already in the game, it is too late to back out. But you have to look at your dependance on the platform and start thinking about other platforms as well."
According to Strother, brands need to look at whole communities across all platforms.
"I wouldn't say Facebook is dead, but as marketers, you do have to look beyond it. If not, you will just end up pouring more and more money into it," he said.
According to Susanne Arfelt, head of marketing at Unilever Singapore: "Marketers need to be bold in reassessing the role of Facebook and review it as a reach tool rather than the engagement tool it used to be."
Explaining it further, she said as a reach medium, marketers should now compare the efficiency of Facebook to that of magazines, OOH and TV rather than view it separately as a way of having deep and meaningful conversations with fans.
MEC's Lyngsfeldt echoed the point. "Engagement can still play a role on Facebook depending on the objectives, but most campaigns on Facebook will have a reach and awareness purpose in the future. Facebook is now a broadcast channel, with the benefits of social context and engagement."
There are a few concerns Arfelt highlighted:
The space will be very competitive and everybody will be fighting for the same mind space in limited inventory.
Posting without ad spend makes little sense – and brands will be unable to consistently support every post, which surely will bring engagement down.
According to Unilever's Arfelt, this also means redefining the way it works with its social media agencies. "The agenda in the social agency has been very focused on Facebook due to its scale, we now need to work together to see how we can drive the conversation with our consumers across other engagement platforms and compare these with the much more limited organic reach of Facebook."
And here's what Arfelt expects Facebook to do:
A post needs to be drafted differently going forward and Facebook needs to support companies with clear direction on what works and what doesn't.
Is the new direction a long-term commitment – or just another temporary change? Facebook should clarify that.
Facebook needs to work tighter with suppliers to explain the new directions happening within Facebook – now and for the future.
Facebook in APAC
Facebook reaches more than 250 million people in APAC and has proven to be an effective reach and awareness driver like TV. The primary role of Facebook is now in the top of the marketing funnel, according to Lyngsfeldt.
There are a number of reasons for the effectiveness of Facebook advertising, including the low cost, reach, targeting opportunities, impact of creatives, social context and cross-device opportunities.
Facebook will be an essential part of advertisers' mobile strategies in APAC because all the reasons above are fully applicable to mobile. Furthermore, the mobile usage of Facebook, relative to computers in APAC, is one of the highest in the world, emphasising the importance of mobile.
According to MEC, Facebook is becoming increasingly important in APAC because of reach. Many of the low-middle income countries in APAC have an extremely high Facebook penetration from the overall internet penetration. In low-middle income countries such as Thailand, Indonesia and Philippines, however, the internet penetration is very low.
"This is expected to increase significantly in these countries over the next couple of years, so assuming the Facebook penetration remains at the same high level, we anticipate substantial reach opportunities on Facebook in these countries in the future," Lyngsfeldt said.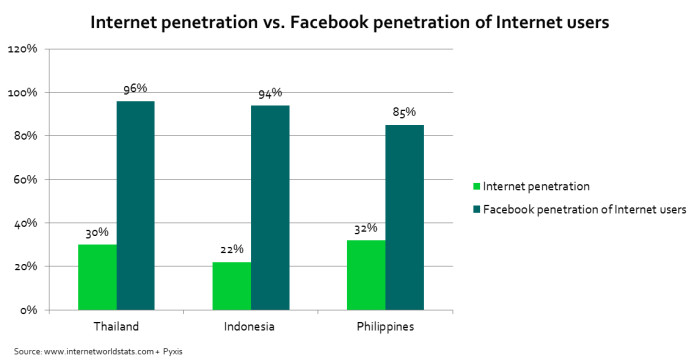 Lyngsfeldt on what's driving the new Facebook paradigm
The cynics would say Facebook used the incentive of communicating with fans for free as bait to engage companies on Facebook. Now it is asking companies to pay for reaching fans they already paid to acquire.
Now it's publicly listed, Facebook's stock price is heavily dependent on advertising revenue, putting it under enormous pressure to keep growing that revenue. This pressure has forced Facebook to identify new revenue opportunities in advertisers' marketing budgets.
Facebook realised it was receiving a very low share of the overall Facebook budget, as weird as that may sound. The total Facebook budget is defined as all brand activities on Facebook, including community management, organic posting, Facebook apps and Facebook media spend. Facebook's average share of the total Facebook budget has probably been about 40%, so it had a substantial financial incentive to lower the organic reach. This will push advertisers to pay for reaching fans and audiences on Facebook.
Facebook has become a broadcast channel with high impact ad units in the news feed and high reach, and it has identified TV budgets as a new revenue opportunity – this is one of the reasons for the new Facebook paradigm. Facebook is in the process of realising its financial potential in advertising revenue, which has translated into a significant increase in the stock price over the past four months.
The new Facebook "pay to play" paradigm means many companies have to rethink their social strategy and make important decisions.