The ultimate winner in Hong Kong's tricky e-commerce market might not come from the company that develops the latest technology, but which combines it with old-world values, writes Joshua Steimle.
Hong Kong is a city that loves mobile technology. At 63%, Hong Kong has one of the highest rates of smartphone usage in the world.
A 2013 study by Google and Ipsos MediaCT found that 96% of Hong Kong smartphone users browse the internet daily, the highest rate in Asia. But you don't need to look at the data to know. Just take a walk in the city or ride public transportation and you'll see what appears to be most of the population with either earbuds firmly implanted or heads craned downwards reading news, playing games or watching videos.
Where else in the world does a public sound system warn passengers on escalators: "Please do not keep your eyes only on your mobile phone!" Hong Kong's internet speeds are second to none. Hong Kongers love to shop, and the city attracts a diverse mix of business elites from around the globe. It is a world city in every sense, and yet it lags behind other countries when it comes to e-commerce and its subset, mobile commerce, or "m-commerce."
Whereas smartphone penetration in Hong Kong leads the United States 63% to 56%, Hong Kong trails the US when it comes to users who have made a mobile purchase, at 43% in Hong Kong versus 46% in the US.
Despite the high mobile technology rate in Hong Kong, it is a small market, and e-commerce companies benefit from serving large populations across which they can spread their costs. It simply hasn't made sense for many e-commerce companies to target Hong Kong when they can first focus instead on its larger neighbours.
But as the costs of implementing an e-commerce business fall, e-commerce becomes more entrenched, and larger markets become more crowded, we can see more e-commerce and m-commerce options available in Hong Kong.
An employee engaged in online strategy for a major Hong Kong retailer, speaking off the record, expressed his opinion that "because mobile usage is so high in Hong Kong and a majority of the population is within 30 minutes of a major shopping mall, I think there will be a peculiar impact in-store of mobile at a scale and rate unlike any other country or region".
Cedric Delzenne, director of the Hong Kong chapter of The Founder Institute, an early stage start-up incubator, calls e-commerce in Hong Kong "a marketer's nightmare", explaining Hong Kong is "a relatively small market with a high cost of customer acquisition, one of the highest rates of penetration as regards to smartphones and social media and yet very poor conversion rates from those sources.
The only positive thing, for designer fashion online businesses at least, is an average purchase amount that is much higher than Western countries where consumers' perception of a fair price has long been distorted by flash-sale sites such as vente-privee.
"While it is true there is a lot of concentrated retail in Hong Kong, it is also a limited retail market due to sky-high rentals," says Nishant Kapoor, CEO and founder of e-commerce websites PetProject.HK, LifeProject.HK and Toddler.HK.
"Shelf space is expensive and scarce, and retailers can't afford to take much risk, so they stick to high margins, branded luxury goods or high volume popular goods. Small independent retailers with something different to offer are unable to survive."
There may be no better example of this than the computer shopping arcades in Wan Chai and Sham Shui Po, where despite the large number of shops, you find very little product variety. Niche products simply aren't available.
But as Kapoor elaborates, "that is the opportunity for e-commerce in Hong Kong. Hong Kong's warehouses have some great products, brought in by small to mid-sized importers and distributors, who just can't find retail shelf space. Hong Kong's consumers need a lot more than is served by the current set of retailers, and the internet can now bridge that gap."
And that's exactly what appears to be happening, as e-commerce in Hong Kong isn't exactly stagnant. Research of the Hong Kong market by PayPal shows e-commerce in 2011 was HK$14.6 billion and grew to HK$15.7 billion in 2012. PayPal forecasts it will reach HK$27.1 billion in 2015.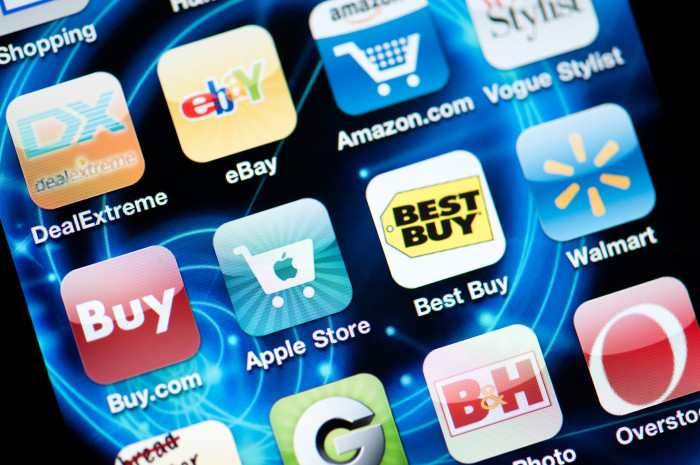 Mobile transactions represented only 10% of online transactions in 2011, but grew to 41% in 2012 and are expected to grow to HK$17.8 billion in 2015. While only 376,000 people in Hong Kong engaged in mobile transactions in 2011, that number grew to 1.1 million in 2012, from one to five to more than 50% of the online population.
"People here are busy, especially people with families," Kapoor says. "There just isn't enough time to go shopping for your pets, kids, etc. So when they can't find the time to pop down to the pet shop, they search online."
"Local retailers are starting to focus on e-commerce," says James Mirfin, PayPal country manager for Hong Kong, Taiwan and Korea "and I believe that's in some part due to the success they've seen for some of the group-buying sites like Groupon and BeeCrazy who have done very well at capturing the market's attention."
He continues: "We have seen an increase in the number of PayPal-accepting merchants overseas who are now starting to list in HKD and offering fast shipping services to Hong Kong, with major retailers such as ASOS and Saks leading the way in addition to a number of Chinese merchants too." Click and collect services, which allow a customer to buy or order goods from a business website and collect them from a local retail location, are becoming increasingly popular.
FOTOMAX, the largest photo-finishing chain in Hong Kong, has released a mobile printing app called "Easy Print" which lets users place an order, pay online and pick up the order at any FOTOMAX shop in Hong Kong.
Increasingly, e-commerce and m-commerce in Hong Kong are becoming one and the same. Pacific Coffee Company, with 100 stores across Hong Kong Island, launched an iPhone app last year for customers to pay for their food and beverages by scanning a QR code on their smartphone at the counter. Retailers that do not have a mobile strategy are in danger of being left behind.
"These days, if you are on the MTR in Hong Kong, everyone is on their phones," says Raymond Yip, co-founder and CEO of Shopline, a Hong Kong start-up that helps companies set up mobile-friendly e-commerce websites.
"We found success when retailers discovered we offer a responsive mobile shop in addition to a regular online shop. It's important to provide customers with a great visual experience on mobile. It leads to offline transactions, which is where many retailers in Hong Kong are getting real value from their websites."
The future appears to be centred on seeing e-commerce and m-commerce as part of the overall commerce experience. Delzenne says retailers can remain competitive "by embracing the fact consumers don't think in terms of channels, and offering a coherent, seamless experience throughout the customer's journey online and offline." Yip agrees.
"Going forward, I believe traditional in-store retail, e-commerce and mobile commerce will not be separate components. They will converge and you will see merchants leverage the trend by coming up with creative ideas to entice consumers to go into physical stores."
He continues: "Retailers will embrace the concept of omni-channel retailing where the in-store experience is extended to web and mobile. On the flip side, mobile and web will also bring customers back to their brick and mortar stores, creating a connected ecosystem.
"For companies looking to adapt to e-commerce and m-commerce, the real challenge may not be technology, but rather people, and specifically their own employees.
"The biggest challenges for retail groups will be to convince their staff about the value of this new paradigm and train them accordingly," Delzenne says. The ultimate win may not come to the company that quickly implements the latest e-commerce technology, but which combines that technology with old-world values.
"Our customers find us by searching online for products that they can't find in shops," Kapoor says. "And once they experience our customer service, they end up becoming customers for life. It's quite easy to win on customer service in this part of the world."
Joshua Steimle is a contributing writer for various business publications, including Forbes, Entrepreneur, and Fast Company. He is the founder and CEO of MWI, an online marketing firm with offices in Hong Kong and the US. Connect with him @donloper.