Let's be honest, when it comes to "world firsts", radio isn't usually something that springs to mind. But a new wave of digital tools is helping foster renewed interest in Hong Kong's radio sector for listeners and advertisers. Matt Eaton speaks with To Cheung, the head of Commercial Radio Interactive.
To Cheung isn't your typical media tycoon. At the age of 38, he's spent only three years at the helm of Commercial Radio Interactive – his first gig running a media company. But hailing from the technology sector, Cheung might be well-placed to take a stagnant radio sector into the brave new world of mobile and digital broadcasting.
Cheung joined Commercial Radio in 2007 as general manager of its interactive arm and has since built an arsenal of programmers, developers, editors and business-development staff.
In August 2008, the broadcast group relaunched its official website 881903.com and unveiled a content-driven digital multimedia tool called the Hong Kong Toolbar, taking what it described as a "great leap forward in digital broadcasting".
The Hong Kong Toolbar uses peer-to-peer technology to provide high-quality streaming for local and overseas listeners. Once the toolbar is installed, web users can listen to live broadcasts from the radio network's various channels, receive news updates and gain access to exclusive content such as its music channel Tan Button.
More recently, it has upgraded the Toolbar to be more interactive with voting capabilities and access to footage of live events.
And, after only two years, it is starting to pay dividends.
The application has received more than 2.03 million downloads since its launch and now boasts, on average, 700,000 unique users per day. Late last year, it rolled out the "Commercial Radio HKToolbar" application for iPhone and iPod Touch, which managed to climb to the top of Apple's iTunes Store, after scoring more than 40,000 downloads.
The mobile age has arrived and everyone is thinking about convergence.
To Cheung, the head of Commercial Radio Interactive.
Commercially, the application is starting to pull its weight, attracting a new style of online advertiser from the likes of Puma, Caltex, Citibank and Samsung.
Without giving specific data, Cheung says Commercial Radio is on the right path, but stresses that its new place in the market means its focus is about creating a superior product, rather than an early grab for money.
"The mobile age has arrived and everyone is thinking about convergence, so the number one priority for me is to get Hong Kong Toolbar popular and out into the market," Cheung says.
"I think we would miss a lot of development opportunities if we got carried away with trying to make money early on.
"Commercial Radio understands that the key issue is to be supportive. It takes time and commitment to get something like this up and running."
Before joining Commercial Radio, Cheung spent his career in the information technology field where he founded UDomain Web Hosting Company, which is one of the largest web-hosting companies in Hong Kong.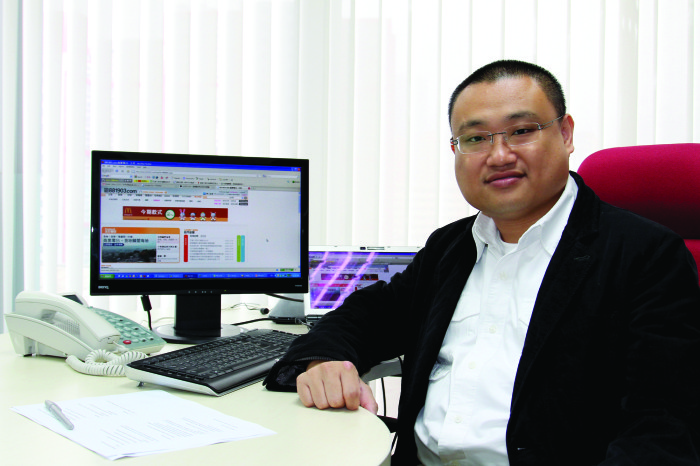 Cheung is also a founding member of the Hong Kong Web Hosting Association and has served as the group's chairman and vice-chairman.
And, it is his background in programming and IT that has helped to fuel expansion of the HK Toolbar at a rapid rate.
Commercial Radio now boasts more than 50 staff, half of which hold technical and operational roles.
Cheung says this has allowed the group to add a raft of interactive and social media elements to its applications.
But its main strengths, says Cheung, is that once downloaded, the application is embedded into users screens and forms part of their viewable area – making them a much easier target for advertisers.
"Internet users are very lazy so the idea of the Toolbar is that you don't have to ask users to go to a particular page," he says.
"Advertisers need time to adapt to this new format, it takes time and commitment to get it up and running, but they (advertisers) have been very supportive.
Radio is very old-fashioned and there's still a lot of legacy at Commercial Radio.
"Online advertising will have to change, display needs a new way. With the Toolbar people won't have to go to another place to see advertising. We can also offer branded content, sponsorships and video-embedded advertising. We have to try different things and that requires commitment."
While the Toolbar has seen some early success, Cheung admits that internally there is still some distance between the traditional and new media areas.
"Radio is very old-fashioned and there's still a lot of legacy at Commercial Radio," he says.
"Commercial Radio is very independently minded and they let me run CRI like it's my own company."
But he admits there is strong commitment from its senior managers.
"We have to have guts, we have to try different things and be prepared to fail. The flexibility to say we might be right today, but dead tomorrow requires a different mindset.
"You can't invest $10 million and expect something next year. We have taken a local radio company and turned it into a global broadcasting company that targets Chinese-speaking communities all over the world. It also proved that a local Hong Kong media group can do multimedia content."
On 1 January 2010, Commercial Radio streamed its annual Music Awards through the Hong Kong Toolbar, which drew an audience of more than 160,000 online viewers – its biggest live audience to date. But Cheung secretly admits that some of his most memorable experiences have occurred outside the work walls.
"I went to dinner at a friends place and his son asked me if I had heard of the Hong Kong Toolbar. That was the happiest moment of my week," he says.