As print media continues to be hard hit, Shirley Hughes, CEO of New Media Group, tells Jennifer Chan how the 16-year-old media house is using digital to revitalise itself.
If you're reading this, you're probably among a shrinking group of intellectually curious readers who demand high-quality content; because in this digital era that we live comfortably in, content is perceived to be free and snackable.
As the web has become the land of free content, never before has the print media crisis been more real to us – in the past month alone three publications have given up on print, with probably more to come.
Although this global problem has been brewing for a while, it hadn't surfaced in Hong Kong until recent years when marketers and advertisers came to realise the urgent need to go digital, which compared with the rest of the world, came a bit later then expected.
In the US, the bleeding has already stopped. Research shows the number of print titles have stopped falling since last year – with the figure now hovering at about 7,000 titles.
While the print media worldwide has been suffering from serious setbacks for years, it has only recently begun to be felt in Hong Kong.
"It's just a culling process where only the strong survive, just like the situation in the US," Hughes says calmly from her immaculate and culture-filled office, tucked away in a private corner on the top floor of the nine-storey New Media Group building.
Hughes is incredibly low-profile and private – she seldom gives interviews, is little mentioned in the press and, what's even more extraordinary, barely exists on the internet – very little about her can be found on the likes of Google and LinkedIn.
"I'm not comfortable in front of the camera. I'm more of a toiler who works behind the scenes," she chuckles.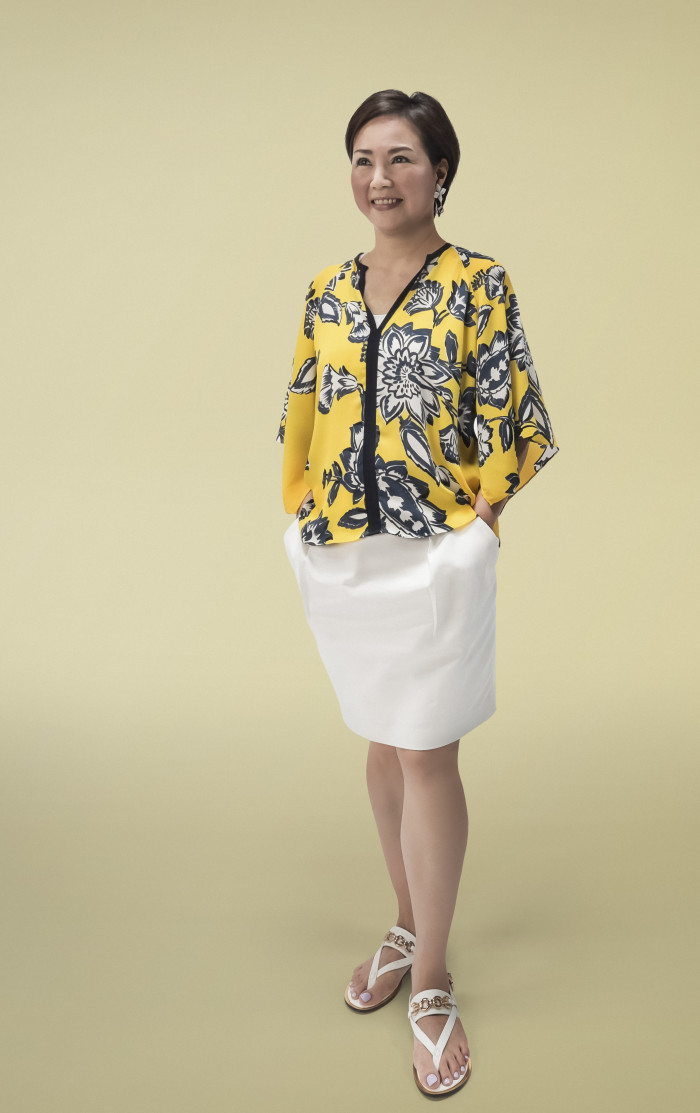 It's perhaps this practical attitude that has seen her survive in this business for 30 years, culminating in her helming the 700-person New Media Group after starting with it in 2002.
She started her career journey in media during the economic boom of the 1980s doing freelance work for the Hong Kong Commercial Broadcasting Company.
In 1989 she officially joined the broadcaster as a programme presenter and producer. Five years later, she moved to Hong Kong Cable Television as channel manager of the entertainment channel and later as controller for programme development and production.
Her encounter with New Media Group was in 2002, facilitated by a close friend, where she first joined as chief operating officer and was subsequently promoted to CEO.
Over the past decade the group has been financially well-managed under Hughes, maintaining steady financial growth even amid the market turmoil of digitisation since 2012, thanks to the digital transformation efforts that have been going on for several years.
It wasn't until a year ago that the media house was put to the test.
During the first half of 2014, the company experienced a major slump in net profit by 83%, with revenue declining by 13.5%, being weighed down by ad revenue shrinking,
Last month, the company announced it was abandoning the print version of its 12 year-old weekly title Fashion and Beauty as it makes the jump to an all-digital format.
This came shortly after the closure of three local print publications, including age-old daily Hong Kong Daily News, followed by gossip magazine Sudden Weekly, all citing a shrinking ad market and dwindling profits.
Of the recent demise in print media, Hughes believes every publication has a story to tell.
The shutdown of its Fashion and Beauty print edition, she says, was not the result of financial losses, but rather part of a revised strategy to integrate its multiple platforms and reduce duplicated content geared towards women, which adds up to some five million readers per month across print, social media, website and mobile. A huge number, but not enough to cover up the fact that all of its print titles are facing shrinking circulation, a side effect of a digital transition no publication seems able to escape.
For example, circulation has also fallen on many of Next Media's titles, causing a 17.2% profit decline and a 16.8% revenue drop in the newspaper and magazine divisions respectively, as shown by its interim report between 2014 to 2015.
Digital is definitely the trend, but we won't give up print.
"The decision to cancel the Fashion and Beauty print edition is just a result of our content integration strategy; we may, given time, bring back the print edition."
Unlike most print media, which has been struggling to hold onto print advertisers to feed their profits, the group has found what appears to be a gold mine – digital content.
Since two years ago, the 16-year-old media house has been undergoing a digital transformation to reposition as a content provider, instead of a publisher.
Readership is dropping most prominently in print, but picking up fast on websites and social media, with 80% of readership across all New Media Group's titles coming from mobile.
"As a content provider, we aim to offer an all-round service for our clients and readers via different channels and platforms, both in print and digital."
NewDigi.Solutions, established six months ago, is a partner to agencies that offers campaign-based planning for clients.
Formed by a group of marketing specialists who come from an agency background, this fledgling division aims to provide content marketing for existing clients, as well as to find new clients with visions on digital marketing.
Another sales-driven division NMGplus is designed to offer existing clients a total solution service such as a YouTube video, TV commercial and ad hoc campaigns on social media for immediate sales.
Staff training is also an important part of the digital transition.
Only one floor below the CEO's office lies an entirely different room called "multimedia creative" – probably the most creative corner in the entire building that houses more than 30 digital elites.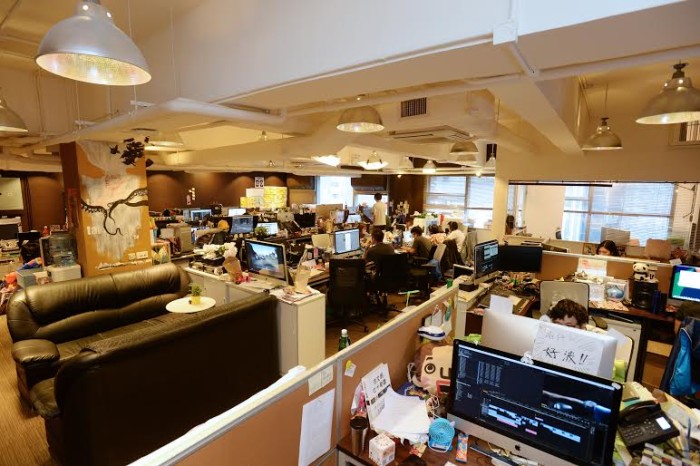 From the interior decorating, digital equipment to staff's dressing styles, this tiny, but functional area is just like a replica of a production house – well-equipped with all sorts of production hardware from photography studios to an audio recording room – powering the group's most complex digital projects for clients.
In the past two years, this little creative powerhouse has been busy passing the most in-demand digital media skills to the entire office via intensive training sessions on a daily basis.
The CEO says proudly that 80% of staff in the editorial team are now skilled in multimedia usage, spanning video-taking, post-production, social media managing and digital editing.
"We are lucky. The resistance we experienced from employees throughout the digital transition was little.
"This has inevitably led to an increase in workload but, fortunately, our employees are willing to learn new things and to participate in the digital transformation," she says, adding those who can't adapt will, sooner or later, choose to leave.
Despite the outflow of juniors, the group managed to keep the rate of mid-to-top-level manager turnover to single digit figures last year.
Still, education is becoming increasingly more important as the whole publishing industry is facing a growing shortage of digital skills, especially when it is clamouring for talents from the same small pool against agencies.
"Resources come easily as long as you have money, but talent is hard to find even if you're ready to spend a fortune," Hughes sighs.
She is turning 53 in November. The grandmother of two grandchildren recalls her early career working at BBDO in the go-go-days of advertising about 30 years ago.
"It was a time when stunning TV commercials still worked. Today, people buy mostly into ad hoc or call-to-action campaigns; to build a brand you need to educate audiences via long-term content marketing strategies."
At a time when readers are turning to online media, more and more publishers are racing to bring their content to digital to retain their readers.
But Hughes says the number of publications who have demonstrated enough understanding on how to digitise content remains very small.
"Copying content word-for-word from offline to online is a very old concept of content digitalisation that appeared a decade ago; this is what we call 'extension of content' at best.
"Content on the internet and on print are two vastly different things. You need to vary your approach to content across social media, websites and print, even on the same subject matter."
To consolidate influence on the internet, the group has scooped up a slew of popular online media properties for unbranded marketing pushes, notably WFC Daily, King of Capture Hong Kong, and Bumblebee.
Digital content providers as such have caught up in the rat race to pump out content more digestible and desirable.
This content may circulate faster and further, but is no guarantee of quality, she argues, as there's a lack of internet regulation to ensure the quality in digital content.
"People will eventually go back and seek high-quality and in-depth content from print media, which cannot be easily replaced by bloggers and online news platforms.
When people try to verify web content, they go back to traditional media.
She believes circulation decline will stop – up to a certain point – as there are always sophisticated customers with higher spending power who are willing to pay for valuable content.
The quality of printing, as well as the depth of its stories, are what makes the value of a magazine in her eyes.
"Reading a glossy magazine with visually appealing content is a treat for the eyes. To me, it's not just an information platform, it's an experience," she says, rejecting the idea that print is facing oblivion.
"Print media is destined to die, if, and only if, it relies only on print publishing.
"There are so many layers in one individual. Just like we may want fast food for lunch, but a proper meal at night; we may look for snackable content on the way to work, or during a quick lunch, but after that we'll look deeper into selective things to gain more information of particular products to which we want to purchase.
"This is human nature."
Even in the digital realm, the idea of having digital creations published in print is still very appealing, she adds.
"People feel privileged to be able to have their digital content creations published, as there's still a huge gap for digital content to go on print."
Integrating offline content with the web and mobile is indisputably important, but in the end, the answer to print media's survival lies in having a strong brand identity and positioning.
"Creditability is the currency to the success of a publication. A strong and credible identity is what makes a media brand irreplaceable."
Technology may be the enemy of traditional publishing, but the shift to digital reading doesn't necessarily affect reader loyalty towards media brands, "as long as you can provide a more distributed and holistic media platforms to keep your readers shifting within your own ecosystems", Hughes says, just like how she is confident the Fashion and Beauty brand will continue to shine even existing only in a digital form.
A holistic media ecosystem is like a loaded weapon ready for the hand of any publication which can find digital workarounds to win the digital war.