Challenge:
Being a multinational corporation with many active markets worldwide, Vodafone faces a myriad of tough challenges. Developing and launching localised campaigns can be a costly effort, and maintaining consistent brand recognition at Vodafone's locations throughout the world can be a marketing nightmare. Untapped data silos, and thus untapped insights, are also a big concern for the telecom giant.
Objective:
Vodafone needed a way to conveniently centralise its data, remove data silos, and as a result of this effort, refine the accuracy of its insights. This is due to rich user data having the capability to drastically enhance a brand's understanding of consumer preferences and, as a result, retargeting and re-marketing products effectively. Vodafone also sought a new way to achieve stronger brand recognition with the goal of growing its user base and driving revenue.
Strategy:
Using Wayin's campaign automation platform, Vodafone now had the ability to deliver multi-channel marketing campaigns on a larger scale and at a faster rate. Maintaining brand consistency was easier with the ability to clone, localise and launch campaigns from a centralised platform across different regions.
Being able to simply choose and re-skin template campaign mechanisms also allowed Vodafone to launch many different types of digital experiences without the need to invest heavily in technical manpower.
Together, these things gave Vodafone the power to strategically and simultaneously launch even more campaigns around the
world – which in turn, allowed for stronger brand recognition and constant audience engagement through new content.
Centralising campaign data on the Wayin platform would also help eliminate the need for data silos, allowing better, more valuable audience insights to surface.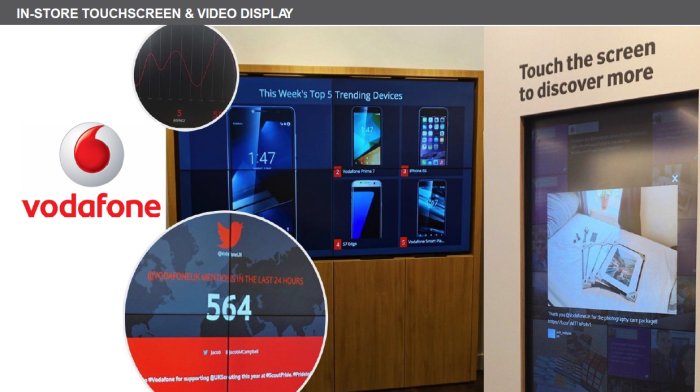 Execution:
In 21 markets, Vodafone launched more than 330 campaigns in 2015. The telecom rolled out campaign after campaign, giving users fresh reasons to re-engage with the brand, and in turn, giving marketers the chance to capture valuable campaign data. This data was then used to refine audience targeting and improve subsequent campaigns.
Wayin's strength lies in its ability to utilise a centralised marketing campaign hub to organise multi-regional campaigns which can be tweaked and changed by individual regional marketing teams to localise marketing content.
This meant that using Wayin, Vodafone's campaigns were able to be launched much more efficiently on a worldwide scale.

Results:
The ability to clone and reskin campaigns helped save campaign localisation costs and development time for Vodafone's offices across the world. The more campaigns it ran, the more data it could feed into the data management platform, resulting in not only richer social profiling for audience re-targeting, but deeper insights for improving all future marketing campaigns as well.