The Aqua on the 29th floor is known for its panoramic harbour views and today, as I'm waiting for my guest, the room seems even more spacious as I'm almost the only patron sitting here at the peak of lunchtime.
The quietness is broken by Chris Fjelddahl's laughter as he comes in with a gracious blonde receptionist, walking a bit awkwardly.
"Oh my neck hurts," he explains as he stiffly slides in the semicircular sofa bench, citing the journey back from Kilimanjaro.
"The Kilimanjaro Mountain in Africa," he pointedly adds, followed by a burst of childlike chortling coming out of nowhere.
It takes us no more than a minute to decide on a dish as there's not much on the menu to choose from.
Perhaps a matter of his vaunted Nordic origin, he settles on a seafood bento, while I opt for a deluxe one.
He agrees when I half-jokingly ask if it was the Viking blood in him that floated him to Hong Kong 25 years ago, and proudly says: "I had a happy childhood, running around on desert islands and skating on the ocean."
I first met him about a year ago at his office party. I have only vague memories of his face, or the party, but I can clearly recall a Cathay Pacific aircraft model put in a prominent place in front of its entrance, as if this account is what makes Eight Partnership, Eight Partnership.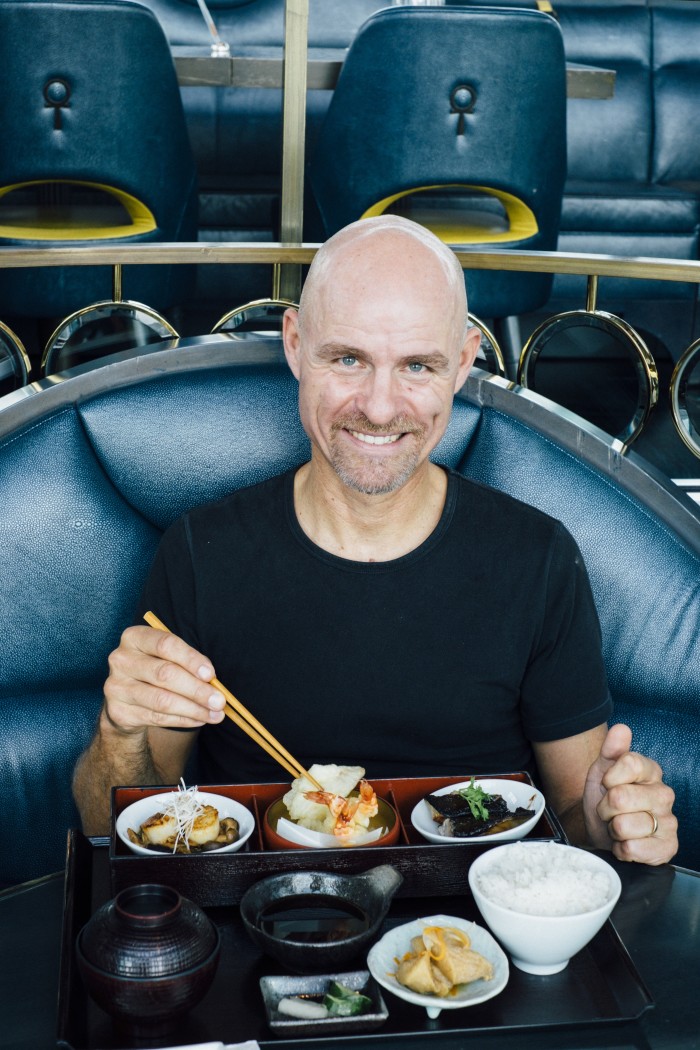 "Funnily enough, at first he wanted to turn down the pitch two years ago as he was convinced the aviation giant was looking only for big agency names."
"It was perfect timing. We form a relationship with an account only when they need to make drastic changes. We'd rather turn away clients that only look for exposure, and let them go to the production houses."
Without an in-house design team, the Hong Kong-based airline wanted to ensure even greater product coherence going forward, he says.
To build a cohesive corporate image, Eight Partnership has taken up a three-year project that sees a new design ethos – "softly spoken, strongly felt" (actually a big book of what it calls "design dictionary") – formulated to support the airline's businesses across offline and online channels. The design guide is given to all Cathay's design partners to follow.
One of its most notable projects for Cathay is the controversy courting new logo that sees the iconic brushwing set free from a box and a red stripe, which, according to Fjelddahl, represents a sense of "Chineseness".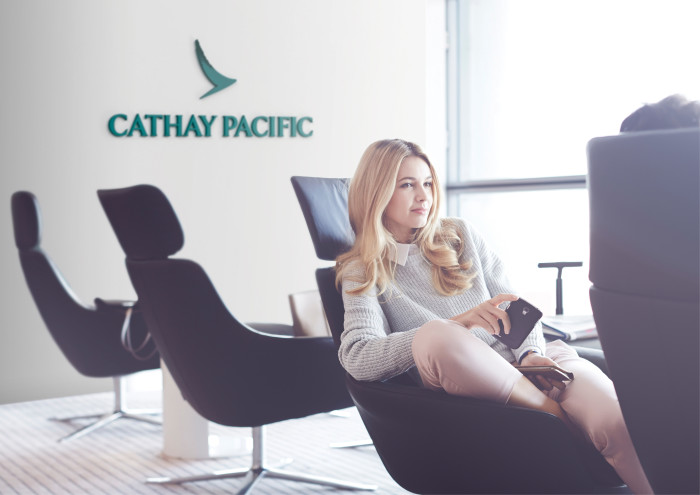 "From brand identity, product, space to communication, this design-led business model, which has been going on for five years, is why we suddenly started making a lot of money," he says, making that child-like laughter again, trying to suggest he's not boasting.
Perhaps the size of the money, to which he won't reveal, is worth a boast – it was, after all, big enough to pay a two to five-month salary bonus for senior management last year.
He adds the average project size at Eight is now five times bigger than two years ago, with the dollar value having jumped more than 10 fold.
Elated at the success of this new model, he, expectedly, disparages the role creative agencies play in the ad industry.
"The golden age of advertising is way passed us; the creative agency part has gone from senior to junior, and design firms have become the senior creative advisers for brands," he says, citing the surprising McKinsey's acquisition of design firm Lunar.
"We can see that advertising has become a tiny little part of branding; tiny and hardly relevant. Even with digital, it's all noise; hard to see big ideas in them."
To maximise gains, the agency sidesteps digital offerings as he sees it as a money pit.
"The margins are terrible, staff is expensive and budget sizes are small at, generally speaking, around HK$20,000 for a social media campaign," he says, with his voice revealing a sort of sick pleasure.
"I'm kind of smiling when I see my competitors offering digital," he continues.
"I stopped as there's no money in it. By stopping we became very profitable. We can take on a website job, but we don't want to compete against other digital agencies on digital."
On the flip side, he says brands tend to spend big on retail spaces or events, despite difficulties in justifying the money spend.
"Clients just love spending it."
Half way through our lunch he asks if I like the food. Looking at the HK$500 bento I confess that I've never been a fan of Japanese cuisine, and start dishing out all the reasons – small portions, instability in quality and many more – that's before I learn that his wife is Japanese, who happened to be a "stewardess" for Cathay Pacific, he says with a grin.
Talking to Fjelddahl may not be easy if you don't work in the art world; he pours a bunch of names into your ears about "famous designers" and architects that he has worked with, and admires, and keeps asking if you've heard of them.
Even with an MBA in finance, the love of art remains with him. One of the key business drivers at Eight is a sense of taste in art and design, he says proudly.
"Gone are the days when ad agencies are driven by ideas; now the reality is design firms are driven by taste; and taste is very difficult to replicate."
He may have gone out of his way to show his industry knowledge and career success, but, to be fair, it takes pain to come to where he is today.
The 50-person agency, which is now operating three offices in Hong Kong, Shanghai and Beijing, was founded from the corner of a desk in his living room 21 years ago.
Its very first client who came on board, when he was in desperate need of money, was Shell, handling performance enhancement in retail stores in terms of merchandising and service performance; it was an early incarnation of Eight.
After 21 years of morphing and changing, the company has now found ways to cut through that "noise", for example, by dealing only with senior executives.
"I made a lot of mistakes when I was younger. We used to take projects from junior executives as we assumed we'd be rewarded bigger projects if we did well. It never happens. You're just given more same-size projects and they'll never let you talk to the managers because they think they own you. So we don't do that anymore.
"It's not arrogance; crafting brand identity and talking to seniors grants you more influence on the brand, more value and more appreciation."
Time flies. As we finish our coffees, the Viking is ready to sail off again on his "next big project" of which, again, he cannot reveal yet.
"I'll let you know soon," he winks.