In celebration Facebook's news feed 10th anniversary, the social media giant has just published an infographic guideline to show how news feed actually works.
The guideline highlights three signals that would determine a story's news feed ranking, including:
People and pages – Posts from friends, public figures and Pages that people frequently interact
Post type – Types of posts people frequently interact with (e.g. photos and links)
Post activity – Posts that have many likes, comments and shares, especially from people's friends.
Calculations on the three signals would resulted in "scores", in which the higher your score is, the easier you can reach your audience.
Here are three tips that may help you to score better:
Write clear and compelling headlines for your link posts.
In addition to click through, facebook looks at time spent at the external link and the ratio of likes and comments to link clicks to determine what posts to show in News Feed.
For example, if a lot of people click on a link but relatively few people click like, comment, or share – this suggests that people didn't click through to something they found valuable and the post could receive a lower score. This means that click-baiting headlines may lead to poor scoring results.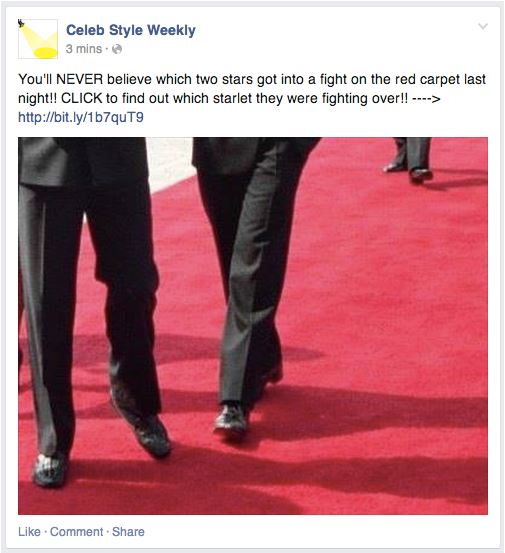 Share links, photos and a variety of content.
When thinking of what type of posts to share, use the medium that best expresses your goal. For example, if your goal is to drive people to your website, use link posts instead of photo posts with the link embedded. In facebook's studies, these posts have received twice as many clicks compared to links embedded in photo captions.
For video posts, make sure you engage people in the first few seconds.
Your video posts will play automatically without sound when people scroll through news feed. As a result, the first three seconds of your video needs to be engaging enough that people want to continue watching.
Facebook also suggests users to personalise their newsfeed by setting their news feed preferences.