Around 270 marketing professionals, content marketers, and publishers attended Content 360 2017 Philippines, which was held last April 27 at the SMX Convention Center in SM Aura Premier, BGC, Taguig City. This is the second year the content marketing conference was held in Manila.
The recurring theme at the conference was how brands can distinguish themselves at a time when there is so much content vying for customers' attention. The urgency and pressure to adapt to new technologies and platforms have to be balanced with the need to always keep in touch with the collective heart of the market.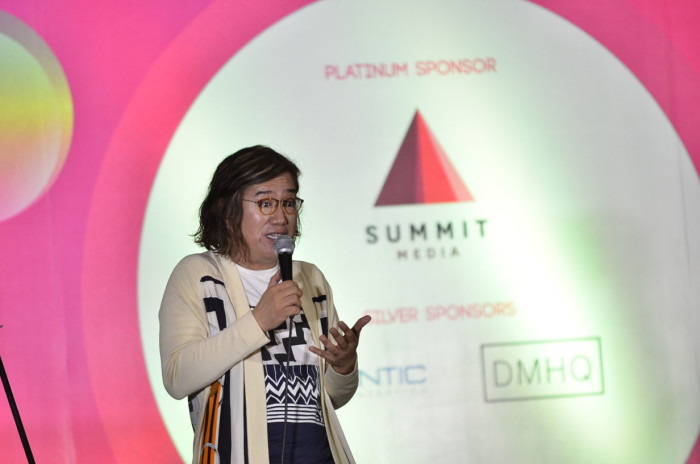 The keynote speaker, Raul Castro, Chairman and CEO of McCann Worldgroup Philippines, dove straight into the heart of the conference by emphasizing that while technologies change, the emotional human connection through storytelling remains paramount. Castro pointed out the seemingly endless and overwhelming information of data that flood into the internet, all competing for users' attention: "4.6 billion pieces of content are produced every day, 6000 tweets every second, 350 thousand tweets per second, 150 million tweets per day, 40,000 search queries every second on Google, 3.5 billion searches per day, 1.2. billion online searches per year, 68,000 YouTube videos viewed every second, 4.2 billion hours of programming on Netflix each year, 50,000 movies are made each year, and 100,000 music albums are released."
While admitting that the numbers alone can compel marketers to make use of all the technologies available to them to broadcast their message on separate platforms, Castro made  a firm stance that the message should not be confused with the medium. He emphasized, "If your brand does not make people feel good about their lives, their loves, and their dreams, it doesn't matter where you put it. The brands are the message, and the message is formed by understanding the drives that dominate the consumers, and the instincts that drive them."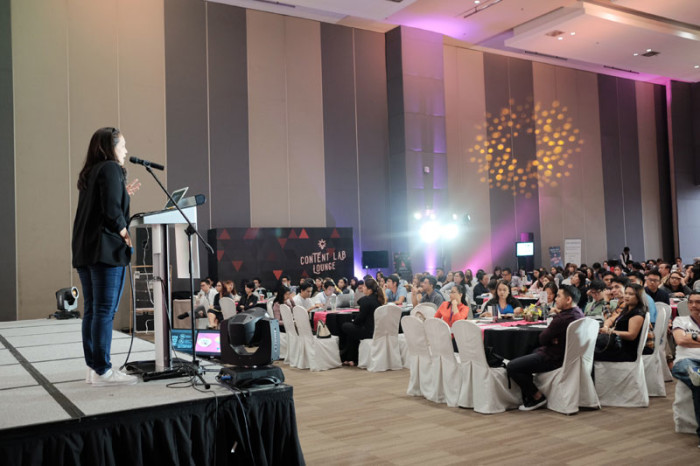 Next, Edna Belleza, publisher of Summit Media, discussed how to create a culture of content. She describes this as a workplace or institution where "creativity is encouraged, and content is shared and flows across all platforms." Pivotal to creating that culture is the formation of a solid content mission, the brand meaning and message, the building of an effective dedicated team to develop and deliver those messages, and provide the audience or users the content that they need – while discovering continually what they might not know they still require.
The talk was followed by four case studies on "creating bigger and better content" followed by a panel discussion moderated by Kankan Ramos-Lim, the COO of Arriba Digital.
Alan Fontanilla, Managing Director of Mullenlowe Open Philippines, stressed the need to "be clear on one's vision while keeping a focus on the big picture," as opposed to being distracted and engulfed by the increase and evolution of technology. Lee Esguerra, Marketing Communications Head of  Philippine Seven Corporation, which operates 7-Eleven stores in the Philippines, pointed out that content marketing also means constant dialogue with the consumer, finding out what he needs and wants, and not just bombarding him with messages. Esguerra said, "What is at the hearts and minds of your target market? Active social listening is key."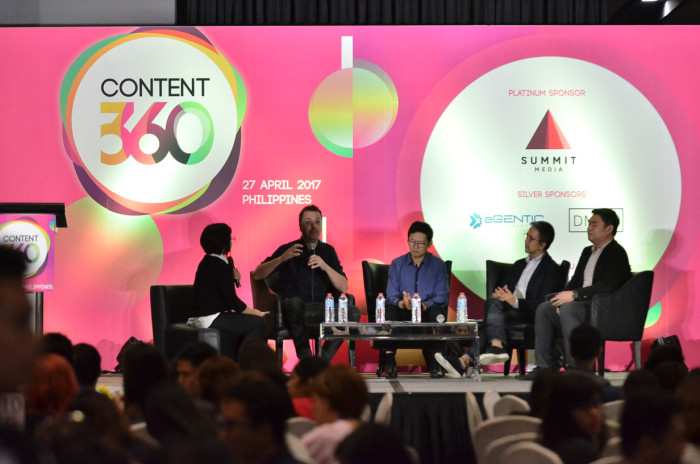 In his presentation, the third panelist, Patrick Searle, CEO of  GetCRAFT, differed from his colleagues and put technology front and center in order to create content which he described to as bigger and better. He said that marketing is likewise one ongoing path towards education, as the landscape constantly changes. He urged the audience, "Better understand the channels. We have to know how the consumer got there, and not just how he found us."
Manny Gonzales, Head of Strategy and Analytics of NuWorks Interactive, also explained how content strategy has two different but interrelated and vital timelines: agile content marketing, which is like a sprint and gets faster results, and brand-building which is a marathon that looks at a long-term victory. Success in content strategy is formed by balancing the two. As he put it, "There are insights that cut across time, and there are insights that cut just in time."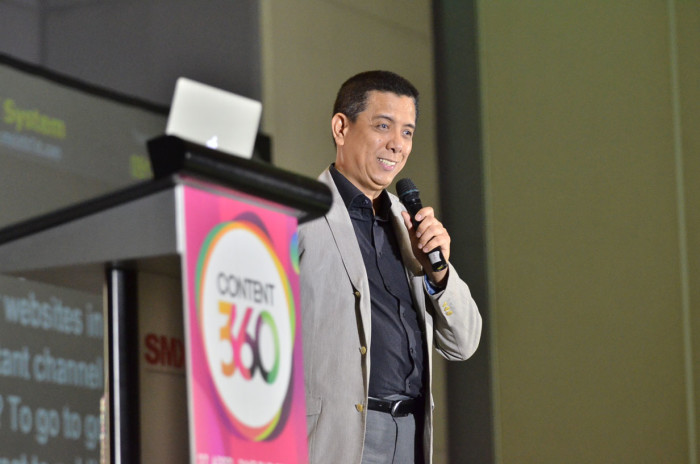 The next speaker was Mon Lizardo, Head of Digital Projects of ABS-CBN. In his topic, "Crafting Intelligent Content," he made the case that data and analytics are not usurpers that creative people should fear and view as competition; rather they should be regarded as proper tools that can help them understand their market with a precision not available before — and then craft their content accordingly.
He described the way his organization leverages data and analytics to gain a deeper understanding of their market, and expand into new ones:  "I believe in a data-guided, not data-driven, content. Data must be applied to your content, actionable but broad. You use the broad insights for your creative process. Content is all about storytelling. You cannot let data take over, because if you do, you will miss a lot of things. The human element will be overcome."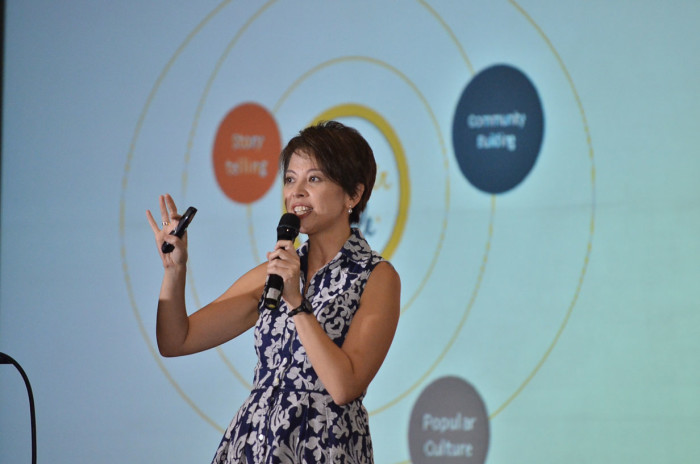 The second panel discussion was an interesting take on how "serious" brands can use content marketing without being boring. Prior to the discussion, each panelist made a presentation on how they used a more light-hearted, fun approach to make themselves more relatable to their audience.
Mylene Lopa, Chief Marketing Officer of Sun Life Financial, illustrated how their company drew back from the public's concept of the insurance industry as a harbinger of death – and instead refashioned their perception of it as an enhancer of life. Their campaign overcame Filipino customers' initial resistance against the discussion of money to show how financial planning can give their families a brighter future. The lesson that Lopa imparted to the audience: "Do not be boxed in by your category."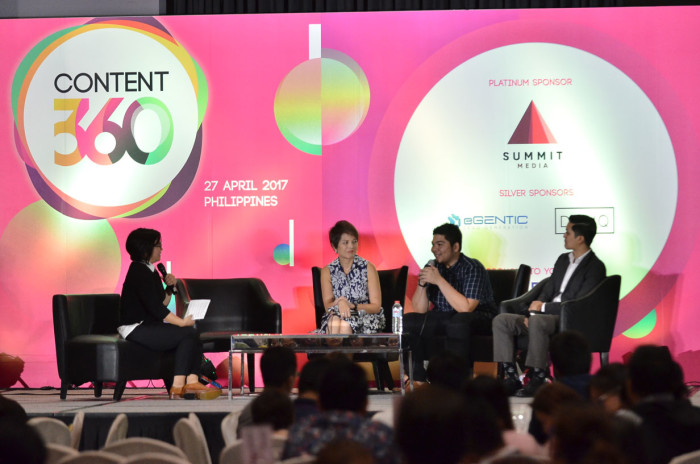 Nix Eniego, Marketing Head of Sprout Solutions, gave a talk on how their company worked around the perception of payroll software as boring to something that is actually fun. He played a clip that showed that "even a zombie apocalypse is not an excuse" not to meet payroll.
Patrick Zulueta, Marketing Head of PayMaya Business, gave a case study of how one campaign garnered 1,000 shares in 24 hours and P8 million pesos worth in media values without spending a centavo. All the social media engagements were organic. His advice to the audience: "Don't wait for the perfect moment, but make the moment perfect."
One common message came out during this second panel discussion, that commitment to brand change has to be done with the long haul in mind. Change will not happen overnight, and the organization has to pursue its objectives relentlessly despite difficulties and detractors who say that the brand can never be improved.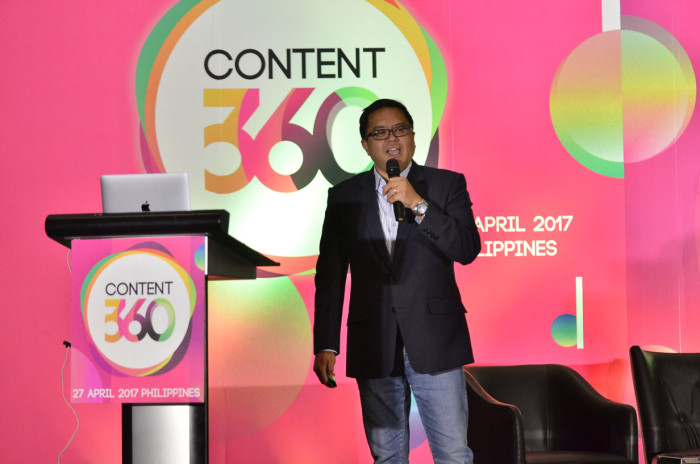 Ronald Barreiro, Managing Partner of Dentsu Jayme Syfu, spoke about marketing not just to the Millennials but to their younger siblings, the Centennials or Gen Z. He first differentiated the values and workplace behavior that separated these two younger generations from the older ones, like the Baby Boomers and Gen X. To reach this emerging workforce, he advised crafting content that would appeal to their "value of authenticity, their heart, their desire to co-create, their liking of enhanced customer experience, and their respect for diversity."
The last panel discussion dove into the hottest digital marketing trends and how content marketers can maximize their use to make their messages more effective. These include live streaming and messaging apps. Each panelist also made a presentation of their content strategy that leveraged these new technologies before forming the discussion group.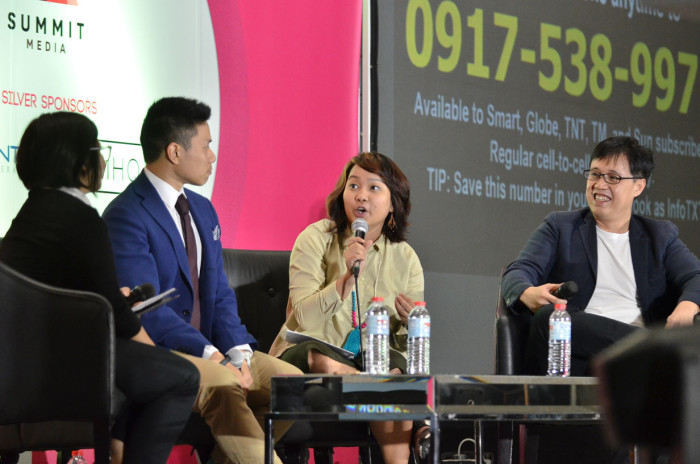 Chinkley Llave, Head of Digital of Dentsu Media, showcased how their dmLab's emotion analyzer can track and assess a person's emotional state at that time, ranging from calmness and stress to joy and interest. Audiences have to consider the target public's collective state of mind first before launching a campaign. She said, "There should be a people-approach first to unlock what they are thinking."
Jason Cruz, Social Media Planning Director of MRM/McCann, spoke on the trends of content marketing. He highlighted the phenomenal Jollibee campaign on unrequited, forbidden, and doomed love to emphasize that content marketers can and should think out of the box, and not stay with a safe and tried-and-tested story. He explained the relationship between technology and content as follows: "What will move people is if we find a grain of truth in our brand and tell it well, and use technology and media to spread it effectively."
Dave Drilon, Chief Digital Officer of Publicis Jimenez Basic, discussed the influence that technological developments like live streaming, Facebook Live, and artificial intelligence have in communicating one's message about the brand. He said that marketers should not limit themselves to so-called studies that can box creativity, like limiting videos to only two minutes which is the attention span of Millennials. He exhorted, "Once in a while, you got an amazing story that is four minutes long, and people will still watch it. You still have people reading online magazines. Filipinos will enjoy great content if it is great content."
During this last panel discussion, the panelists emphasized that creativity should not succumb to any apprehension about how state-of-the-art technologies like machine learning and artificial intelligence can influence marketing campaigns.
As the day ended, one important theme resonated: technology can improve the art of messaging and communication, but the power of the brand to influence its target public still lay in the creative team's efforts to understand the heart, soul, and mind of their audience.
Content 360 2017 Philippines was sponsored by Platinum Sponsor Summit Media and Silver Sponsors eGENTIC and DMHQ.