Regardless of your industry, business or position, content is always key. This applies to B2B brands as much as it does to B2C, though the approach they take to social will, of course, differ. Below I examine 5 different B2B brands and explain why I think they excel at social.
[Hear more from top brands such as Shell, Monsanto, GE Healthcare and more at Marketing magazine's B2B Asia 2015 conference, taking place on 20 November, 2015 at Four Seasons Hotel Singapore.]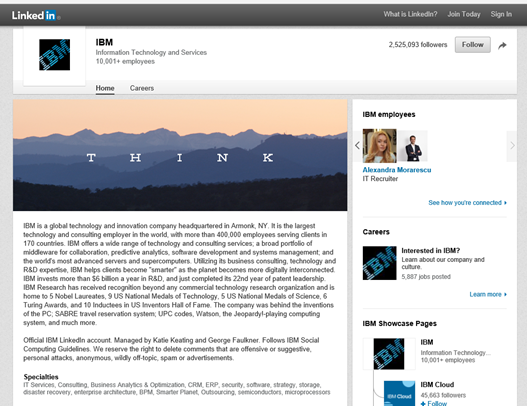 While Facebook and Twitter are great for B2C, there's no denying that LinkedIn is the perfect platform for organisations to position themselves as thought leaders. Through professional networks, ad targeting services and publishing platforms, it's easy to see why LinkedIn is the name that comes to mind the minute you put social hub + professionals together.
So who's leading the pack? With over 2.52 million followers on their company's LinkedIn page, IBM easily tops the ranks in numbers, even muscling out tech giant Microsoft. Their not-so-secret key to their success is two-fold: rich content, and extensive engagement from their staff.
They post a variety of media, including videos and infographics. For example, their latest postings include a YouTube video about the data behind the US tennis Open. Content such as this is shared by their staff, over 412,000 of which use LinkedIn.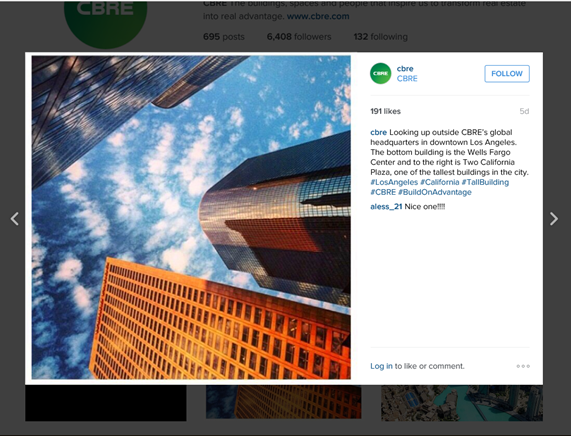 A relative newcomer as a B2B social media platform, Instagram has definitely paved a path for those who dare to take their brands here. Most are still sceptical and fail to see the relevance they may have with this photo sharing platform, but here's a great example from a highly unlikely source – CBRE.
Riding on the trend of wonderlust (different from wanderlust), where one posts pictures of beautifully captured images of travel, landscapes, nature and more, the commercial real estate giant has built a treasure trove of photos. Their Instagram account is a glorious testament to the architectural majesty of the modern cityscape, with awe-inspiring photos of skyscrapers, skylines and more. Historical facts add substance to the images, sealing their positioning as experts in their field, minus the hard-sales pitch.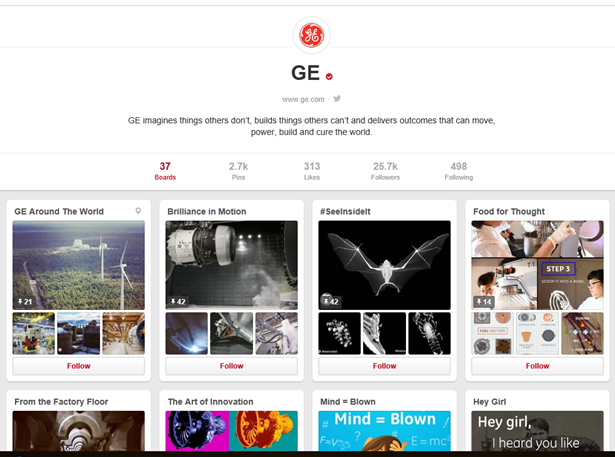 Yet another visually rich medium is of course, Pinterest. What started out as an online digital pin-board has gone beyond the usual "fluff" that one might find online. And savvy companies have known this for a while now.
One of the extremely savvy companies that's using their Pinterest board to the fullest is General Electric (GE). And who'd have thought that tech and innovations from this conglomerate could ever be made accessible to other businesses and the average consumer through visuals? But this is exactly what they have done with clever use of hashtags and their 37 GE boards, ranging from fun science factoids, DIYs, infographics and even tongue-in-cheek geeky quotes (check out their Hey Girl board).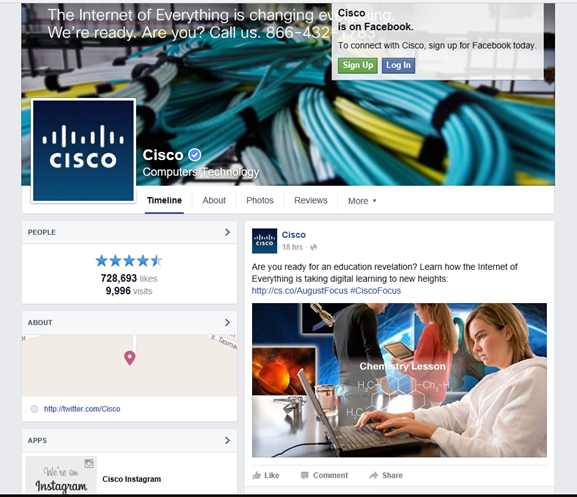 Since its launch in 2004, there are now 1.18 billion active Facebook users globally. Now take 75% of that number, and you've got the statistic for how many B2B buyers use social media to influence their decision-making process. So it's no surprise that 43% of the companies that use Facebook specifically for B2B see leads from their efforts on the social media site.
And one of those is yet another tech company – CISCO. With over 728,000 likes and a rating of 4.5 stars, how exactly did CISCO manage it? One of the important elements for corporations to succeed in this social space is, firstly, to "humanise" their brand and, secondly, to engage the audience. The company has done this brilliantly with several FB campaigns and initiatives, such as their "Superfan Program" that puts the spotlight on top community members, and seamless integration of all other forms of media on their page. From blog posts to YouTube videos, all their content is timely (trending) and engaging, encouraging "shares" of their posts that ensures a broad reach, even among non-followers.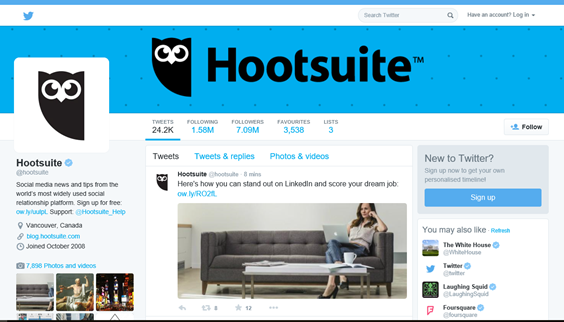 Smart companies have realised that Twitter, when used correctly, can be a highly effective tool for companies to express opinions and share news. One of these companies is Hootsuite, with over 7 million followers on their Twitter account. Which is great news for them, given that they are a social media management platform that positions themselves as gurus of the industry. Providing tips and news on social media, Hootsuite mashes entertainment and assistance, with even a dedicated help page called Hootsuite Helpers. It's not hard to see why 744 of the Fortune 1,000 companies use their services.
It's interesting to note that so many of the B2B companies that do well in social media are within (or at least related to) tech. Given that social media has generally been known to be a "fun" and entertaining arena, what makes these companies inspirational is how they've changed the perception of their brand as "serious" and dry.
Perhaps it's time for other industries to realise that with a bit of creative thinking and a sound content marketing strategy tailored to their targets, social media can and should be used beyond just B2C, especially if their competitors have yet to jump on board the B2B social bandwagon.
The writer is Chris Reed, global CEO & Founder for Black Marketing.
For the latest in B2B marketing and sales strategies from brands such as BNP Paribas, Chevron and more, look out for Marketing magazine's B2B Asia 2015 conference, happening 20 November 2015.
To register, please click here or contact Czarina Solomon at czarinas@marketing-interactive.com or call +65 6423 0329 ext: 227, +65 8112 6351.
If you would like to learn more about sponsorship opportunities, contact Johnathan Tiang at johnathant@marketing-interactive.com or call +65 6423 0329.
For speaker or agenda queries, please contact Preeti Varadarajan at preetiv@marketing-interactive.com or call +65 6423 0329.