In 2014, MBS averaged a 60% year-on-year increase in followers across social media. With these numbers, the MBS team was on its way to having one million social followers in Asia.
With three months of only celebrity campaigns in the pipeline, directed by our leadership team of Lisa Williamson and Timothy Hou, we achieved a 50 million-plus reach over Facebook, Twitter, Google+, LinkedIn, Instagram, YouTube, Weibo, Youku and blogs.
Taking the words of Christel Quek, the content lead for Twitter APAC, we decided to "humanise or vaporise" our brand. In an attempt to be more than just a leading integrated resort and to connect with our customers, the MBS social media team has helped travellers and guests solve problems by capturing the nuances of a luxurious life with an integrity that transcends the average brand experience.
Eventually, we tripled our LinkedIn followers, won the LinkedIn award as the Most Engaging Brand 2014 for SEA/HK region and won two Marketing magazine awards – gold for Excellence in Social Media and bronze for Best Use of Social Media at Events.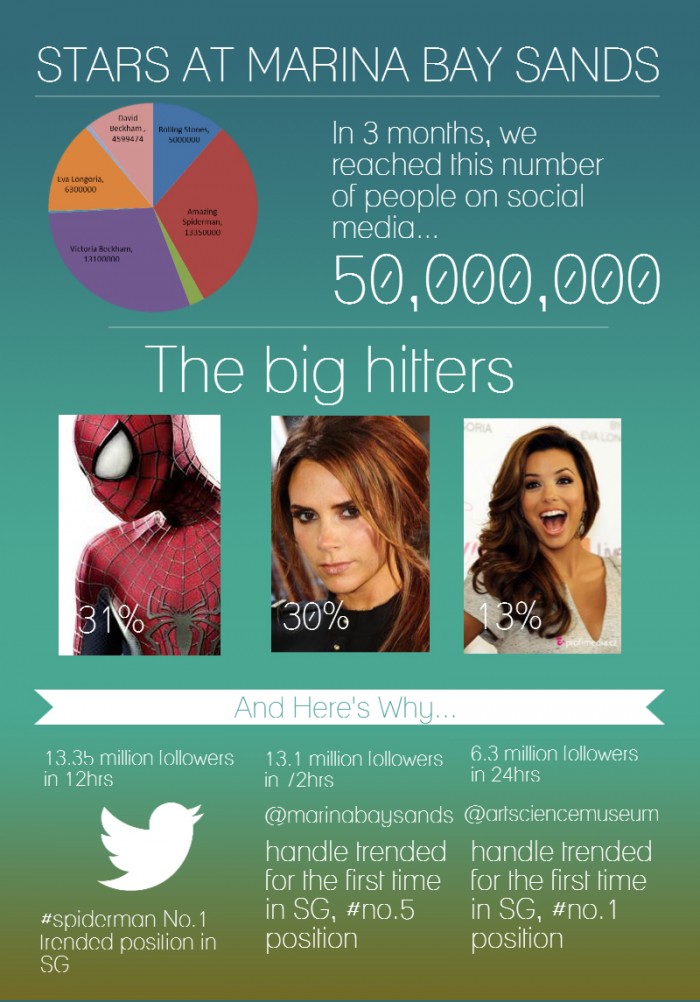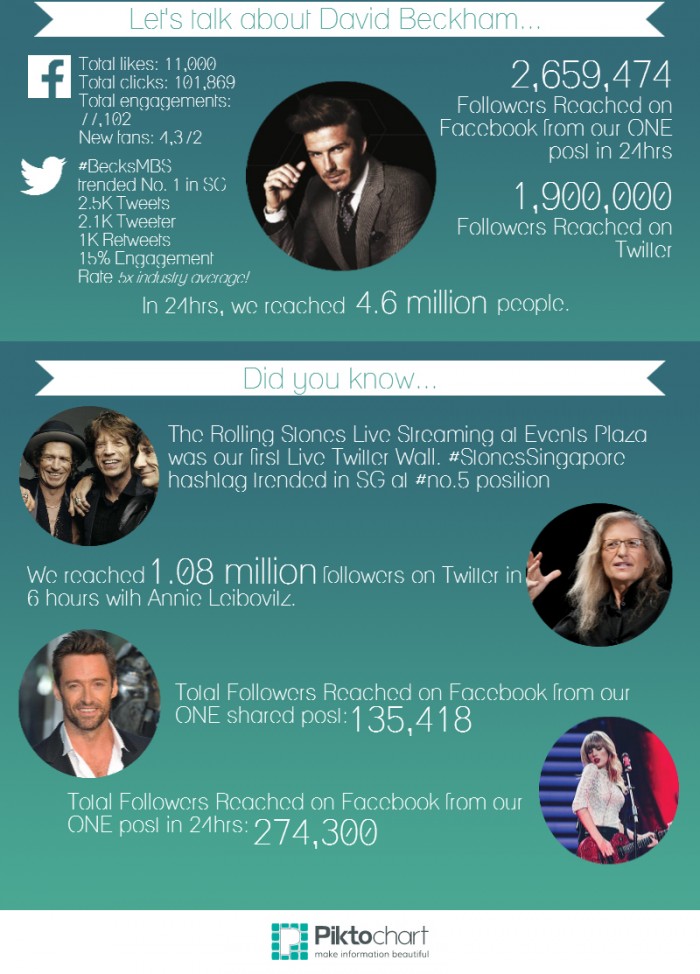 Digital and social brand content needs passion, skill and purpose. It has to be useful, desirable, engaging and take adventures in engagement, one story at a time. Personally, I'm influenced by some magnetic marketers and optimistic brands. Here are a few of my favourites in content right now.
(For more discussions on how to ace your content marketing strategies, join our Content 360 Conference on 8-9 April this year.)
1. Get Krafty
In a recent article in Ad Age it was revealed Kraft Foods now generates the equivalent of more than 1.1 billion ad impressions and four-times better return on investment through content marketing than even targeted advertising, says Julie Fleischer, the company's director of data, content and media.
2. Dream up themes
Philips got FleishmanHillard to rewrite the "power profile" of LinkedIn CVs of its staff and leverage its 11,000 staff in employee social storytelling. A pilot Linkedin content programme also runs for its top 10 executives.
In its Singapore social media command centre, headed up by Asia CMO Damien Cummings, it has segmented its consumer model into five content conversation "themes": Clean air, smart home, look good, feel good, ageing well and connected work spaces.
From these themes, the brand created three types of content: Longer form content such as research papers and documentaries (on clean air), editorial pieces such as blogs, press releases and articles, and lastly, social media posts such as Facebook posts, tweets, etc.
Philips expects to have 4000 to 5000 pieces of content per conversation. Fifty to 70% of the content is planned, the other is in real-time. You can read more on Cummings' explanation of the move here.
3. Dunk a trend
The Mondelēz approach is amazing: own conversation themes, partner with ex-Huffington Post founders of Now Then News out of NYC, cranking out branded storytelling videos that ride on the latest morning trends by lunchtime every day and amplifying what trends with programmatic buying. (Its global director of innovation, who leads this project from Asia, Pete Mitchell, will be speaking on the Content 360 stage.) "Our efforts are driving twice the ROI on a global level," Mitchell said. (Read about its strategy in detail here)
Through this initiative, it has rolled out social content such as YouTube and Instagram videos in the style of a 24/7 newsroom that never sleeps and has received up to 50% engagement rates as a result (versus industry average of 3%). Mondelēz encourages large companies to think like a start-up to "hack themselves to grow"Read more on Mondelēz's move here.
4. Get real
According to the recent @ShareThis study, recommendations make up 57% of purchase decisions. This is the power of social content and social sharing – driving authentic conversations from people to people rather than brands.
5. Think tribal
According to SocialMedia.org we must think tribal and know our micro segments' "passion graphic" not demographic. At the SocialMedia.org Brands Only Summit October 2014, in his presentation on micro marketing (available on Slideshare), MotiveQuest's David Rabjohns explains that: "We cluster around the things we're passionate about."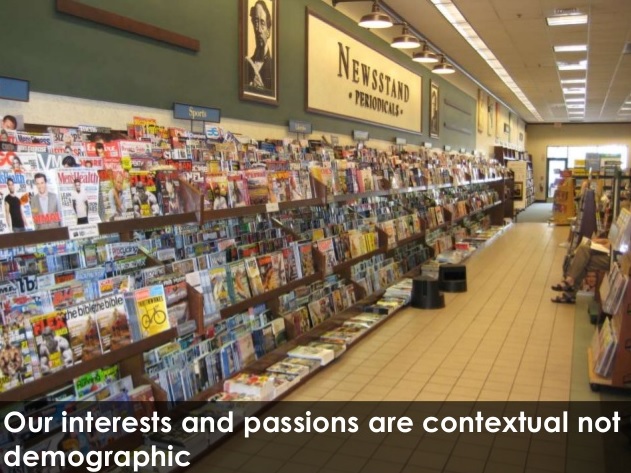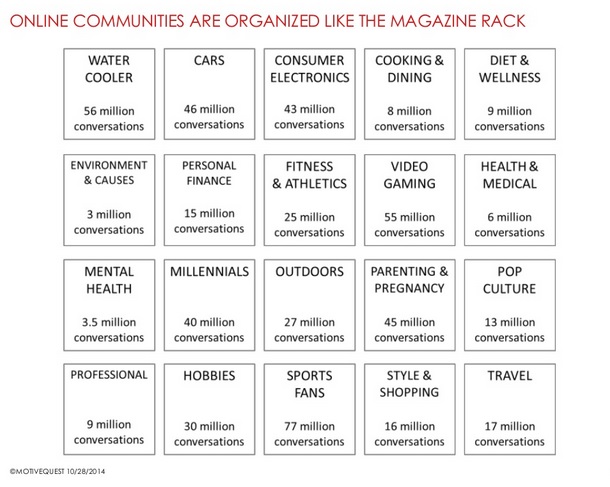 He continues to point out that Nike's traditional ad budget was reduced by 40% as Mark Parker, the Nike CEO, decided to go where the customer was – to online communities to interact even more closely with consumers.
6. Track impact, get a plan
At Curata's 2014 Content Marketing Tactics Planner we see that all participants through content saw a massive increase in these things: awareness building, buyer/customer engagement, thought leadership, SEO or web traffic, lead quality and lead quantity.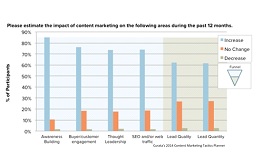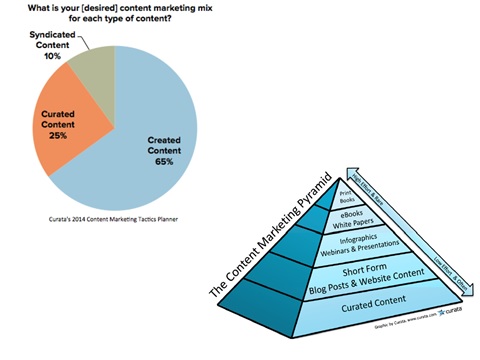 Curata again showed us a sensible split of created (65%), syndicated (10%) and curated content (25%). In its marketing pyramid you can see an effective visualisation from low and frequent to high and rare effort: curated, short-form blog posts, infographics ad webinars to e-books and white papers.
7. Sharing deeply
The New York Times tells us that 73% of respondents process information more deeply, thoroughly and thoughtfully when they can share it. This is certainly true of Weight Watchers' customers as reported in The Social Times. Weight Watchers had a great example where it crowd-sourced recipes through its community through polling, resulting in the perfect peanut butter-related offering.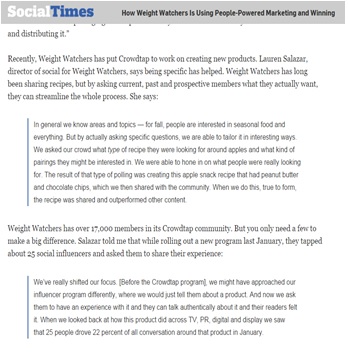 8. Data makes content
Nike and AKQA got together to pull in all the data from wearables to use data in a beautiful and meaningful way to create 100,000 unique videos. Imagine what info your Fitbit and Nest holds that can be repurposed as individualised content.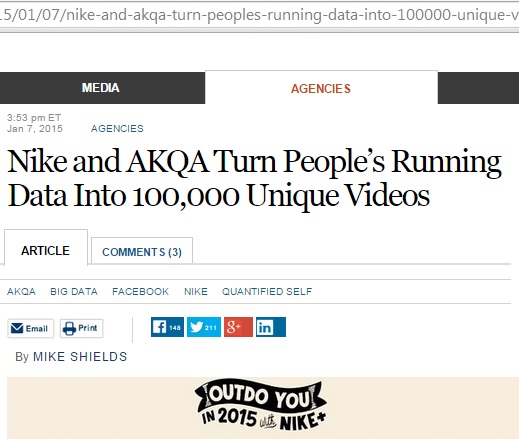 9. Global local
GLocal is a style of content where the global brand owns thought leadership/branded storytelling and the local properties localise and transactionalise it. Whole Foods gives us a great example of GLocal, where branded content is localised for local property social pages and also supported by user-generated content.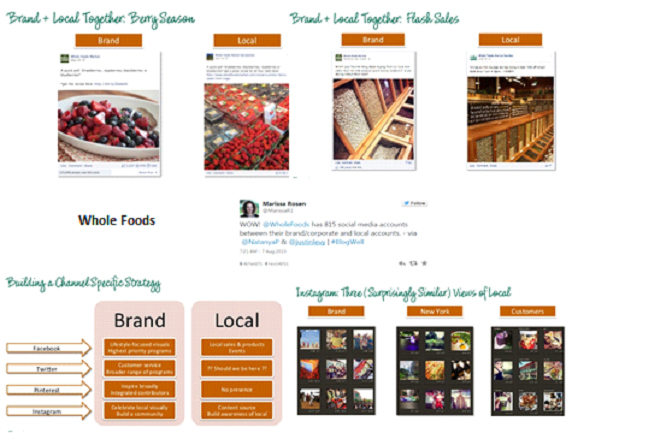 10. Do more with less
Reebok shares with us how it does more with less and focuses on being committed to real-time engagement personally at the front of the conversation.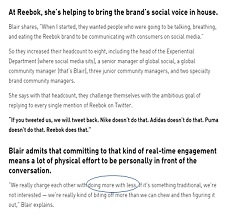 11. At the movies
Like Philips and Mondelēz, Marriott Hotels has a content studio to create, curate, collect and repurpose its content.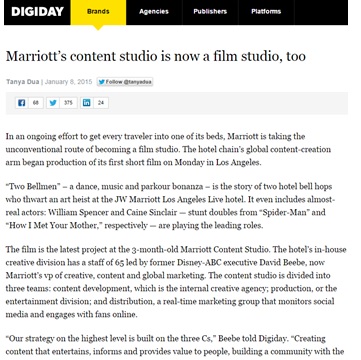 12. To infinity (pool) and beyond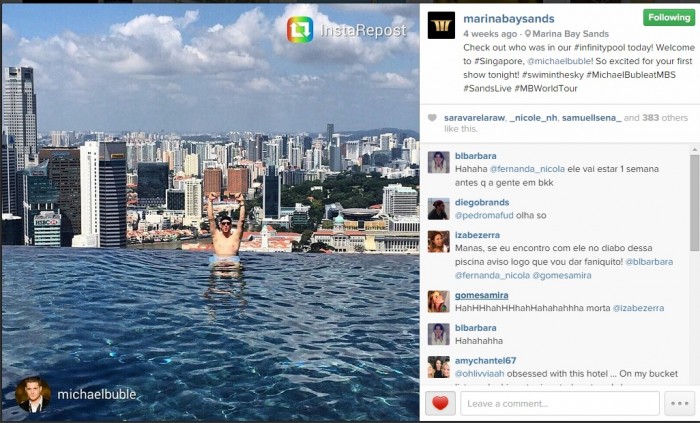 Yes, we got Michael Bublé, Jamie Cullum, Serena Williams, Eva Longoria, Taylor Swift, David Beckham, Posh, Hugh Jackman, Jamie Foxx, Andrew Garfield, Emma Stone and The Rolling Stones last year as Marina Bay Sands is where celebrities come to play. We choose to care and share their content in our celebrity social strategy and we have even more coming in 2015.
But more than being entertainers, we believe our content gives presence to the individual who chooses to follow us digitally – and gives us a chance to create a meaningful impact on their life.
For me personally, content enables our team to become values-based, playful and ultimately be powerful explorers of engagements every day.
The Writer tells us that Kurt Vonnegut spent days editing just a single page of his writing. He eliminated every single word that he felt didn't fit. We are not quite that indulgent, but if big data is a science then content is definitely its complementary art – and our word is powerful.
[Image from Shutterstock]
The writer is Sara Varela, associate director of social media for Marina Bay Sands.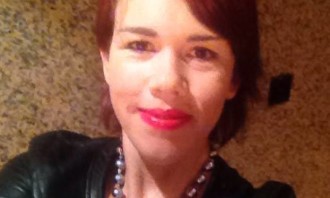 For more perspectives on content marketing strategies from brands such as Nissan, Kellogg's, OCBC, Dell, Lenovo and more, look out for Marketing magazine's Content 360 conference, happening 8-9 April 2015.
To register, please click here or contact Joven Barcenas at jovenb@marketing-interactive.com or call +65 6423 0329, +65 98205195.
If you would like to learn more about sponsorship opportunities, contact Soren Beaulieu at sorenb@marketing-interactive.com or call +65 6423 0329.
For speaker or agenda queries, please contact Preeti Varadarajan at preetiv@marketing-interactive.com or call +65 6423 0329.