Global ad spend will rise 2.8% to more than half a trillion dollars in 2013, driven by continued adoption of digital services and internet connectivity.
This is according to eMarketer's latest Global Media Intelligence Report, produced in collaboration with Starcom MediaVest Group to forecast increasing worldwide adoption of mobile technology.
The report provides a snapshot of the state of media usage and spending globally, covering six major regions; Asia-Pacific, Central and Eastern Europe, Latin America, Middle East and Africa, North America and Western Europe.
It contains more than 700 charts collected from more than 150 global research sources.
Kate Sirkin, executive vice president of global research for SMG, said that as smartphones and tablets become ubiquitous, advertisers will be able to capitalise on this opportunity to develop more meaningful experiences with consumers leveraging mobility and place.
"They will increase worldwide mobile ad spending to an estimated US$59.7 billion by 2017; a nearly fourfold increase compared with this year," added Sirkin.
The top spender is North America, followed by Asia Pacific as of this year.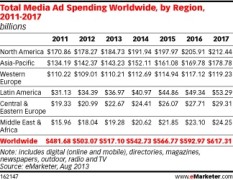 In Asia-Pacific, 2.5 billion of the world's 4.3 billion mobile phone users are expected to increase over time.
In 2009, Asia-Pacific recorded 86.2 million smartphone users. This year, it has more than four times as many smartphone users, marking the most astounding figures and demonstrating Asia-Pacific's trajectory.
eMarketer estimates that 2.43 billion people in Asia-Pacific will use a mobile phone at least monthly this year, which translates to 56.4% of world's mobile phone users.
By 2017, Asia-Pacific will have nearly 3 billion mobile phone users out of a total 5.1 billion across the globe.
Advertisers spending on mobile internet ads, including display and search but excluding messaging-based format, is expected to reach US$4.14 billion across the region this year, up from US$2.68 billion last year.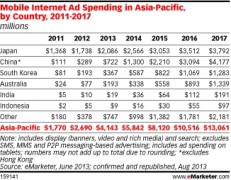 That will represent 26.2% of all mobile internet ad spending in the world, making Asia-Pacific second only to North America by this metric.
The region is expected to lose share in the coming years, however, as mobile internet ad spending in Western Europe grows more quickly.
Overall, Asia-Pacific will account for 27.7% of total media ad spending and 28.7% of digital ad spending in the world this year, ranking it second for both types of ad expenditure.